High Schools & 'Day in the Life of the Hudson River'
Day in the Life has a core group of high school samplers who contribute to the strength of our program. These are student groups that carefully follow the established protocols, record their data with accuracy and precision, return their data in a timely manner to be included in activities and datasets, and plan to work with the data that is collected through the program.
Suggested Resources for our High School participants
Getting Started with Data:
Why Use Real Data in Teaching Science? Using real Earth system data in teaching Earth & Environmental Sciences has significant benefits not only in connecting students directly with the Earth and its processes, but it also introduces them to a skill they will use the rest of their lives. Data is an important part of our daily lives in the 21st century. We read and interpret data every day in weather reports, financial updates, news articles and political blogs. Being able to interpret data is an essential skill, but real data can be messy, challenging and is not always easy to work with. This too is important for students to learn. Read more in this pdf about using real Day in the Life Data in your classroom.
Metadata - Working with data involves developing a basic understanding of the conditions under which the data was collected. We call this metadata which is often defined as the 'How, when, under what conditions, and by whom was a particular set of data was collected, and how is the data formatted?' In our situation since the data is being collected in a field environment we also need to know factors about weather and physical conditions that might influence the data we are working with. Having the metadata to consult is essential for understanding information stored in datasets.
Where can you find Metadata for 'Day in the Life'? Our data collection includes two main sections that provide these insights: The site description and the physical section includes sample times, and weather information. In addition you will need to consider the equpment used when analyzing the data since the equipment is not standardized and some equipment has lower resolution than other equipment. For each site and year you will want to record this metadata so that you consider it as you review the data.
Working with the Day in the Life Data: Each year's data is listed by individual sample site (in doc and pdf format) and by parameter (xls format). You can create your own excel spredsheets and graph data using the parameter sheet. To look at trends over time with one site you will need to create the data table.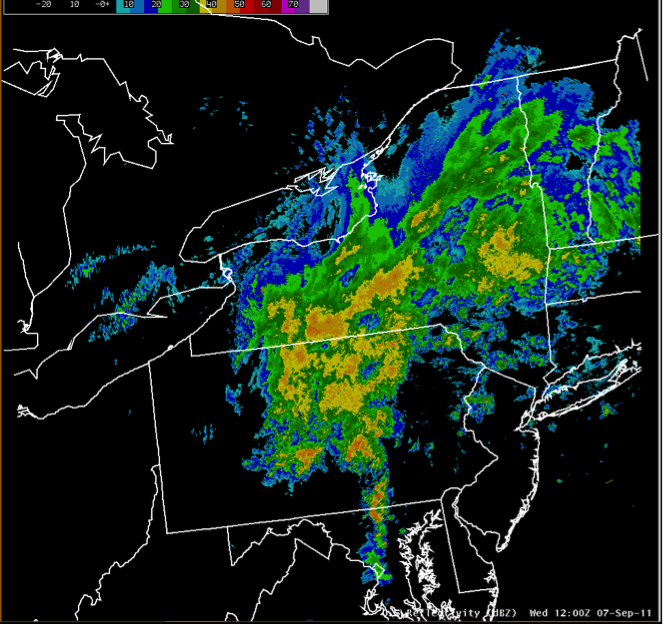 Data Activities for Students:
Data Shorts: Telling Hudson River Stories With Graphs - At the request of high school teachers, Estuary Program educators have begun production of short PowerPoint presentations featuring remotely sensed Hudson River data available on the internet. Organized around the theme 'Telling Hudson River stories with graphs', these shows promote development of skills in interpreting graphs and formulating and testing hypotheses to explain phenomena, as well as exploring physical and biological attributes of the Hudson estuary ecosystem.

Each show is only ten slides long, facilitating its use in often crowded syllabi. Notes accompanying each slide provide explanations and additional information about phenomena illustrated. Each set of slides has also been posted as a ~30 second movie to enable teachers to get a quick preview of what skills and topics are covered in the 'Data Short' prior to downloading, however teacher notes will not show in the movie version.
Two PowerPoints are available now, one covering the basics of the Hudson's tides, the second examining the various ways in which storms impact water levels in the estuary. Additional PowerPoints are planned to be added through time.
3D DATA -water quality date examined by depth - Data from the lower Hudson River and Long Island Sound are displayed as "section map" color visualizations. Data includes salinity, oxygen, temperature, turbidity, chlorophyll, and depth and were collected by dropping a CTD (Conductivity, Temperature and Density) instrument down the water column. Available in word or pdf format below.
| 3D DATA - considering depth in the river | Word | pdf |
| --- | --- | --- |
| Realtime Data from our Ship Sondes | TBD |
| --- | --- |
Other Hudson River Sources for Real-Time Data:
Our data is excellent for a quick snapshot look at the Hudson River System but there are other resources that sample the Hudson on a more consistent basis, in some cases 24 hrs/7 days a week. Check out these resources.
Data Source & Url

Description

HRECOS - Hudson River Environmental Conditions Observation System -

Click on Current Conditions to choose sites and parameters and create graphs.

HRECOS real time sondes measure at sites in the brackish and freshwater sections of the river. You can graph 2 parameters at one time at one station OR the same parameter at 2 stations. You can display data in 15 minute increments or on a daily basis (averaged) and you can chose to see a range of data. Data can be downloaded for use in excel. Some of the sondes in the system have been retired – these are labeled, however there is still archived data available at the station for use.

Mobile Stations on the river as part of the HRECOS and the Stevens Institute system

There are two mobile sondes as part of the HRECOS system: (1) Clearwater operates from various locations on the Hudson (2) Pioneer operates out of Southstreet Seaport. Ship tracks can be selected showing the track, time, water temperature, oxygen and salinity. Tracks can be run at various speeds. Check how salinity, temperature, oxygen etc. vary with time and location.

GW Bridge & Castle Point and other stations from The Center for Maritime Systems at Stevens Institute of Technology

http://hudson.dl.stevens-tech.edu/maritimeforecast/PRESENT/data.shtml

This set of stations shows modeled data not actual real time readings. Archived data from these stations are available on the HRECOS site for the months that these stations were collecting real time data.

Beacon Institute for Rivers and Estuaries – River and Estuary Observatory Network (REON)

http://serf.clarkson.edu/cgi-bin/reon_platform_locations.htm

While many of these sites are on the Hudson River the Dennings Point site at ~ RM 60 on the Hudson River is perhaps the most robust of this system. It can provide a realtime look at many of the same parameters included in the HRECOS system
Other Sources for Real-Time Data that can be examined for a comparison:
Data Source & Url

Description

NOAA (National Oceanic & Atmospheric Administration) tide gauge at the Battery, New York City

The Battery tide guage has been in operation for over 100 years In the Products column, click on Preliminary Water Level to see graph. You can also click on Sea Level trends to see Sea Level here since 1850.

NOAA data buoy 44065 in the Atlantic Ocean at the entrance to New York Harbor

Scroll down the page to view or graph conditions.

US Geological Survey Hudson River gages (Albany, Poughkeepsie, links to others)

http://ny.water.usgs.gov/projects/dialer_plots/saltfront.html

The home of the prior 'salt front' site this resource is now a source for stream gages, and archived data.

Long Island Sound Integrated Coastal Observing System

A series of water quality sampling stations in Long Island Sound that collect a comparable array of data to what we collect in HRECOS. Select a station (Western Sound station is useful as it is close to the East River), click on Water Quality Panel to see the readings in numbers and dials. Recent history shows hourly readings through time

Interesting to look at oxygen levels at depth in the Great Lakes.

West Point National Atmospheric Deposition Program Site

West Point trends through time link for NADP site – http://nadp.sws.uiuc.edu/sites/ntn/NTNtrends.html?siteID=NY99pH plot is interesting – shows the impact of our air emissions standards and the effect of limiting coal fire plants
(Activities provided in pdf format - If free downloadable software for viewing is needed please click on the adobe icon)