SUGGESTED STATION PLANNING LIST
A list of suggested supplies for each sampling station, in both pdf and word formats so it can be tailored to your needs. Groups are not required to do each station or to organize them as we did.
SUGGESTED EVENT EQUIPMENT LIST
A list of suggested equipment in pdf and excel formats. Participants do not need to do all the tests, and some supplies will be provided by the Day in the Life Team: sediment corer, and quantabs for low salinity sites. Please contact us with equipment questions.
FISH IDENTIFICATION
Guide To Common Hudson R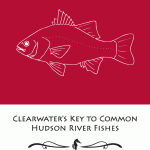 iver Fishes
A simple dichotomous key. To purchase go to Clearwaer's site. Education discounts are available.
PHOTO TOOLS FOR ID
Some of our fish are challenging. This supplementary guide has images and tips with I.D. details to help you! Print and laminate a copy or two to take to the river.
INVERTEBRATE GUIDES FOR THE HUDSON & HARBOR
Crabs, Bivalves & Macro- Invertebrates
Supplementary Guide: Oyster Garden Program
(Full) or Summary Sheet (2 pg)