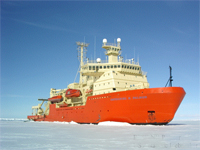 Unified data portal for the NSF Ridge 2000 program, MARGINS program, Marine Seismic Reflection data, Antarctic Multibeam Bathymetry Synthesis, and RIDGE Multibeam Bathymetry Synthesis; includes GeoMapApp cross-platform application for visualization of integrated data sets.
The Marine Geoscience Data System (MGDS) provides access to the NSF-funded Ridge 2000 Data Portal and MARGINS Data Portal, as well as the Antarctic and Southern Ocean Data Portal, and the Seismic Reflection Field Data Portal. These projects are developed and maintained as a single integrated data system, providing free public access to a wide variety of marine geoscience data collected throughout the global ocean. System components include a metadata catalog, digital data repository and the Global Multi-Resolution Topography (GMRT) synthesis, a dynamic multi-resolution gridded synthesis of seafloor bathymetry data integrated with global land topography.
Data access services include a key word search tool, and data visualization tools GeoMapApp, and Virtual Ocean. Open Geospatial Consortium (OGC) compliant Web Services are also available to enable access by other data systems and visualization tools. Development of the integrated data system has been underway since 2003 in collaboration with researchers at WHOI, UTIG and TAMU as well as with the National Geophysical Data Center, Boulder CO.
Faculty, Scientists, and Staff: