SeaNet E-mail Workshop
draft for discussion
Note:
These documents will move to the SeaNet web site in October. In the meantime (while they are changing often) the most recent version will be here.
---
A draft for discussion has been assembled mostly by myself (Dale Chayes) with feedback from discussions with many of you over the years and more recently with others in the SeaNet collaboratory. This draft will be a topic of discussion at the SeaNet email workshop (September 28-30, 1997).

Comments are strongly encouraged and those recieved prior to the workshop will be incorporated.
Comments on the current draft:
The numbering of sections is damaged
Crucial content is missing from some sections
It needs review and comments (back to Dale.)
The font in the HTML file may be too small to read on the some screens.
A plain ASCII version isn't here yet.
---
The current draft is avilable in multiple forms (others can be added on request):

The following figure is provided to set an overall context: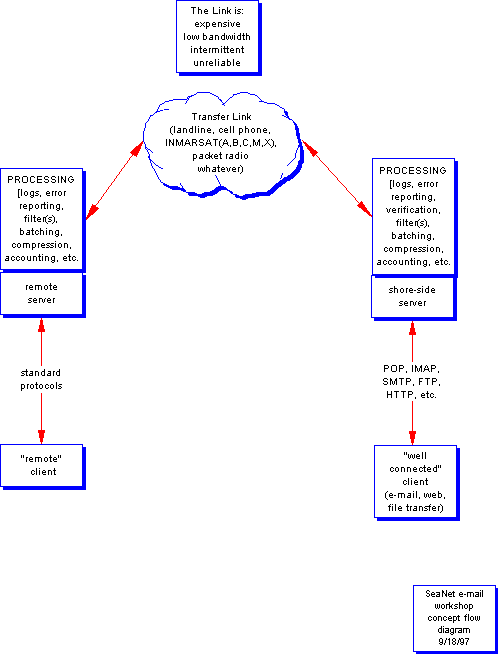 ---
Ewing e-mail transport block diagram
Th following diagram shows the primary and backup data transfer paths currently in use on the Ewing. The details have changed over time (different computers for instance) and the software has evolved episodically but approximately the same system has been in place since 1985.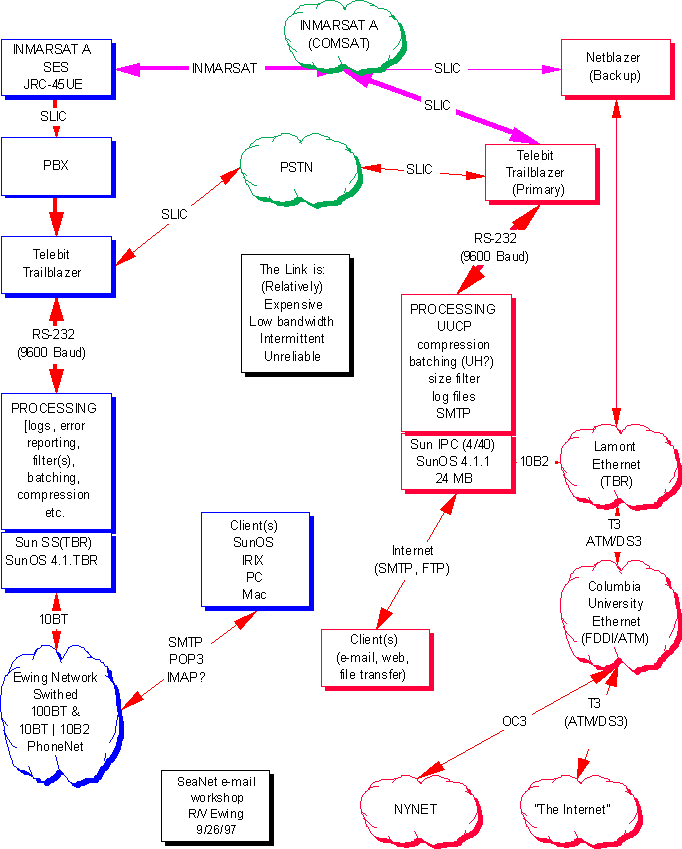 ---
Updated: $Id: index.html,v 1.6 1997/09/26 20:22:32 dale Exp $
---
<!$Log: index.html,v $ # Revision 1.6 1997/09/26 20:22:32 dale # Fix typo! # # Revision 1.5 1997/09/26 20:01:43 dale # Add HR # # Revision 1.4 1997/09/26 19:59:30 dale # Add Ewing block diagram # # Revision 1.3 1997/09/23 16:35:51 dale # Fix dates # # Revision 1.2 1997/09/23 15:30:24 dale # Clean up the index page # # Revision 1.1 1997/09/23 15:19:48 dale # Initial revision # # Revision 1.4 1996/07/09 17:11:23 dale # fix the "log" entry at the end # >