Robin E. Bell
Doherty Senior Research Scientist
Lamont-Doherty Earth Observatory of Columbia University, 61 Route 9W, Palisades NY 10964 Tel: (845) 365-8827/ Fax: (845) 365-8179/ e-mail: robinb@ldeo.columbia.edu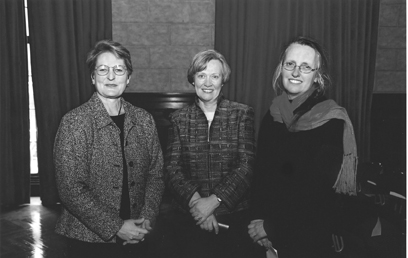 Jean Howard, Vice Provost for Diversity Initiatives, Shirley Tilghman, President of Princeton University and Robin Bell, Dohety Senior Research Scientist
Expanding Opportunities for Women in Science & Engineering

Picture above are the ADVANCE Fellowship Award winners for 2005-2006
Publications on This Topic
Bell, R. E. & J. Laird, Women, Work and the Academy, EOS, 86(30) Paper No. 2005ES001073, 2005.
Bell, R., Laird, J., Pfirman, S., Mutter, J., Balstad, R., and Cane M. An Experiment in Institutional Transformation, Oceanography, 18(1), 25-34, 2005.
Bell, R. E. et al., Righting the Balance: Gender Diversity in the Geosciences, EOS Transactions, 84:31, 292, 2003.