New York City Urban Vegetation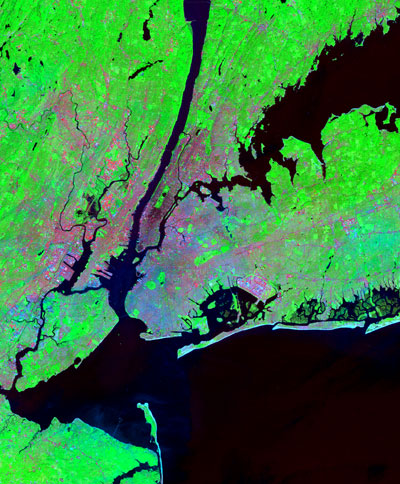 Zoom In On New York
Reflected and emitted Infrared and visible radiance measurements show differences in albedo, surface temperature, vegetation cover.
(Large Images - Plan Accordingly)
(jpeg > 200 K)
New York Vegetation Map
This image is explained in the ISDE paper below.
Urban vegetation abundance can be estimated to within 10% using Landsat imagery.
See the image above and papers below for details.
Intl. Symposium on Digital Earth - Beijing, 1999 - Proceedings Paper
PDF format (200 K)
Intl. Symposium on Remote Sensing of Environment - Capetown, 2000 - Proceedings Paper
PDF format (1.4 MB)
If your browser is configured properly it will automatically launch Adobe Acrobat or some similar pdf reader. The Acrobat reader is available to download free HERE.
Regional Views & Quicklooks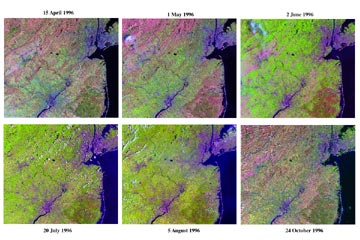 Multitemporal quicklook images from Landsat 5 and Landsat 7 show changes in regiional reflectance.
Pan Sharpened Manhattan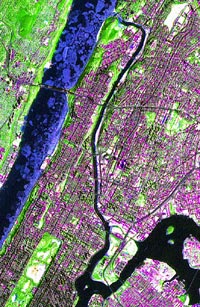 Pan sharpened images combine Landsat 7 ETM+ panchromatic imagery with multispectral imagery.