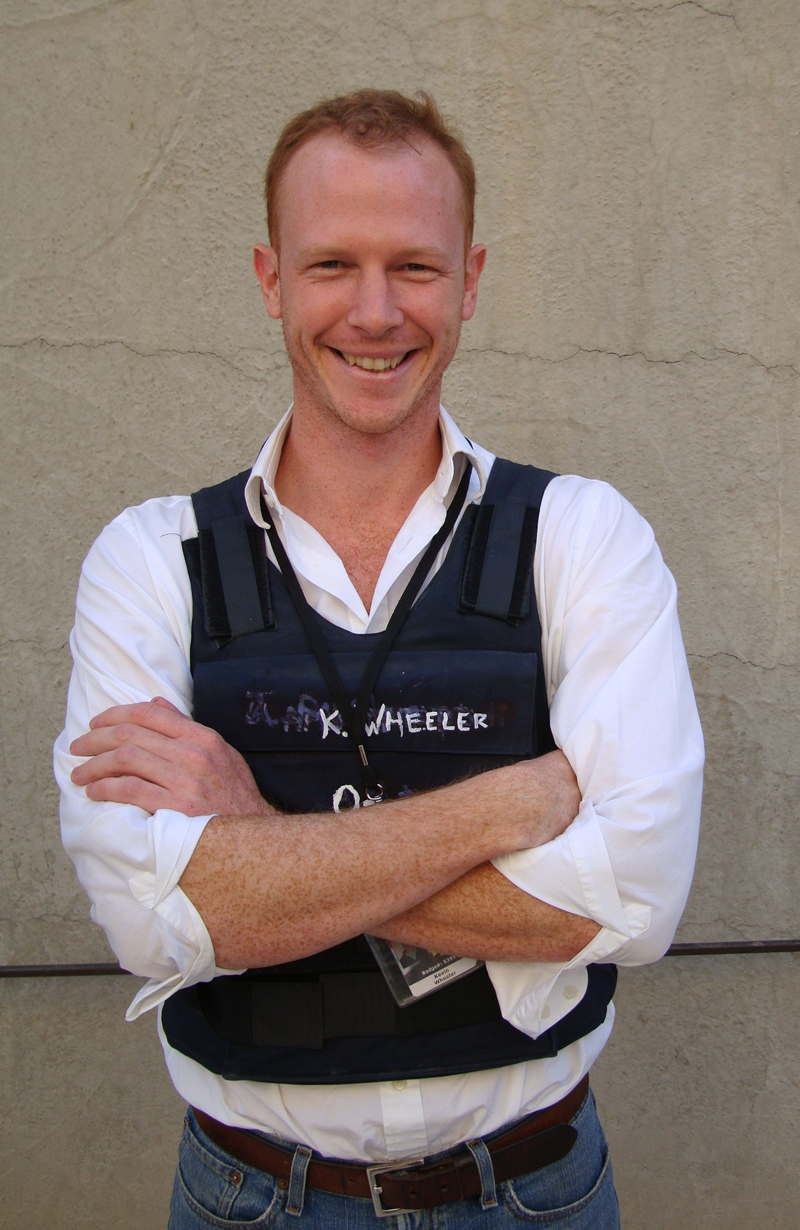 Kevin Wheeler, PhD '07
These days, Kevin Wheeler, who grew up in the mountains of Virginia and later received his degree at Lamont in experimental petrology, finds himself a long way from home. Since April 2009, Wheeler has lived and worked in Iraq's Red Zone, dividing his time between Baghdad and Erbil, the capital of the Kurdish region. Employed by the Kaizen Company, a subcontractor for the United States Agency for International Development (USAID), he is part of an international team assisting Iraqi ministries implement new initiatives to improve operations. Wheeler's role has been to develop and support internal consulting groups at the Ministry of Electricity, the North Oil Company, the North Refining Company, and the Refined Products Distribution Company.
Before his relocation to Iraq, Wheeler spent time in the Middle East, studying Arabic in Syria for a few months and living briefly in Jordan. The chance to work in Iraq appealed to him because "the country is such an exciting and dynamic place with a lot of opportunity to make a real impact." His group supports the ministries as they identify and pursue organizational improvements. Examples of such activities include creating clearly defined job descriptions, articulating the mission of the organization, implementing IT systems, and improving budget and procurement processes. The challenge is formidable. "Historically, the Iraqi governmental system has been very hierarchical, with a strong resistance to change and little incentive for initiative," Wheeler explained. He stressed that the sea change USAID envisions will take time. "There is no way to force this kind of cultural transformation."
When asked whether Iraqis were receptive to American advice, Wheeler admitted that he and his colleagues must be subtle in their approach. Consultants work hard to ensure that all activities are Iraqi-driven; Iraqi employees identify the problems they would like to rectify and they oversee the entire transition process. Many ministry officials seem to value American support, but Wheeler has come to realize that "they want to act on their own terms, in their own way, and on their own time line." He is heartened by the fact that the leadership at the Ministry of Oil (MoO) has invited Wheeler and his colleagues to expand their program. "This shows a serious and real commitment to improving their country," he said. But Wheeler also tempers this optimism. "This commitment is not shared by all Iraqis. And to see that can sober one to the realities facing Iraq along its path to unity and stability."
Wheeler has found his graduate degree beneficial, if not directly applicable. When he interacts with high-level managers in the MoO companies, his comprehensive science background garners respect. And he believes his scientific approach to problem solving and his comfort with drawing conclusions in uncharted territory has been very helpful.
Life inside the compound maintains some degree of normality, but venturing beyond its walls requires convoys with armed security officers. When he is in Baghdad, Wheeler has little interaction with the general population, but security restrictions are less severe when he travels to the Kurdish region. In Erbil he coaches a local youth soccer league that meets six times a week, allowing him to form bonds with local Iraqi citizens.
"Coming out here I expected to encounter a dynamic, even chaotic environment with lots of surprises and little predictability—and that's what I've found," Wheeler said. But he finds little to deter him. Wheeler plans to stay at least until the end of 2010 and, depending on the state of security and the government's trajectory, possibly a whole lot longer.