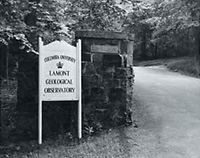 The Lamont-Doherty Earth Observatory sits on a high, forested bluff on the Palisades overlooking the Hudson River, about fifteen miles north of Manhattan.
The Establishment of Lamont Geological Observatory
The Lamont Geological Observatory, now the Lamont-Doherty Earth Observatory, was established in 1949. Its first director was Professor William Maurice "Doc" Ewing, a pioneering Earth scientist.
The Lamont Family
In 1929, Thomas W. Lamont (1870-1948), a Wall Street banker, constructed a weekend residence overlooking the Hudson River in Palisades, New York. He named the estate "Torrey Cliff" after John Torrey, a prominent botanist who had spent summers on the site from about 1854 to 1865.
In 1948, Thomas W. Lamont died and his widow, Florence Corliss Lamont (1873-1952), an alumna of Columbia University, donated the estate to Columbia. She wrote, in part, "I am giving the property in my husband's memory. My gift is unrestricted," but she was pleased with the University's plans to make the property a center of geological research, and assured that "the world [would] benefit."
Lamont becomes Lamont-Doherty
In 1969, the Observatory was renamed "Lamont-Doherty" after a major contribution from the Henry L. and Grace Doherty Charitable Foundation. Henry Latham Doherty (1870-1939) was the founder of the Cities Service Company. The Henry L. and Grace Doherty Charitable Foundation is a major supporter of oceanographic institutions.
The Geological Observatory becomes the Earth Observatory
In 1993, the Lamont-Doherty Geological Observatory was renamed the Lamont-Doherty Earth Observatory in recognition if its growing scope of expertise and influence in the Earth sciences.
Lamont-Doherty Earth Observatory today
To support their global research, Lamont-Doherty scientists operate the world-ranging, 235-foot research vessel, Marcus G. Langseth . The ship collects gravity and magnetics data on the seafloor; creates seismic images of rock layers below the ocean floor; dredges rock samples; takes ocean-floor sediment cores; maps the ocean floor with sonar; and collects water samples to explore ocean currents, temperature, salinity, marine life and other data for a wide range of oceanographic research.
The Observatory houses the world's largest collection of deep-sea and ocean-sediment cores—more than 13,000, from every ocean and sea. Its Borehole Research Group participated in all the recently concluded Ocean Drilling Program expeditions, collecting data on physical and chemical properties of rock formations penetrated by seafloor boreholes. The Observatory also operates a number of seismic networks on the East Coast as well as in more remote places around the world and is fully equipped to deploy portable seismometers rapidly in the immediate aftermath of earthquakes.
With the wealth of accumulated data collected in these and other scientific endeavors, Lamont-Doherty has amassed some of the world's most comprehensive (and accessible) databases in seismology and marine geosciences. Tools used by Lamont-Doherty petrologists and geochemists include high pressure and temperature experiment apparatus, and facilities allowing analysis of virtually all elements and isotopes in rocks and water, including mass spectrometers, plasma and solid-source spectrometers, electron microprobes, scanning electron microscopes and X-ray diffraction.
The Observatory has fully equipped laboratories for rock mechanics, paleomagnetics and tree-ring analysis, as well as its own electronics shop and instrument laboratory. To analyze and interpret the massive influx of data, a powerful computer facility and network have been developed linking facilities on campus and in the field.