Celine Herweijer, PhD '06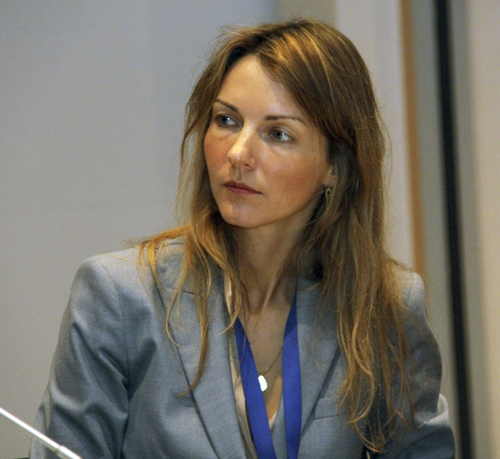 By any standard, Celine Herweijer's rise in the world of climate policy has been meteoric. Born in London, Herweijer came to New York to pursue graduate studies at Columbia, where she wrote her PhD thesis on drought modeling with Lamont-Doherty modelers Mark Cane and Richard Seager
Through her thesis, Herweijer became interested in the policy and business response to managing climate impacts, including a mechanism that grants farmers in the developing world access to what only the richest 3 percent of people on our planet have: insurance. Columbia University's International Research Institute for Climate and Society, together with the United Nations, had begun to explore the idea of climate index insurance. By employing climate models to gauge weather-related scenarios, scientists could diminish investment risks for both farmers and insurers. 
"Insurance agencies were just starting to pay attention to climate change, looking at both risks and opportunities for new products and markets," Herweijer explains.
Inspired by this intersection of science and policy, Herweijer worked on some of the earliest pilot projects at the UN Division for Sustainable Development in 2005, while finalizing her PhD (Herweijer's competency is reflected in the fact that a few years later she shared a panel with Kofi Annan at the Global Humanitarian Forum in Geneva).
Herweijer was keen to apply her technical expertise in climate outside of academia, in both the public and private sector. "I'm driven by a desire to help influence change," Herweijer says.
Returning to London, Herweijer accepted the role of project director at the Lighthill Risk Network, a start-up organization funded by large insurers and re-insurers, and by the UK government. Her assignment at Lighthill was to construct a link between the world of academic research and the insurance market, and to facilitate effective dialogues between both entities. Reflecting on her time with Lighthill, Herweijer now realizes she received an invaluable education in launching a start-up company and assembling talent from scratch.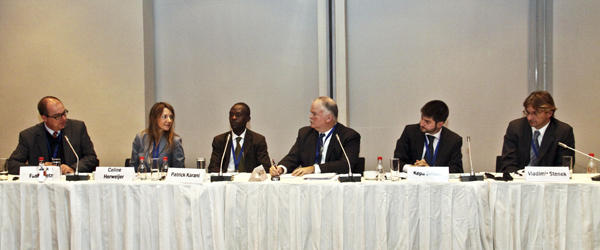 With this experience under her belt, Herweijer was recruited by Risk Management Solutions (RMS) at the start of 2007. RMS is the world's largest catastrophe modeling firm and builds models for insurers and banks associated with natural events, such as earthquakes, volcanoes, and hailstorms, in addition to man-made catastrophes, like terrorism and pandemic flu. At RMS she worked with the model development team to address how climate variability and change would affect model design, and with RMS' insurance clients on the impacts of climate change on their business.
As the director of the RMS Climate Change Practice, Herweijer also began to create new markets for RMS, encouraging the company to apply their models more widely to help clients outside the insurance industry. Concentrating on climate risk and adaptation, she worked with RMS to engage clients in the public sector—from individual cities to the governments of developing countries and development banks—and in business, from corporates to private equity firms.
Herweijer enjoyed the diversity of the clients she cultivated at RMS, and, when PricewaterhouseCoopers (PwC) recruited her in 2009, decided to join them as a director in their UK Sustainability and Climate Change team, leading their climate change and international development business. PwC's climate change capacity is truly immense: Their global network of climate change and international development experts comprises over 800 people in more than a hundred countries who support governments, donors, international organizations, the private sector, and NGOs on issues from policy development to fund management, project implementation and impact assessment.
Examples of their work include managing large-scale donor funds for the United Nations program on Reducing Emissions from Deforestation and Forest Degradation in Developing Countries (REDD+), and advising governments on how to move toward a low carbon and climate resilient future. Often this means addressing national institutional structures, policy and fiscal reform, and creating a favorable environment for private investments to reduce emissions and to maximize other sustainable outcomes.
With Herweijer's efforts, PwC was recently selected to manage a five-year, £55 million flagship program funded by the UK and Dutch governments referred to as the Climate and Development Knowledge Network (CDKN). Herweijer currently acts as CDKN's chief strategy adviser. The CDKN supports leaders and decision makers in developing countries to design and deliver climate-compatible development policies. It does this by providing technical assistance, cutting-edge research, strategic knowledge sharing, and capacity building, in more than 20 developing countries. Collaborating with researchers, think tanks, the private sector, donors, UN agencies, and foreign media, Herweijer and her team are building a network of international experts who can help promote green and climate resilient growth.
Today, Herweijer's work mainly consists of traveling to Washington DC, Brussels, or developing countries, meeting with top decision makers and experts, and scoping out strategic collaborations. She is a key adviser to the G-20 and World Economic Forum's business-expert taskforce around adaptation, a member of the Munich Climate Insurance Initiative, and a private sector representative of the World Bank's Climate Investment Funds.
In January, she briefly alighted in Manhattan, just long enough to meet with this (grateful) writer and a group from the US State Department that is in the early stages of establishing a US government program in many ways akin to the CDKN. Since 2011, Herweijer has been a visiting senior research fellow at the London School of Economics' Grantham Institute for Climate Change. This (part-time) return to research is something she relishes. "Grantham will provide me with some vital headspace to collaborate with peers and students on publishing papers again," Herweijer says.
Herweijer doesn't discount a return to academics in the future. "My years at Lamont-Doherty were some of the happiest I've experienced. I would love to spend my 'sunset years' immersed in research again and teaching, ideally at The Earth Institute, back in New York, and on the soccer pitch!"