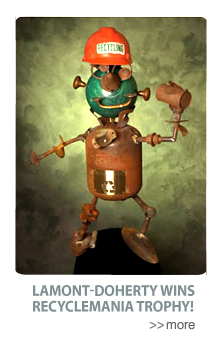 Did you know? … Facts and numbers!
What can you do to recycle more?
Which items can be recycled at Lamont?
What about batteries and electronics?



Did you know? … Facts and numbers!
Lamont generates about 1,000 cubic yards of waste each year. Ooph, that's a lot of stuff. About 300 cubic yards (30%) of this waste gets recycled and recovered. The rest (a whopping 70% - yuck) goes in the
landfill .
Amount of LDEO rubbish:







Amount of LDEO recycling:



The amount of stuff sent to the landfill could be significantly reduced if Lamonters were even more committed to recycling. Unfortunately, some trash items are tossed into the recycling bin causing the entire contents of that bin to be thrown into the trash. About 10% of recyclable material is lost each year because of this contamination.
Lamont pays around $25,000 each year to have trash hauled to the landfill. In contrast, we do not get charged to take recyclable material to the Rockland County Solid Waste recycling center at Hillburn. There is some cost involved in collecting recyclables from each building and in doing an initial sorting, but it is way less than what it would cost to simply put the stuff in the trash. Plus, we gain the associated environmental benefits of recycling.
Here is the breakdown of the recycled items for year 2005 that were sent for recycling and material recovery:
43 tons of paper and cardboard
15 tons of electronics
2.5 tons of bottles, cans and drink containers
2.5 tons of batteries
0.5 tons of fluorescent lamps
Total = 63.5 tons!
What can you do to recycle more?
Place more recyclable items into the blue recycling bins:





Try not to contaminate the recycling with trash and food - please wash out your drink and food containers.
Check the recycle number of plastic containers. Look for numbers between 1 – 7, usually printed inside the chasing arrows symbol on the base of the plastic container, like this: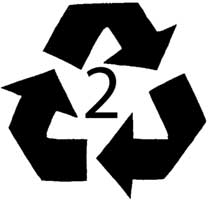 Which items can be recycled at Lamont?
Cardboard – yes!
Soda cans – yes, if they are empty
Glass bottles and jars – yes, if they are empty
Plastic drink bottles – yes, if they are empty
Plastic containers (with recycle numbers 1-7 on base) – yes, if they are clean and empty
Pizza boxes – yes, if they are not covered in food
Tin foil and aluminium foil – yes!
Metal items – yes!
Hey! What about other items? Click here to find out
What cannot be recycled?
No Styrofoam
No Plastic bags
No Plastic plates, cups, knives, forks, spoons
No Paper plates, cups, napkins
How come these items do not get recycled? The recycling is done at the Rockland county Hillburn recycling centre which accepts a range of items depending upon what market exists. For these particular classes of items listed here, there is not enough commercial demand for the end products and so they do not get recycled. The cost to haul stuff to more distant recycling centres makes it impractical.
Computers, electronics, batteries, bulbs and the like
It costs Lamont a lot of money to correctly dispose of electrical goods, batteries, and fluorescent lights. So, if you have such items at home, please don't bring them to Lamont. Instead please contact your local residential municipality to find out how to dispose of them.
If you have the following items from your office, please contact Facilities (ext. 8865) to find out how to have them collected.
Computer equipment and electronics equipment – yes!
Fluorescent lamps – yes! (Please call Facilities for collection)
Batteries – yes!