The Lamont-Doherty Core Repository is dedicated to the education and outreach of the geosciences. This year we have welcomed high school students, cub scouts, journalists, and an astronaut to tour our facilities and historic sediment core collection. To schedule a visit contact Curator, Nichole Anest - peridote@ldeo.columbia.edu
The Core Repository is also social! Follow us on Twitter, Facebook and Instagram for the most current Core Repository news and view our photo archives on flickr .
Learn about our Scientific Education Visualization Wall .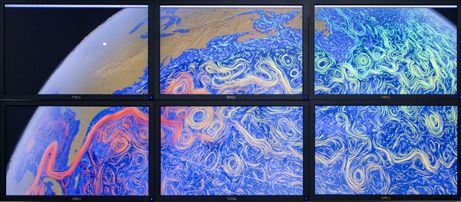 Gulf Stream sea surface currents and temperatures downloaded from the NASA Scientific Visualization Studio.