Visualization Wall
With generous support from the Lamont-Doherty Core Repository in the 21st Century - A Hyperwall for Public Education and Professional Training initiative and from the Advisory Board of Innovation, the Core Repository is proud to present the new Visualization Wall.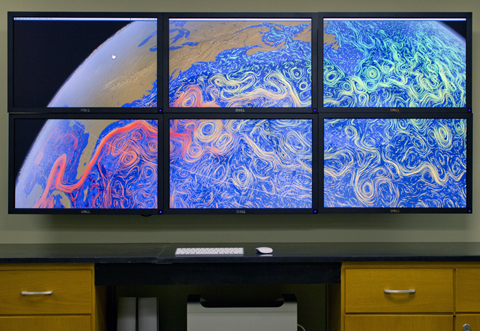 Gulf Stream sea surface currents and temperatures downloaded from the NASA Scientific Visualization Studio.
Technical Specifications
The Hyperwall is a 3 x 2 array of six 30" Ultrasharp (2560x1600) Dell Monitors powered by a MacPro configured with 12 Intel Xeon cores at 3.06Ghz, 64GB of RAM, and dual high-performance ATI Radeon HD 5770 1GB graphic cards.
Visualization Wall Resources
Short selection of galleries and videos featured on our Hyperwall
CoreWall - CoreWall is a real-time stratigraphic correlation, core description, and data visualization system used by the marine, terrestrial, and Antarctic science communities.

Corelyzer is a scalable, extensible visualization tool developed to enhance the study of geological cores.
Correlator is used to create composite and spliced stratigraphic sections from multiple cores for core-core and core-log integration.
CoreNavigator is a 3D visual indexer of complex core-stratigraphic sedimentary datasets and databases.