Find us, like/follow us and keep up to date!
October 13, 2018
Lamont-Doherty Open House 2018 was a great success and so much fun! The Core Repository was teeming with people all day. We had a great diversity of researchers at different stations in the repository, showing off their research and hosting hands-on activities for students of all ages to participate in. We can't wait for Lamont-Doherty Open House 2019 on Saturday, October 5th. Mark your calendars and check the Open House website for updates!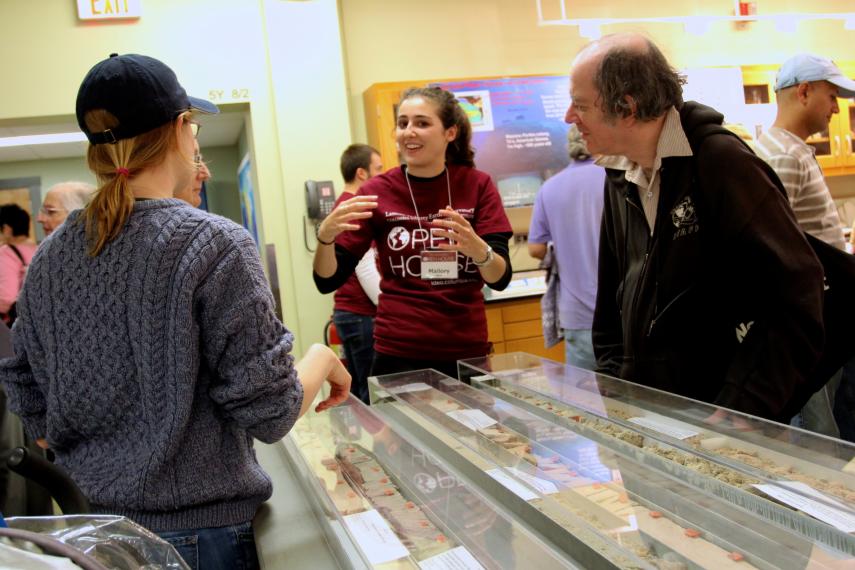 September 25, 2018
We had a great time at Hudson River Park's SUBMERGE Marine Science Festival this past Saturday! Thank you to all of our graduate student volunteers who helped out for the event. If you weren't able to come see us at SUBMERGE, stop by the Core Repository at LDEO's annual Open House on Saturday, October 13th from 10am to 4pm. To find out more information about Open House and to register, click here.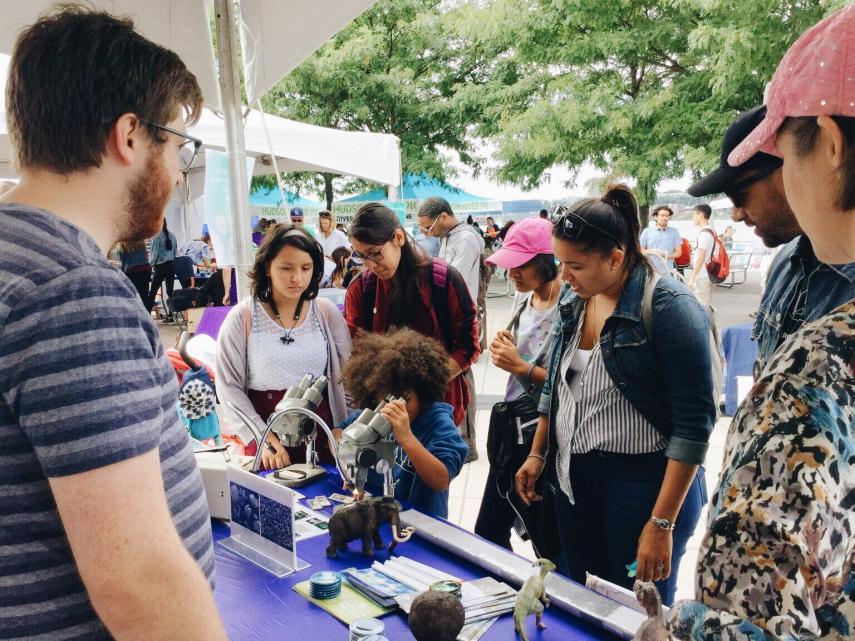 August 30, 2018
We have a couple of very exciting events coming up in NYC and the Hudson Valley area in the coming weeks and months! On September 22nd we will be at SUBMERGE NYC from 11am - 4pm at Pier 84. This Marine Science Festival has something for everyone, come stop by our tent and say hi! Also, don't forget about Lamont-Doherty Earth Observatory's annual Open House coming on on Saturday, October 13th. This is the largest event hosted at Lamont, and open to the public! Register for the event here.
August 28, 2018
The incoming first year graduate students have arrived on campus! Today they toured around campus and they are headed out on a camping trip in Vermont for the next couple of days before they start classes on Tuesday. Welcome to all and welcome back to campus for some, including our own Clara Chang (front row, left) who has been working in the Core Repository for the last three years. We're excited to have you all on campus and thanks for stopping by the Core Repository!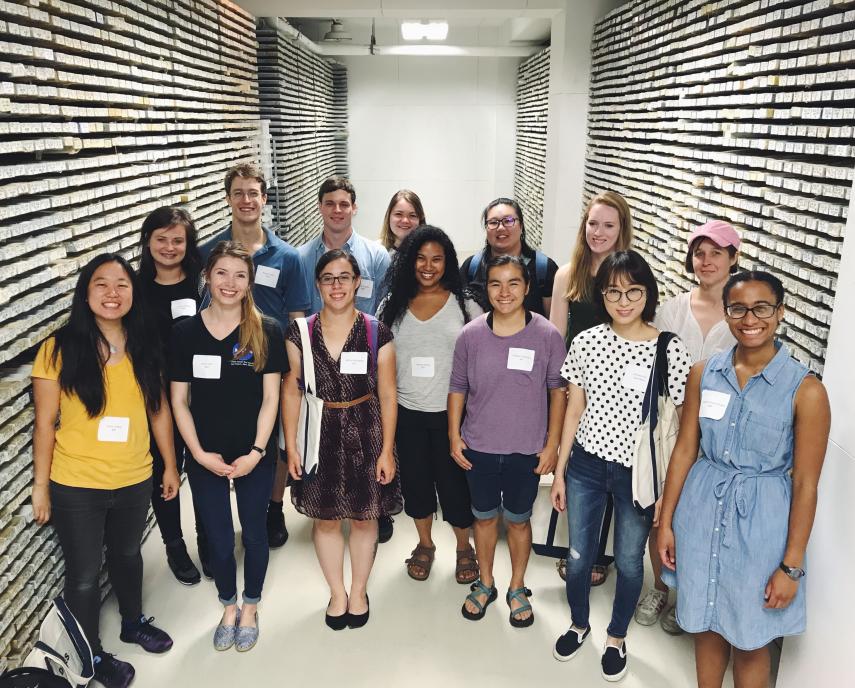 September 11, 2017
Come join us at one of our upcoming outreach events around the Hudson Valley and NYC! This Saturday, September 16, 2017, the Core Repository will be at SUBMERGE at Pier 26 in NYC. On Saturday September 23, researchers from Lamont will be at the Science on the River Open House at the Norrie Point Environmental Center in Staatsburg, NY. And, of course, be sure to attend Open House at Lamont-Doherty Earth Observatory Saturday, October 7!
October 12, 2016
A BOEM-funded Hurricane Sandy initiative is creating a new inventory of potential offshore sediment resources in federal waters in the Atlantic.
The project involved collecting, analyzing and cataloging 189 sediment cores offshore 11 East Coast states from Miami, Florida, to Massachusetts beginning in 2015. These cores are now part of the Lamont-Doherty Core Repository's collection.
Coastal managers, scientists and others will be able to access the physical core samples and the new data, which will be shared through Lamont's System for Earth Sample Registration (SESAR) at http://www.geosamples.org/. Ultimately, the full set of ASAP metadata will be accessible through Lamont's main database, the Index to Marine and Lacustrine Geological Samples (IMGLS), http://www.ngdc.noaa.gov/mgg/curator/curator.html. Data sets available include core descriptions and photographs as well as grain size analysis.
BOEM has recently published summary reports on efforts by state agencies and state universities to update maps and consolidate databases related to offshore sediment resources. These activities were made possible through cooperative agreements between BOEM and 13 Atlantic states from Florida to Maine in 2014. Summaries of the cooperative agreement reports are available at the Marine Minerals Program's revamped website: http://www.boem.gov/MMP-State-and-Regional-Activities/.
The mission of BOEM's Marine Minerals Program is to facilitate access to and manage the Nation's (OCS) non-energy marine minerals, particularly sand and gravel, through environmentally responsible stewardship of resources, prudent assessments of exploration and leasing activities, coordination with governmental partners, engagement of stakeholders, strategic planning, and mission-focused scientific research to improve decision-making and risk management. For more information, see http://www.boem.gov/Marine-Minerals-Program.
May 3, 2016
Congratulations to the Repository's Director, Maureen Raymo, on being elected to the National Academy of Sciences!!
July 7, 2015
We have a lot of projects going on at the Core Repository this summer, as well as a few new faces. Alex and Deandra will be working on our Carbonate Project this summer, creating high resolution carbonate transects of the Atlantic and Pacific Oceans from our core collection. Deandra is a recent graduate of Ithaca College, and Alex just finished his first year at Carleton College.
Frank just finished his first year at Cornell University. He is working on our educational outreach materials! Here he is photographing microfossils retrieved from our collection.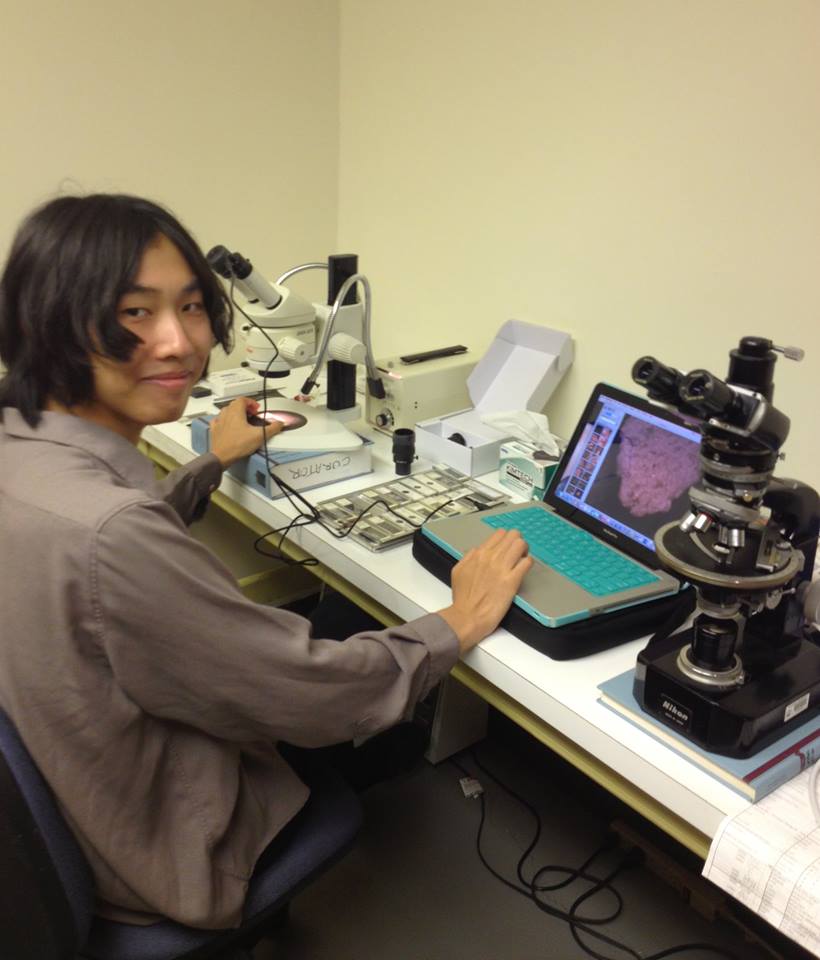 Ellen, Kateri, and Ian are local high school students who will be organizing our coral collection this summer.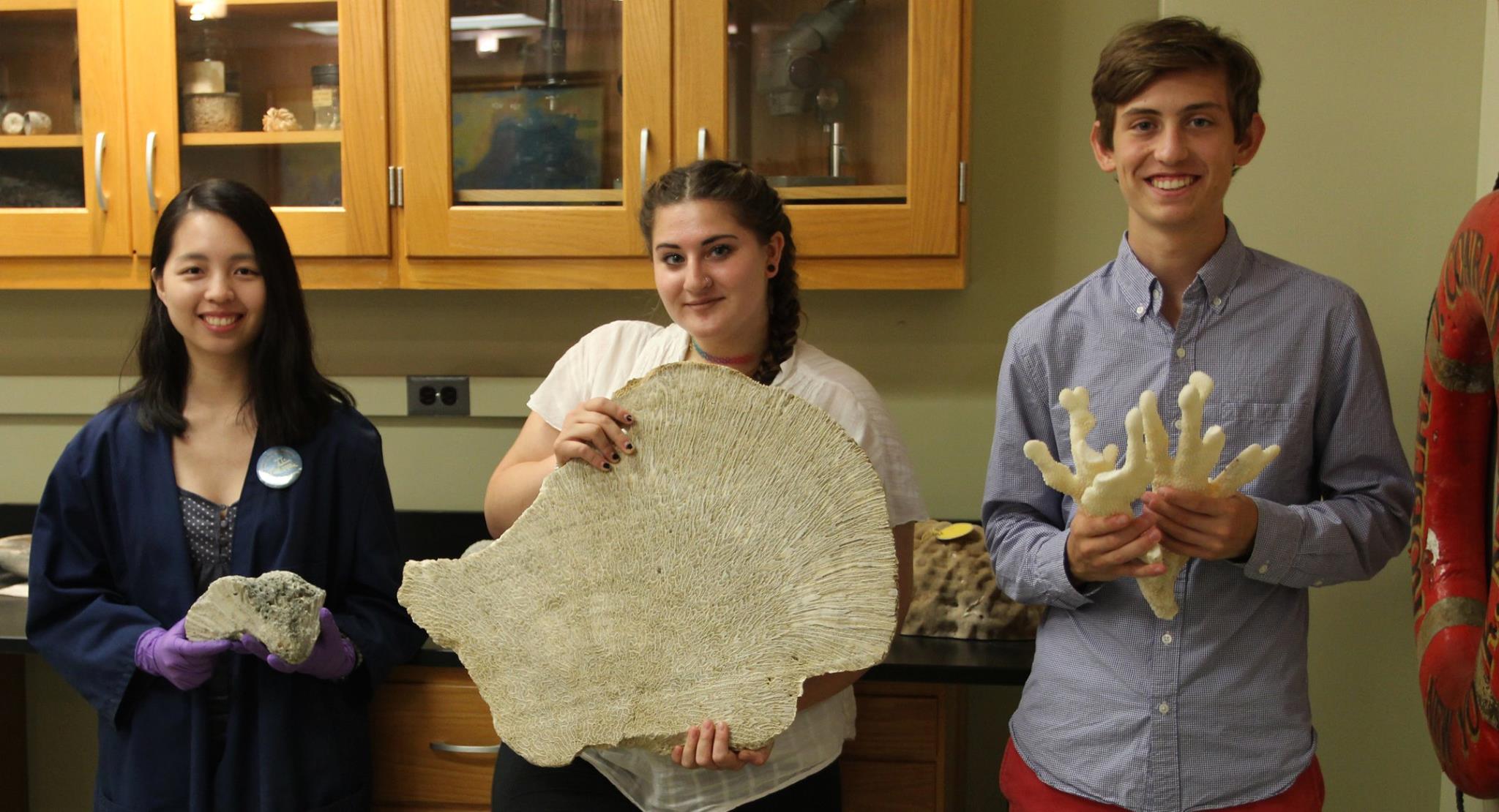 June 26, 2015
The Rockland Service Corps visited us at the Core Repository and checked out our collection of Husdon River Cores.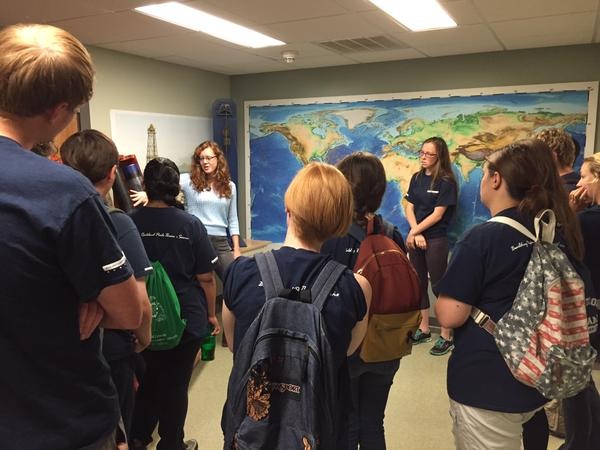 June 24, 2015
James Hunt, a researcher from the Southampton Geohazards and Sedimentology group, visits us at the Core Repository!
June 12, 2015
The Core Repository has made its debut in comedy, in an Upright Citizens Brigade sketch about Jurassic Park!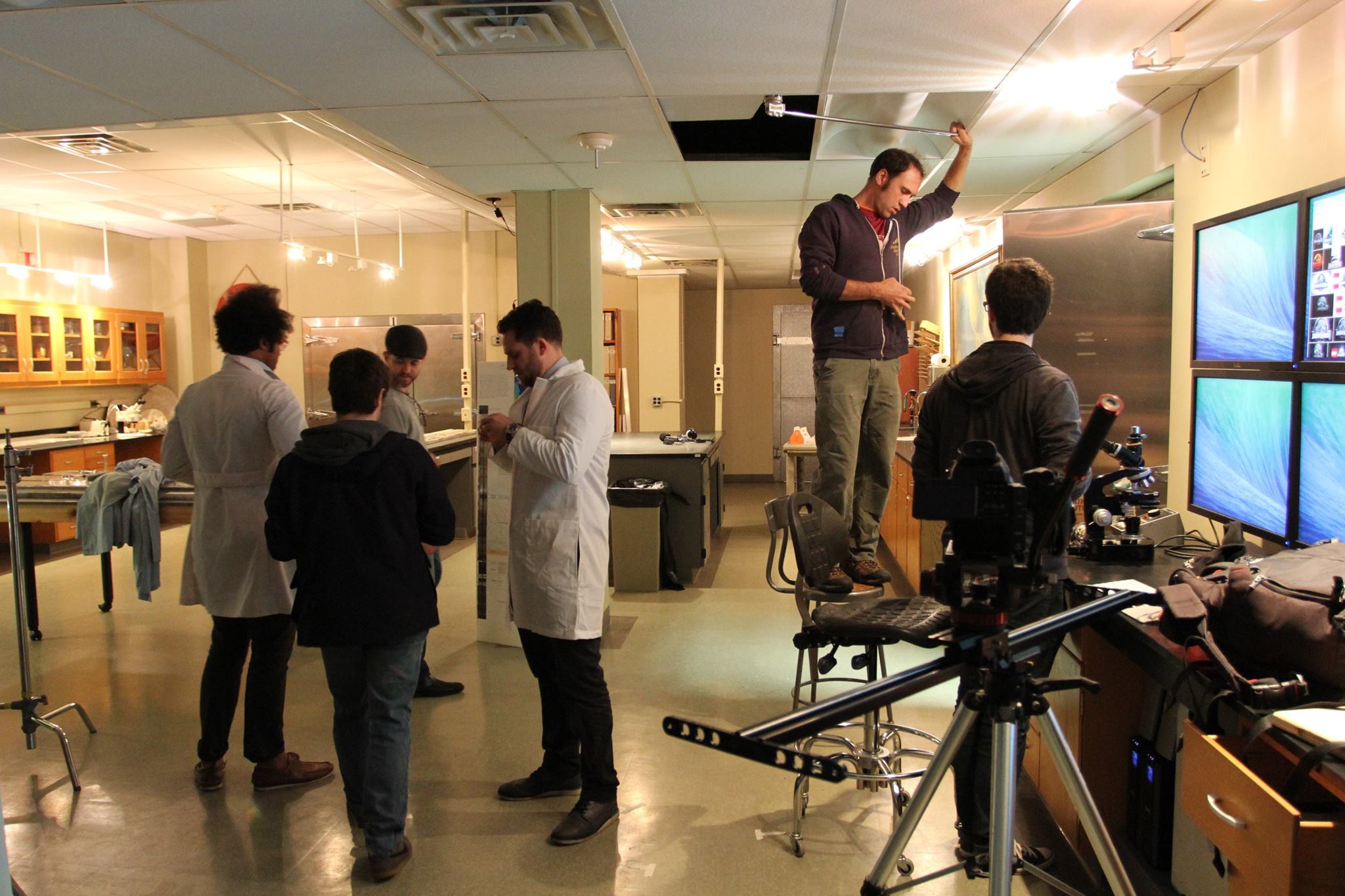 June 9, 2015
Retired teachers from Scarsdale, NY tour the Core Repository and give us some teaching tips.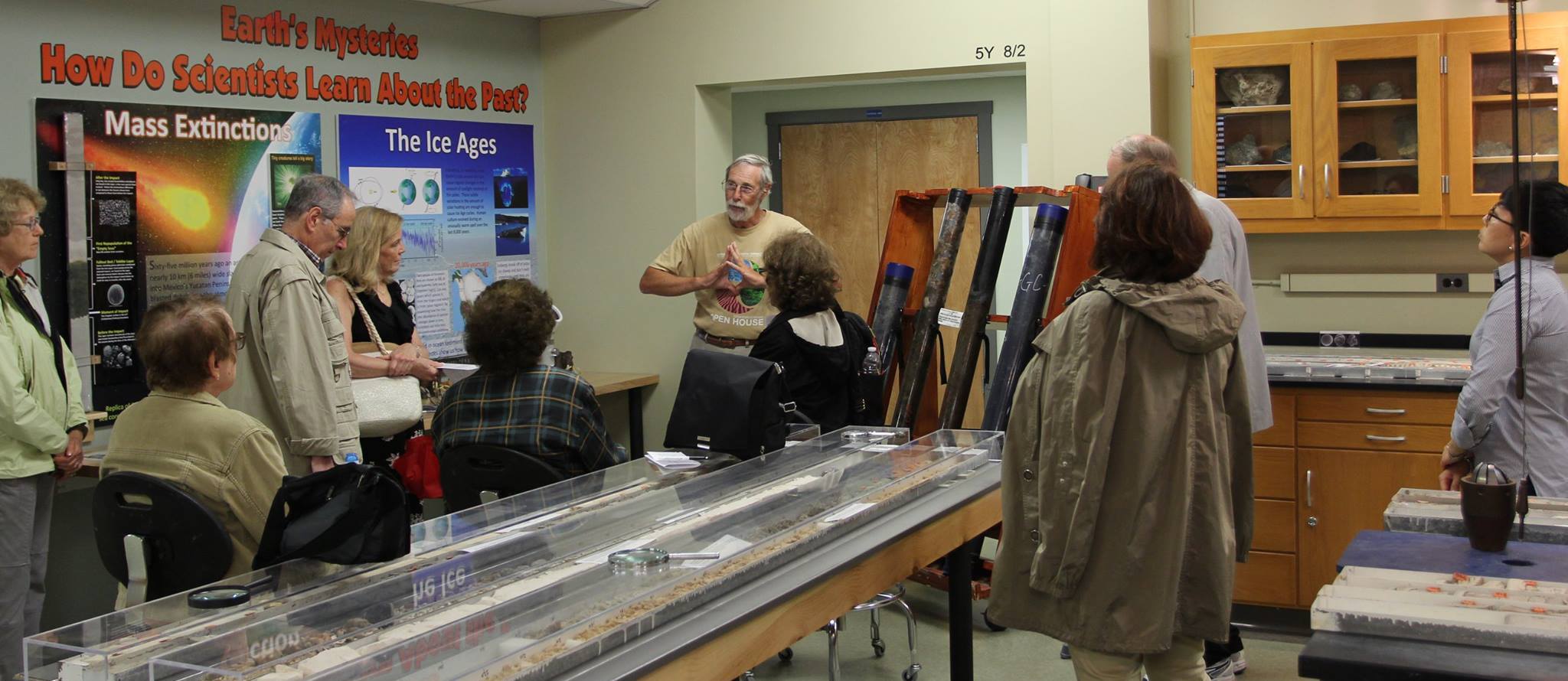 June 4, 2015
Student scientists from SUNY ESF (Sate University of New York College of Environmental Science and Forestry).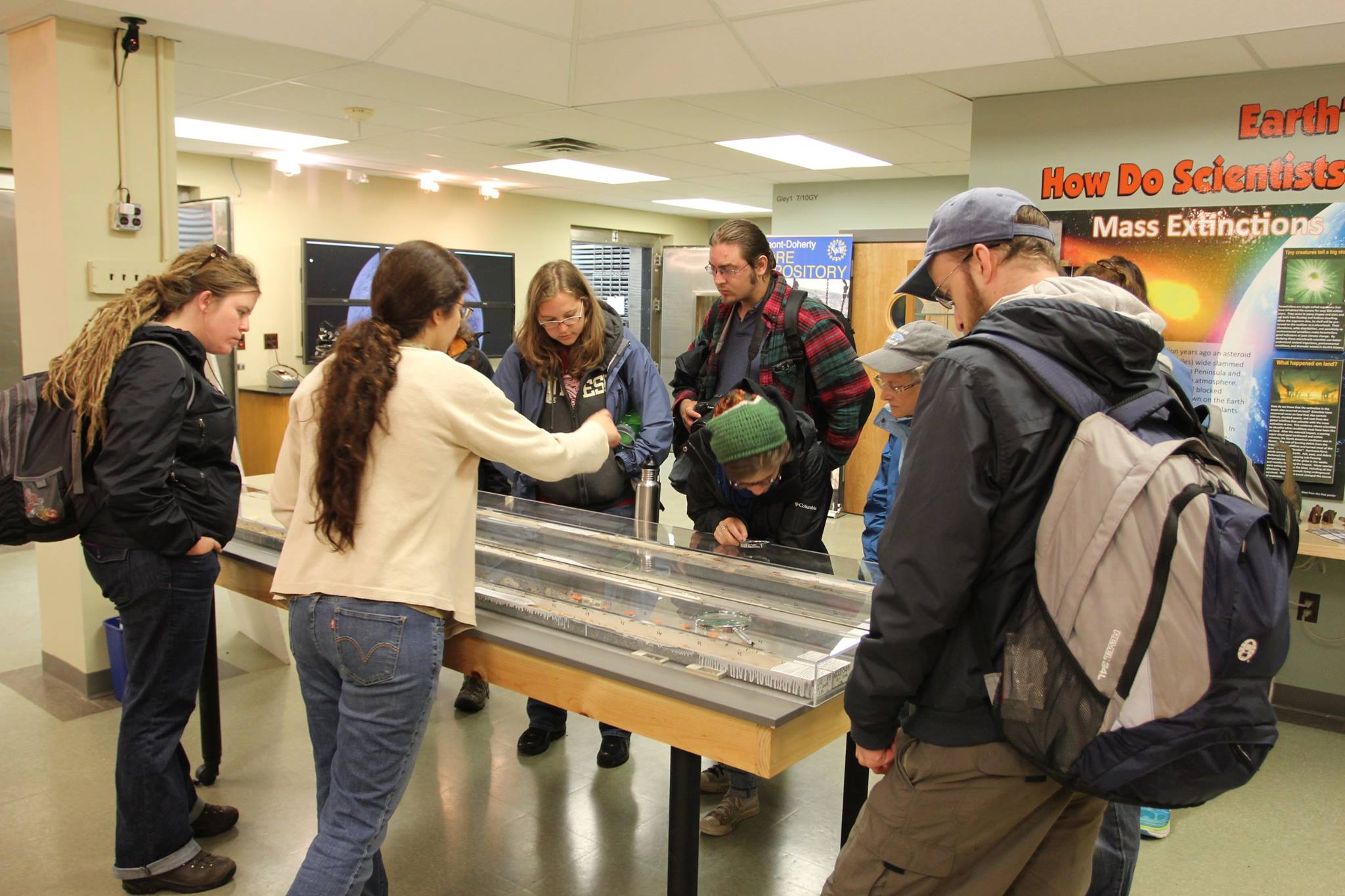 May 27, 2015
Primoris Academy from Westwood, NJ vists the Core Repository.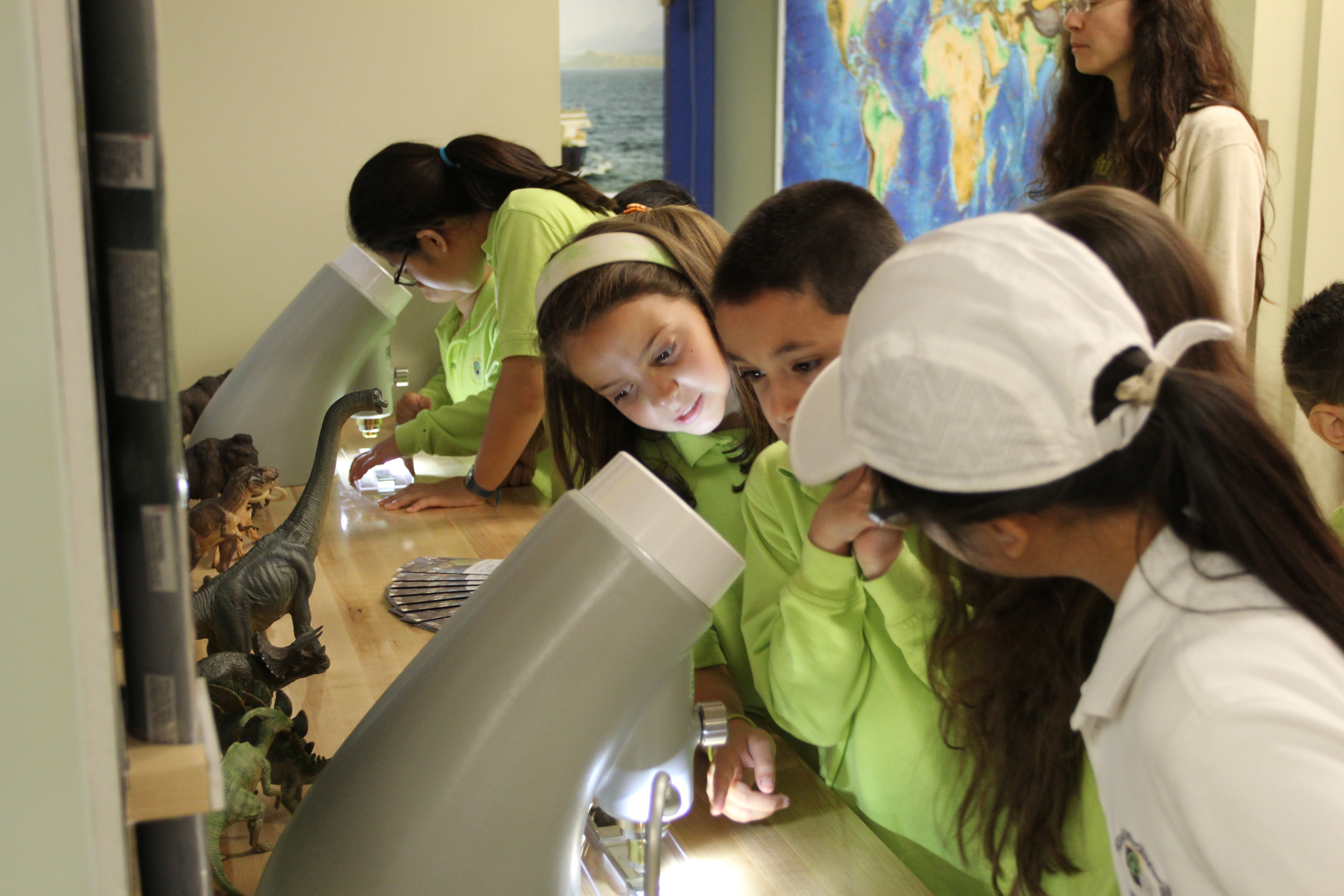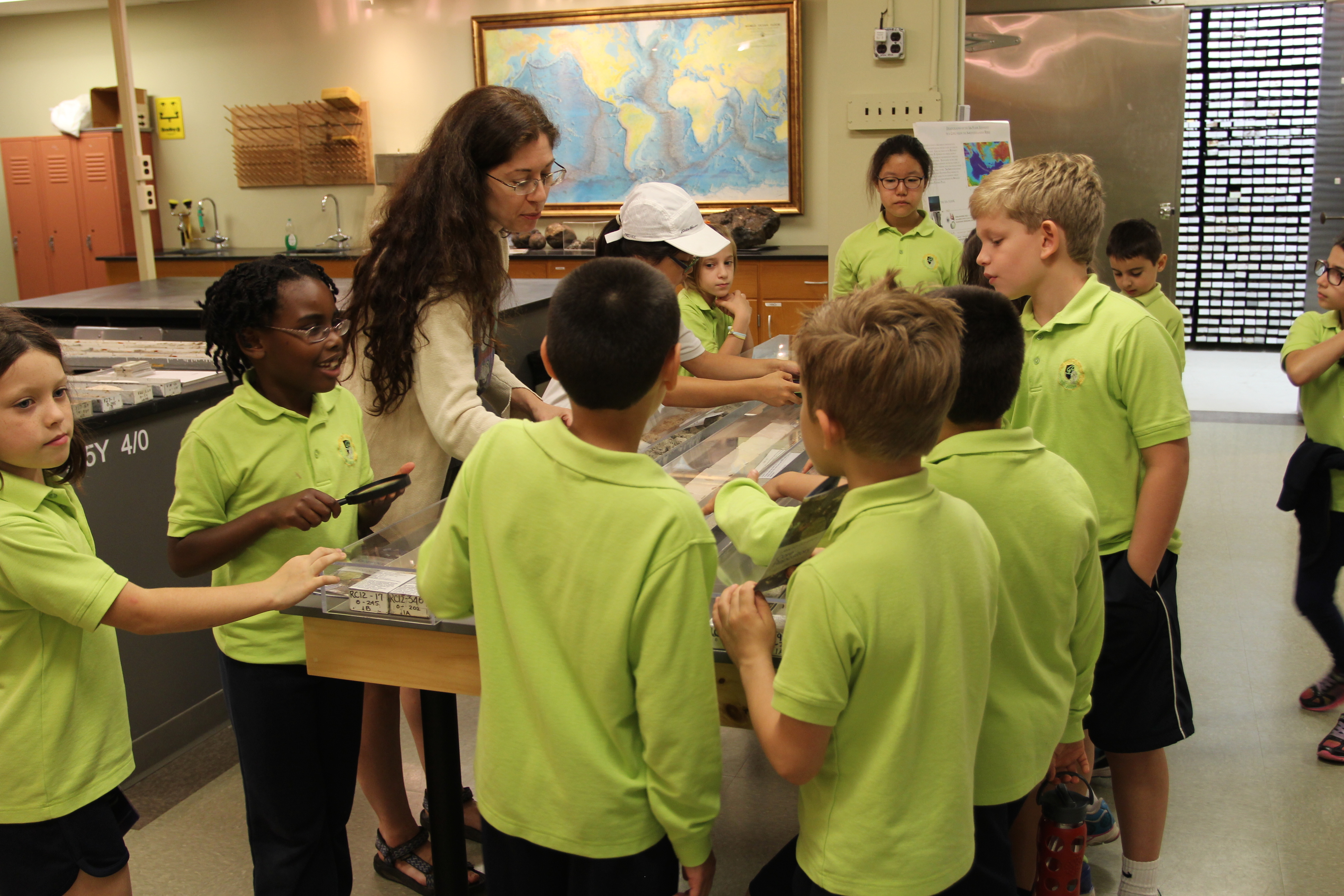 May 26, 2015
A homeschooled group vists the Core Repository.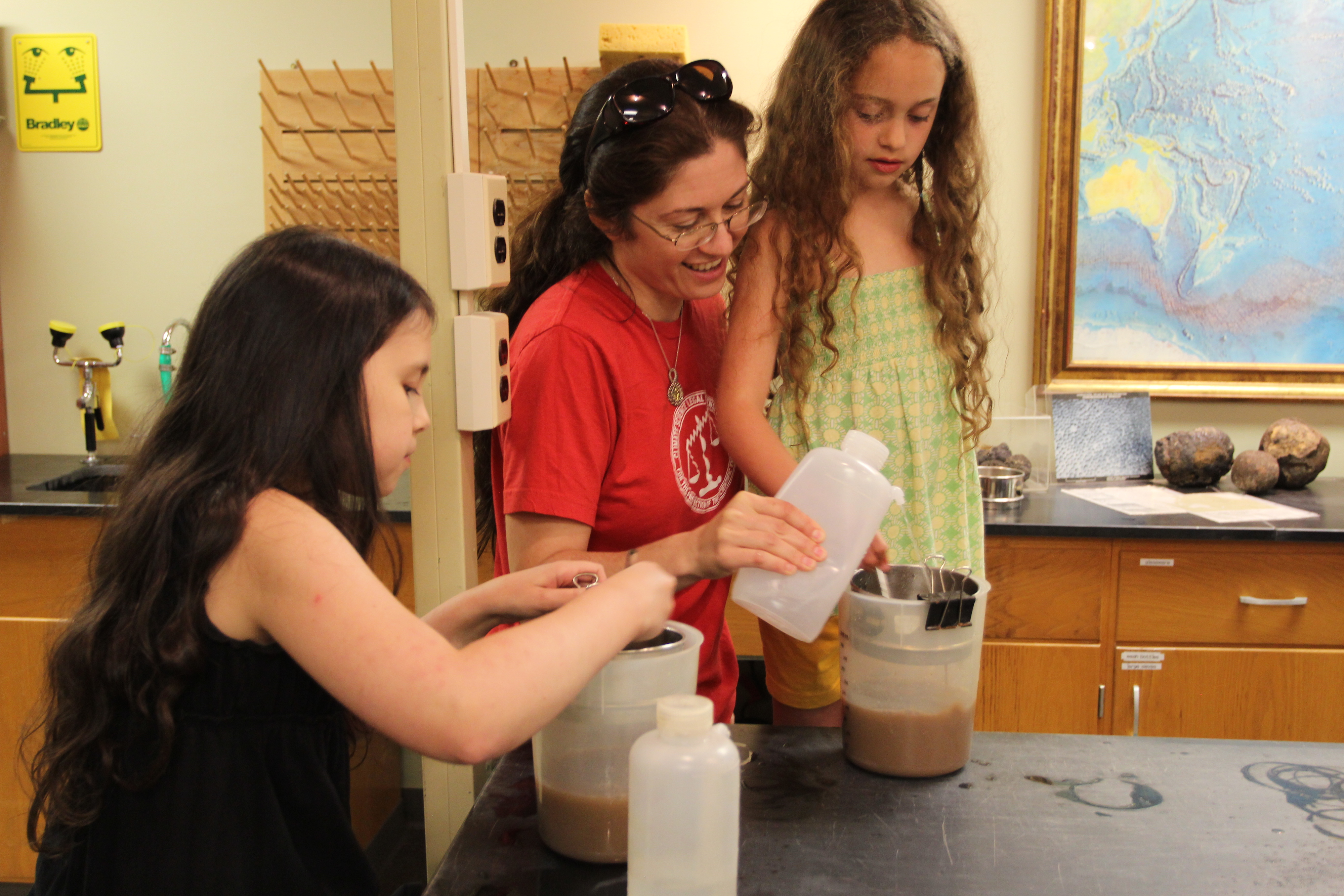 May 13, 2015
Bergen Academy, a local high school, visits the Core Repository.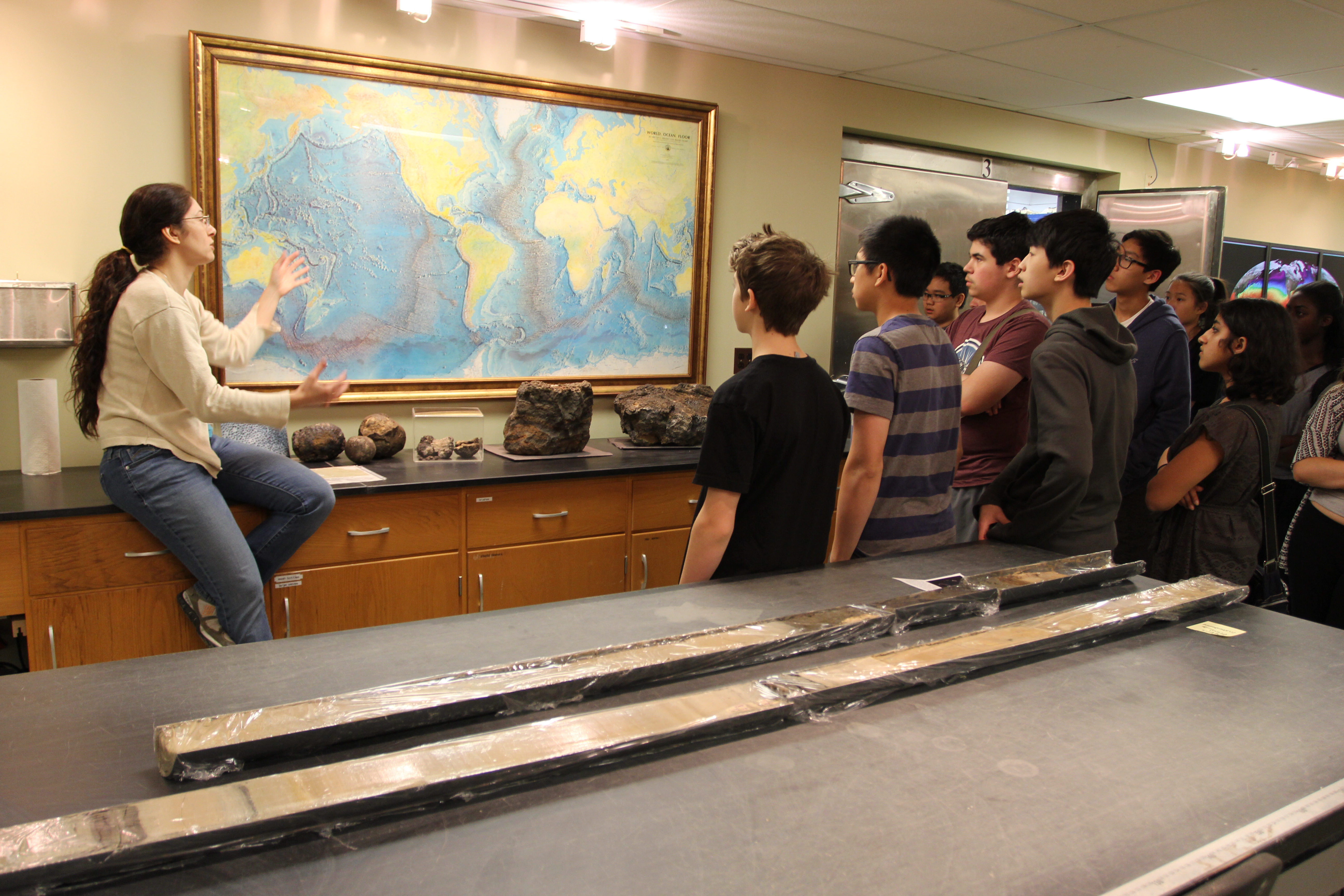 May 5, 2015
PhD candidate Allison Jacobel gives a talk about sediment cores to graduate students in the Columbia University Journalism School.
April 25, 2015
The Core Repository helps celebrate Earth Day at the Northen Valley Earth Fair in Old Tappan, NJ.
April 24, 2015
Big News! Congresswoman Nita M. Lowey (Westchester/Rockland), the Ranking Member on the House Appropriations Committee, visited Palisades, NY on Friday, April 24, 2015 to announce that the Lamont-Doherty Earth Observatory (Lamont) will sign a $35 million, five-year cooperative agreement with the National Science Foundation (NSF) to manage scientific support services for U.S. scientists conducting oceanic research.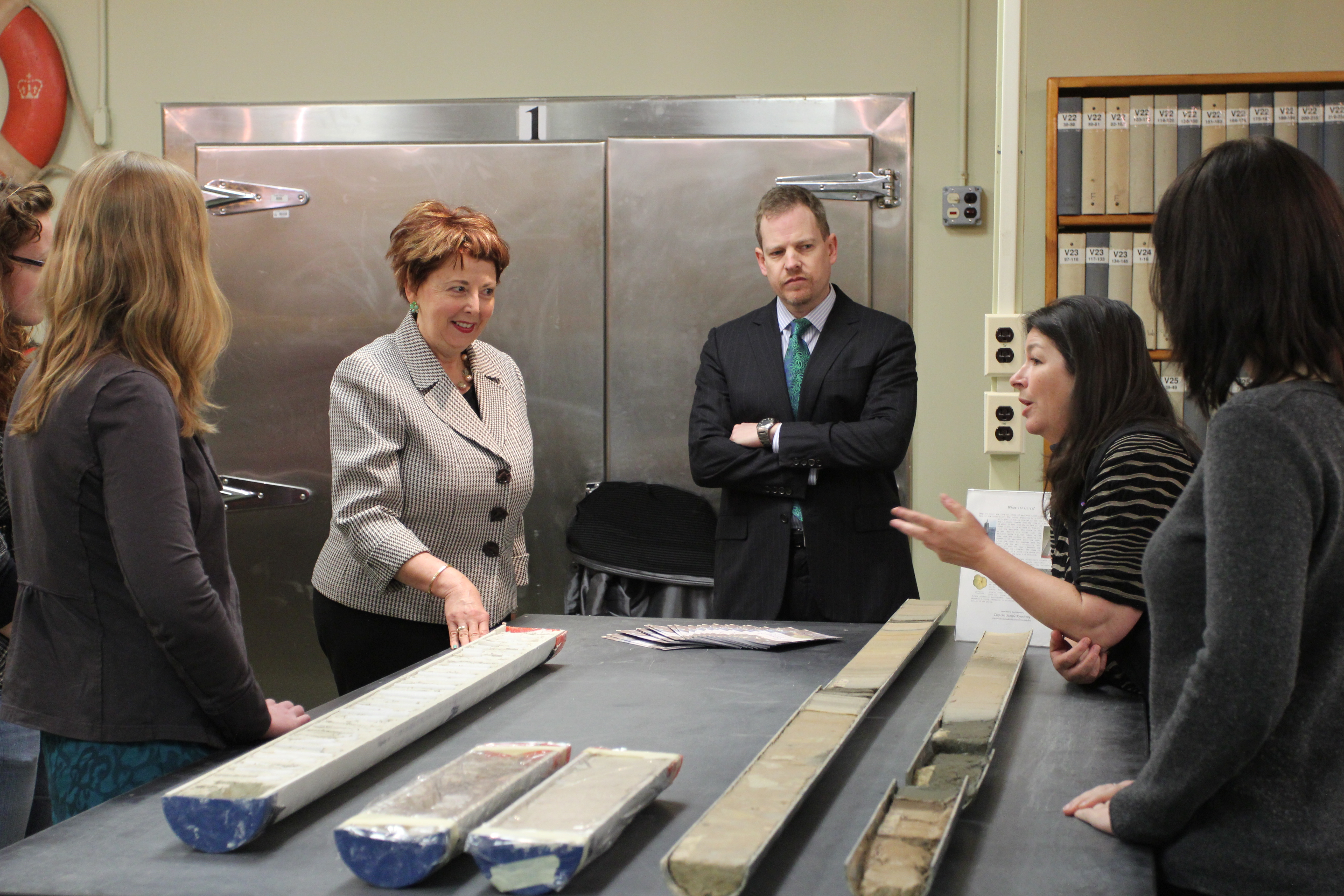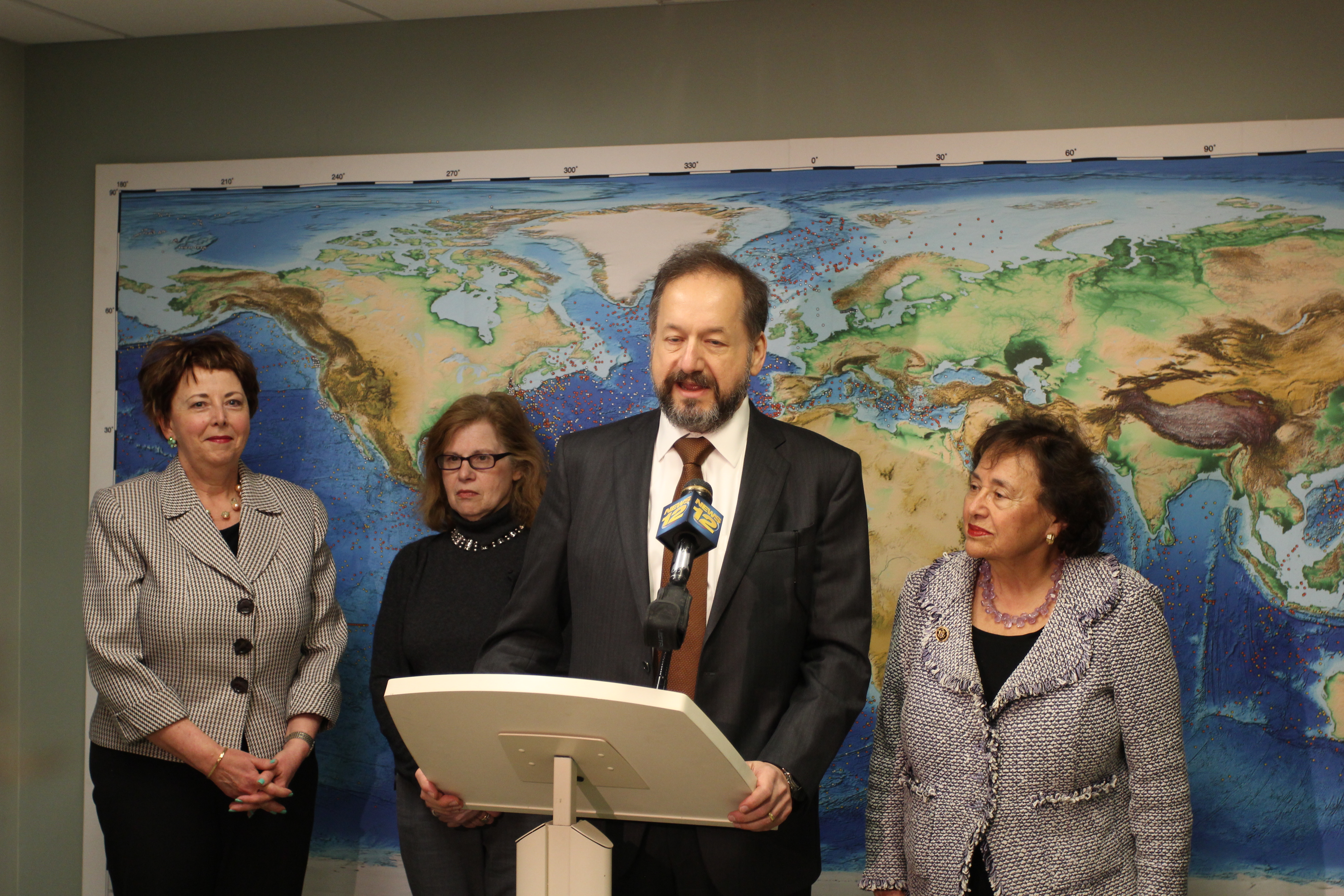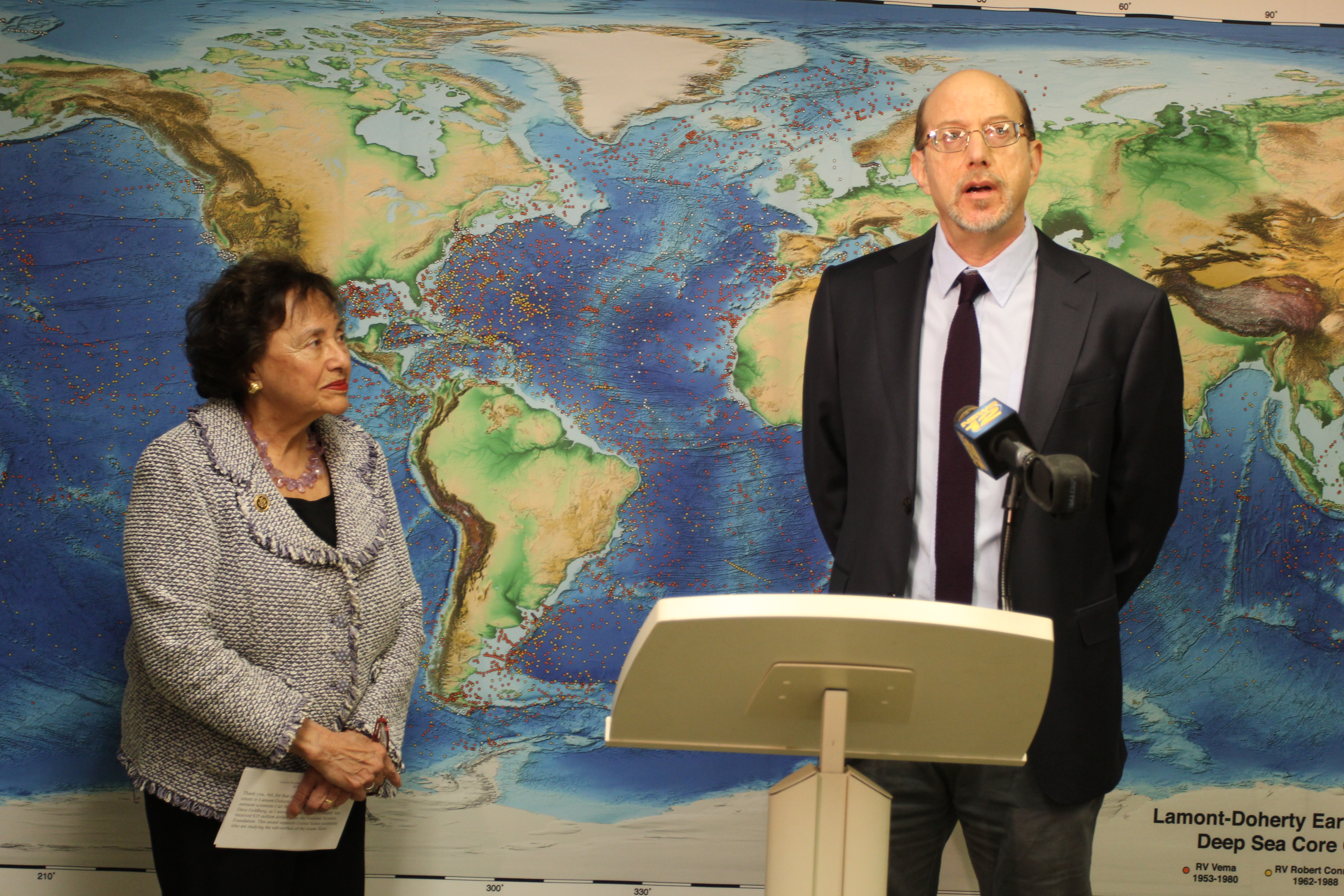 Dr. Nancy Low-Hogan (Rockland County Legislature), Congresswoman Nita Lowey, Dr. Art Lerner-Lam (Deputy Director of LDEO), Dr. Maureen Raymo (Director of the Core Repository), Dr. Carl Brenner (Director of the U.S. Science Support Program for IODP), and Dr. David Goldberg (Director of Marine Programs),
+
Dr. Raymo show Congresswoman Nita Lowey how cores can record mass extinction events.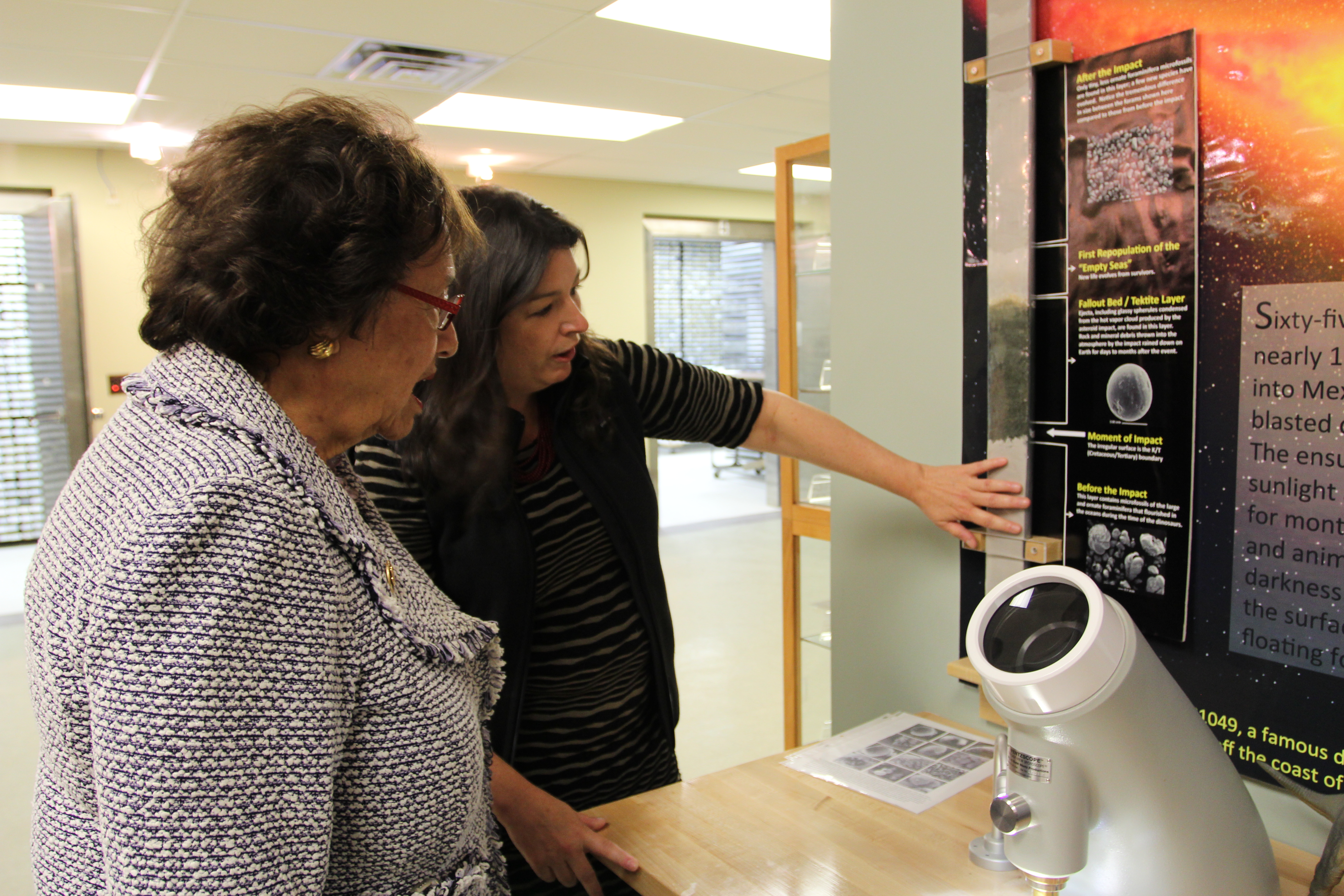 Research Assistants Kara Dennis and Clara Chang explain how we can infer climatic changes from cores to a reporter.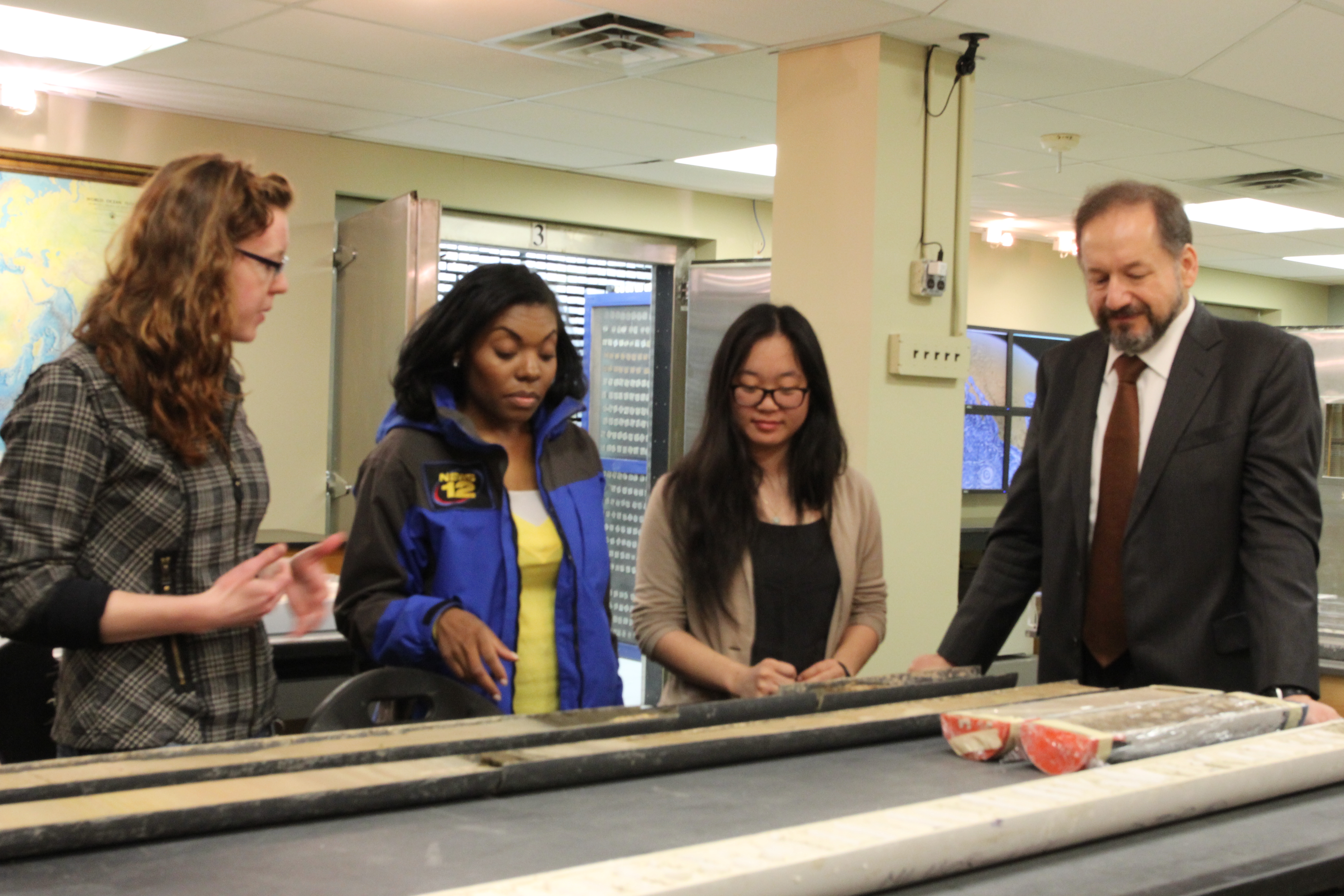 April 6, 2015
Boyscouts from Troop 13 in Brooklyn, NY visit the Core Repository.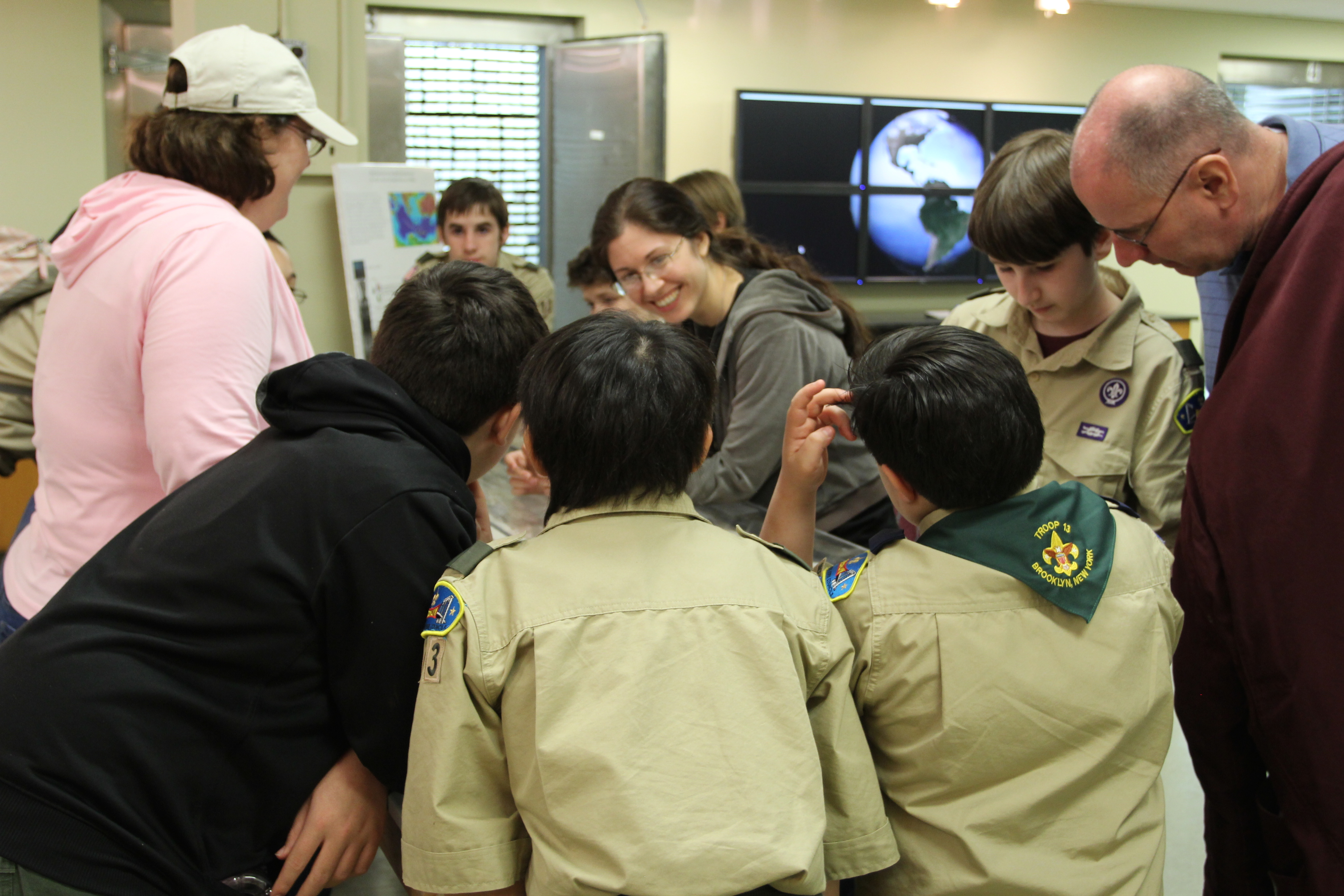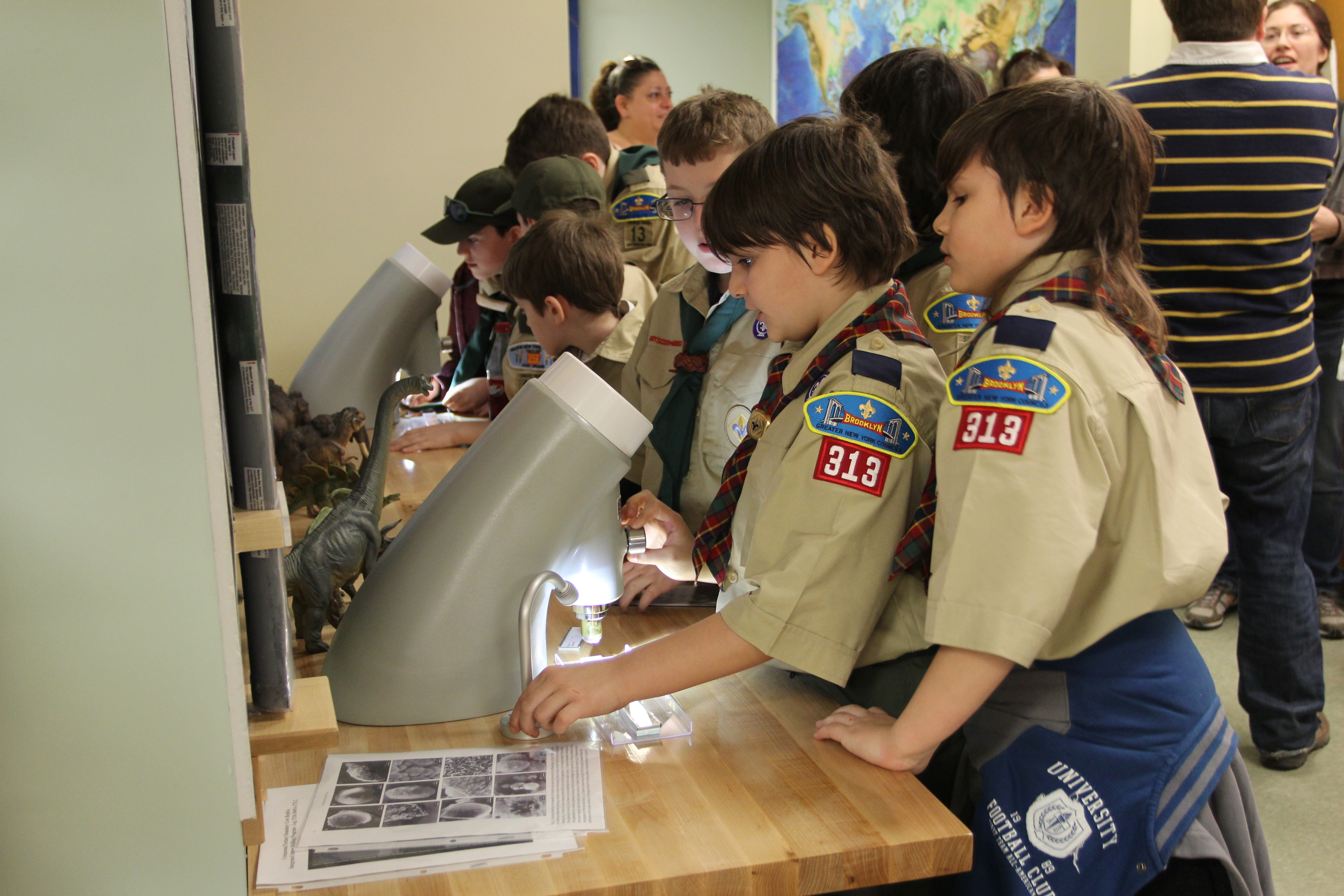 March 20, 2015
The Core Repository participates in the Sun/Earth day at the American Museum of Natural History.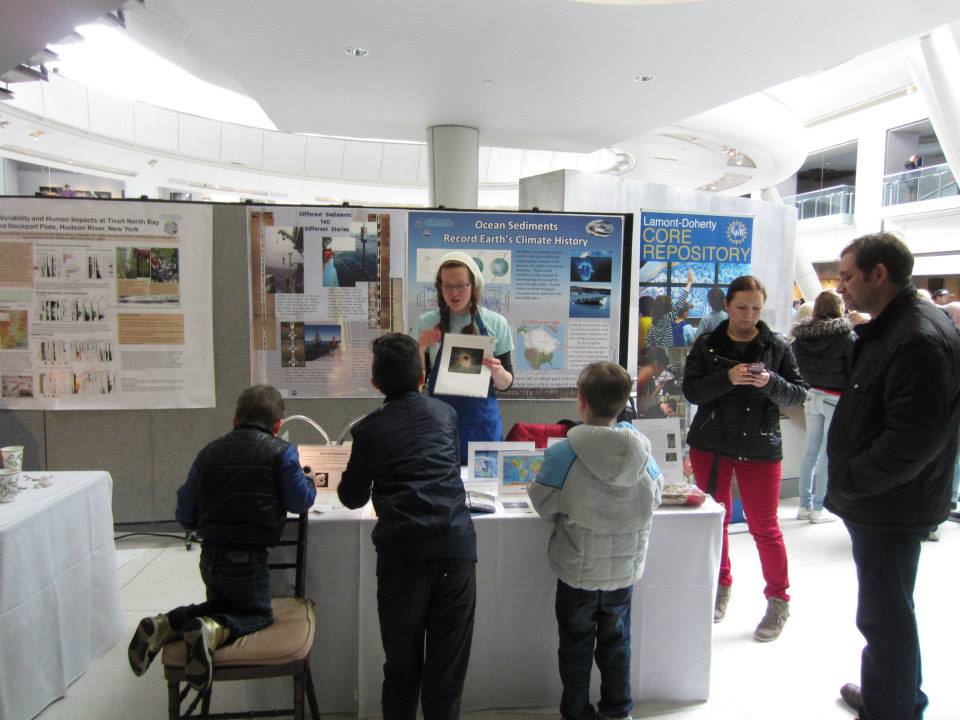 March 15, 2015
Student from Ability School learn about plate tectonics in the Core Repository.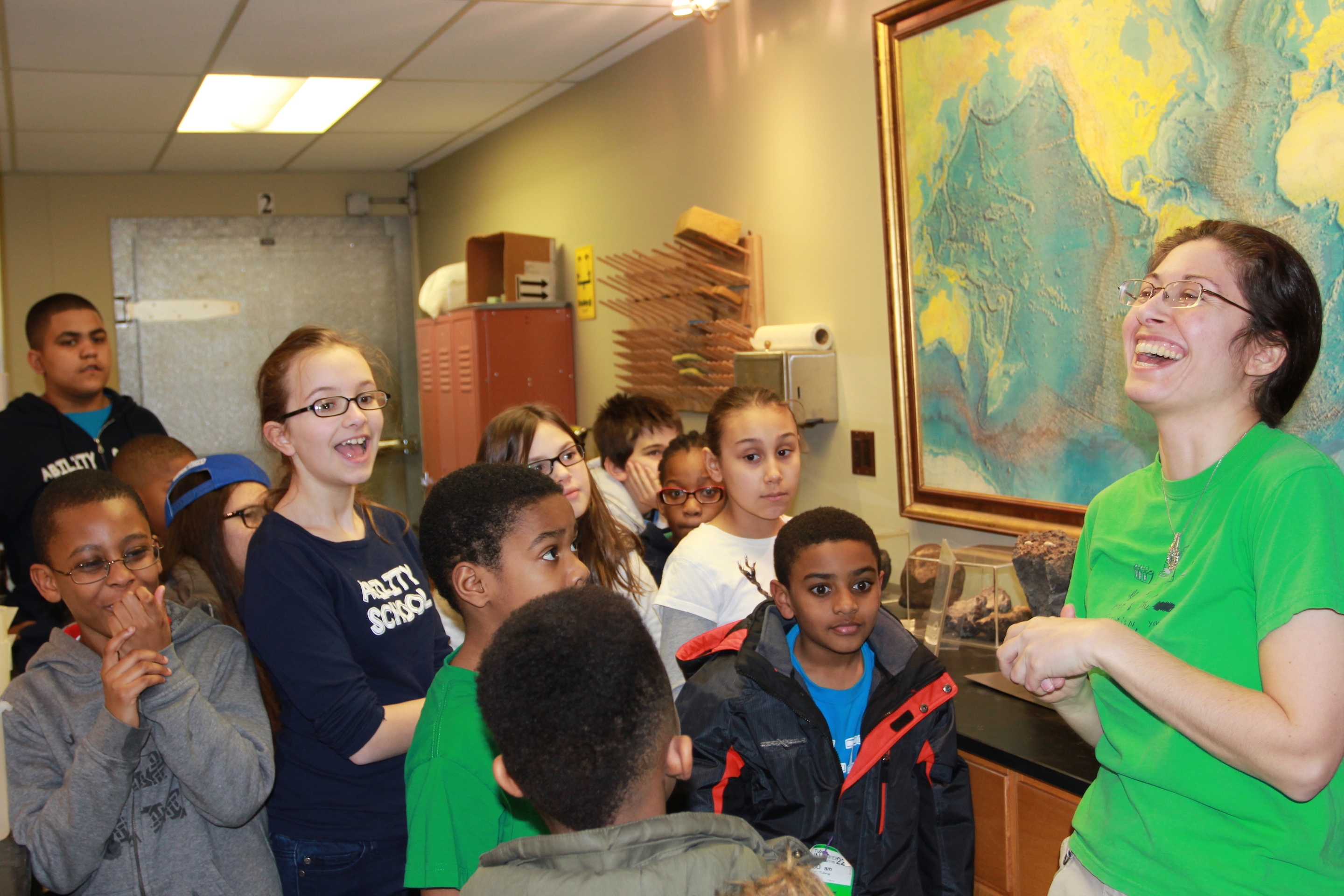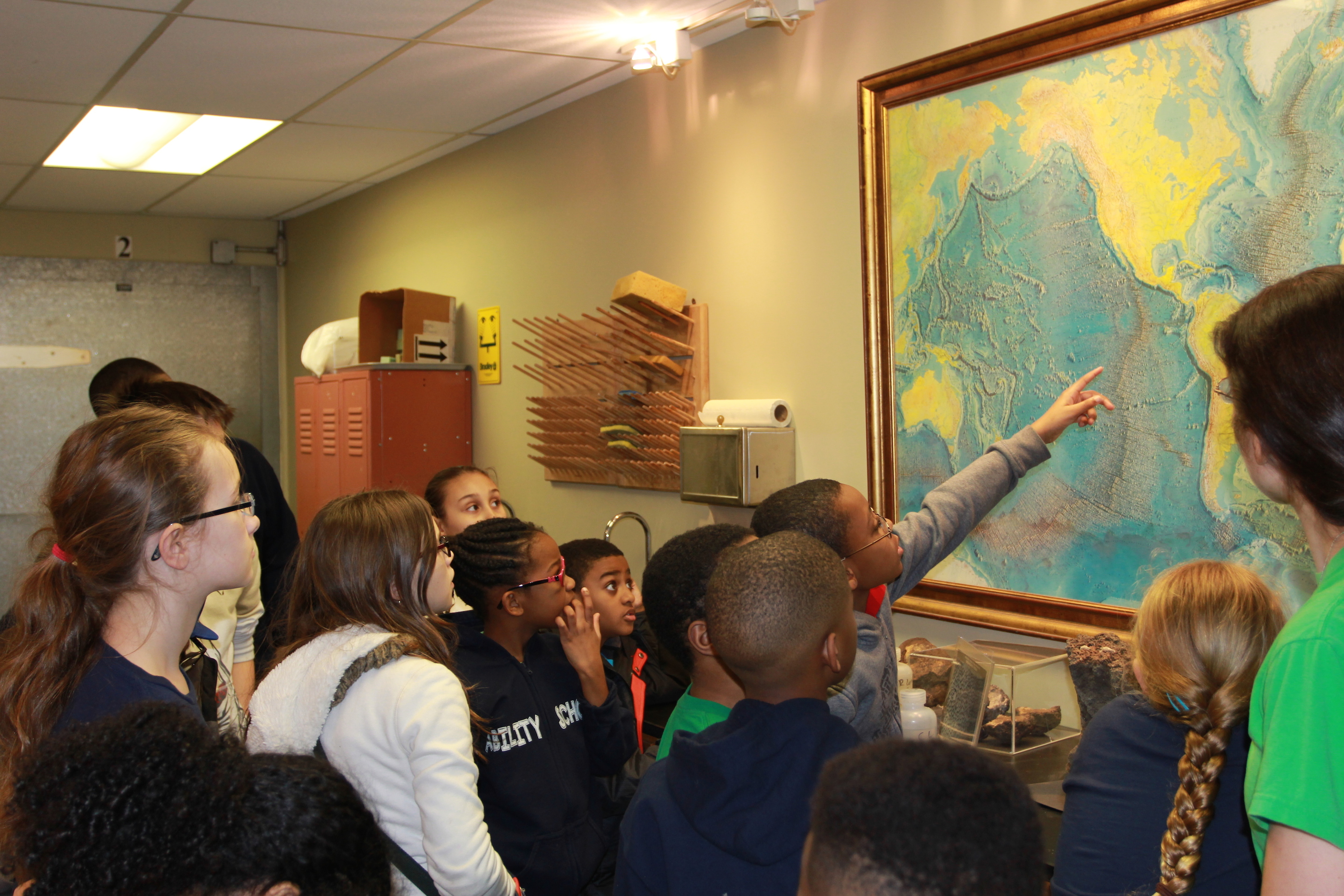 February 20, 2015
Dr. Raymo and Dr. deMenocal's Cenozoic Paleoceanography class has a special lab in the Core Repository.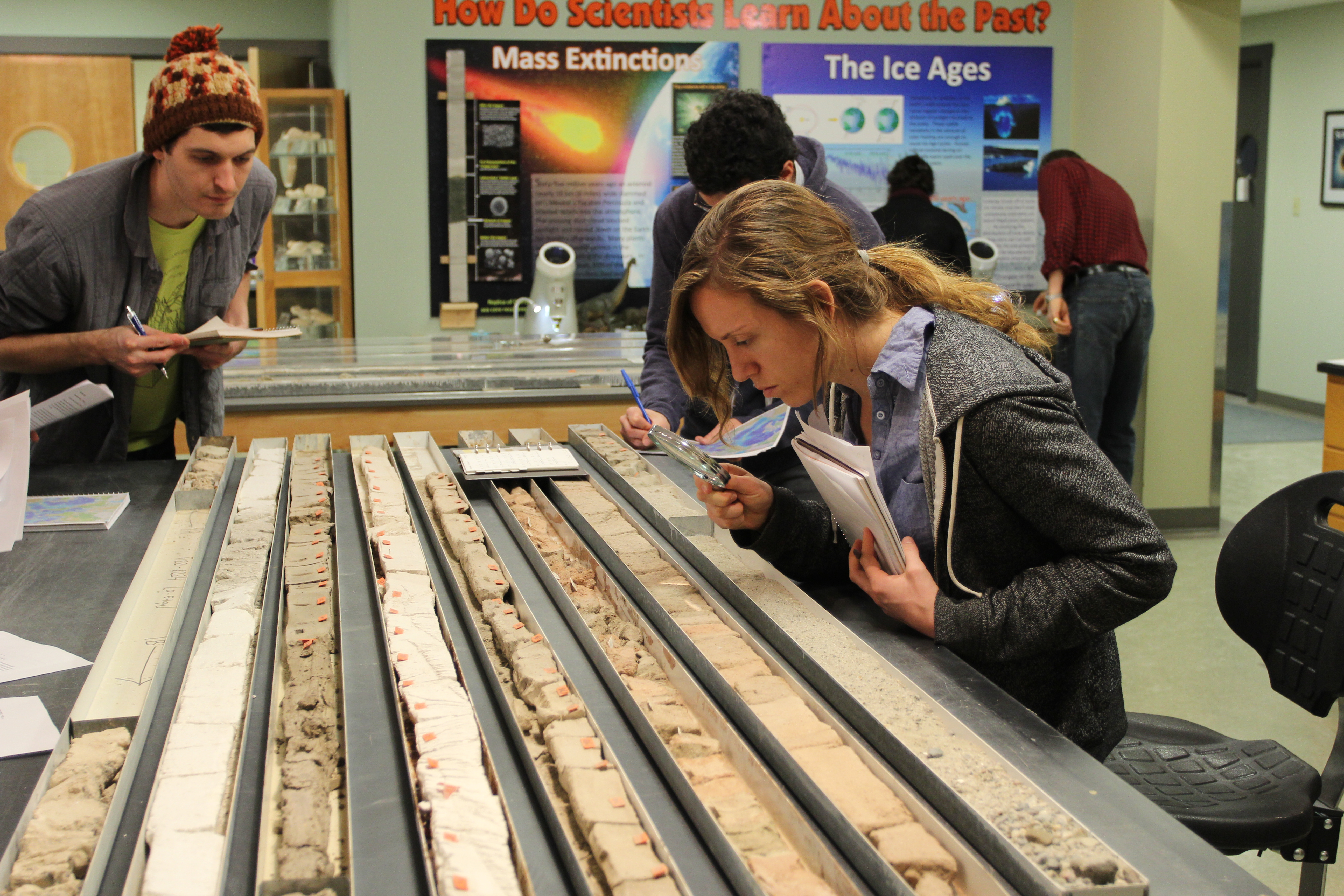 October 11, 2014
We had an amazing time and a lot of visitors at the Lamont-Doherty Open House.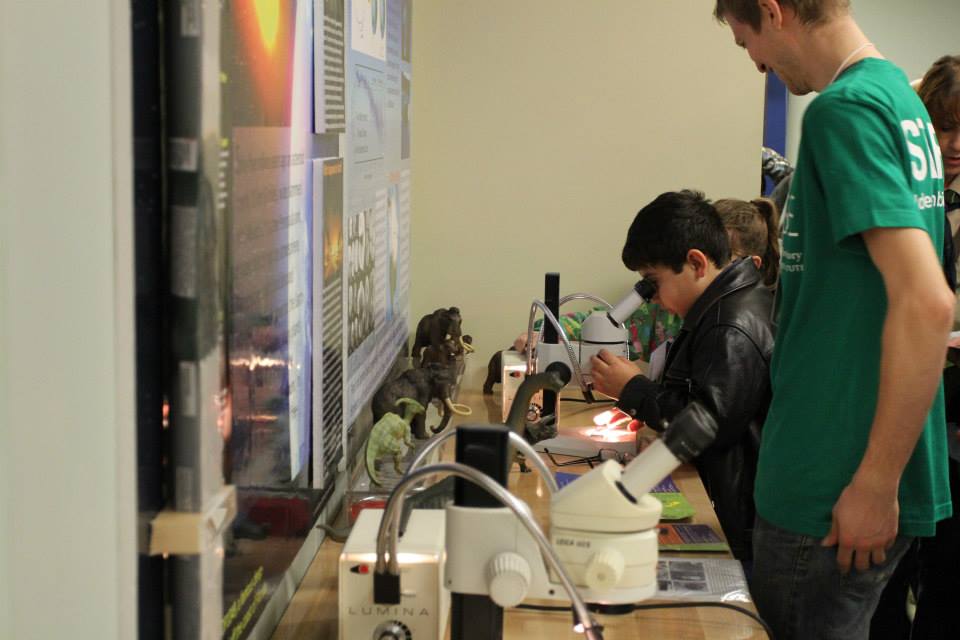 May 1, 2014
Our very own Maureen Raymo wins the 2014 Milankovich Medal at EGU! Congrats Dr. Raymo!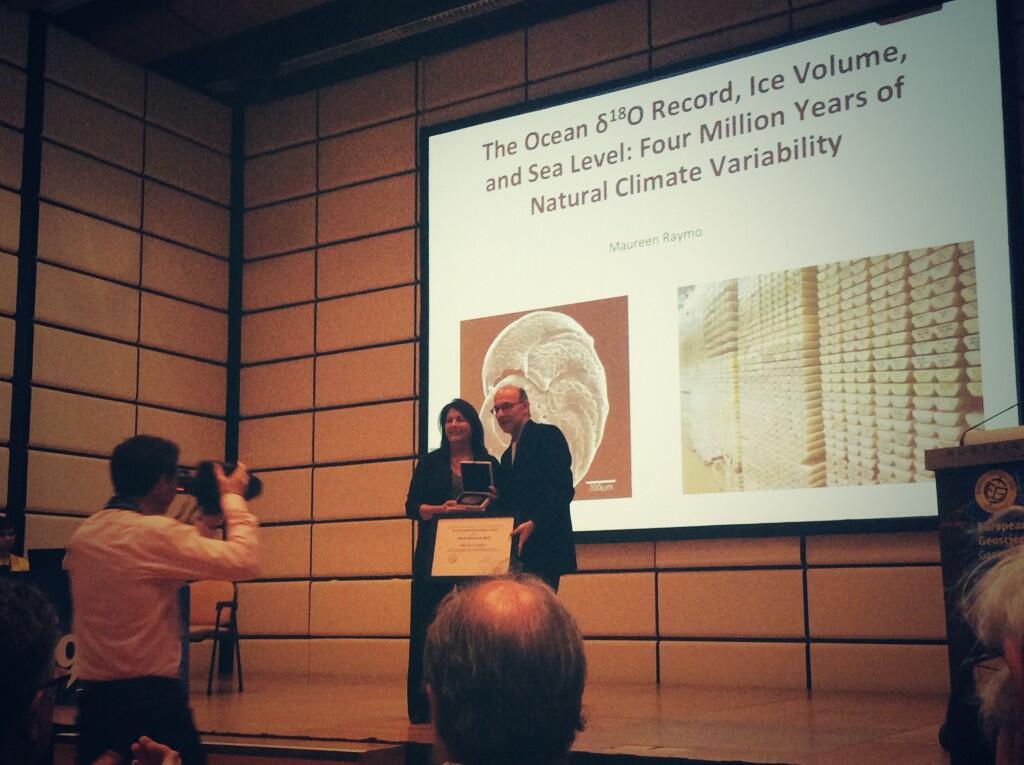 April 22, 2014
Mike Sandstrom, graduate student, explains his research to a local school group.
April 15, 2014
Local boyscouts visit the Core Repository.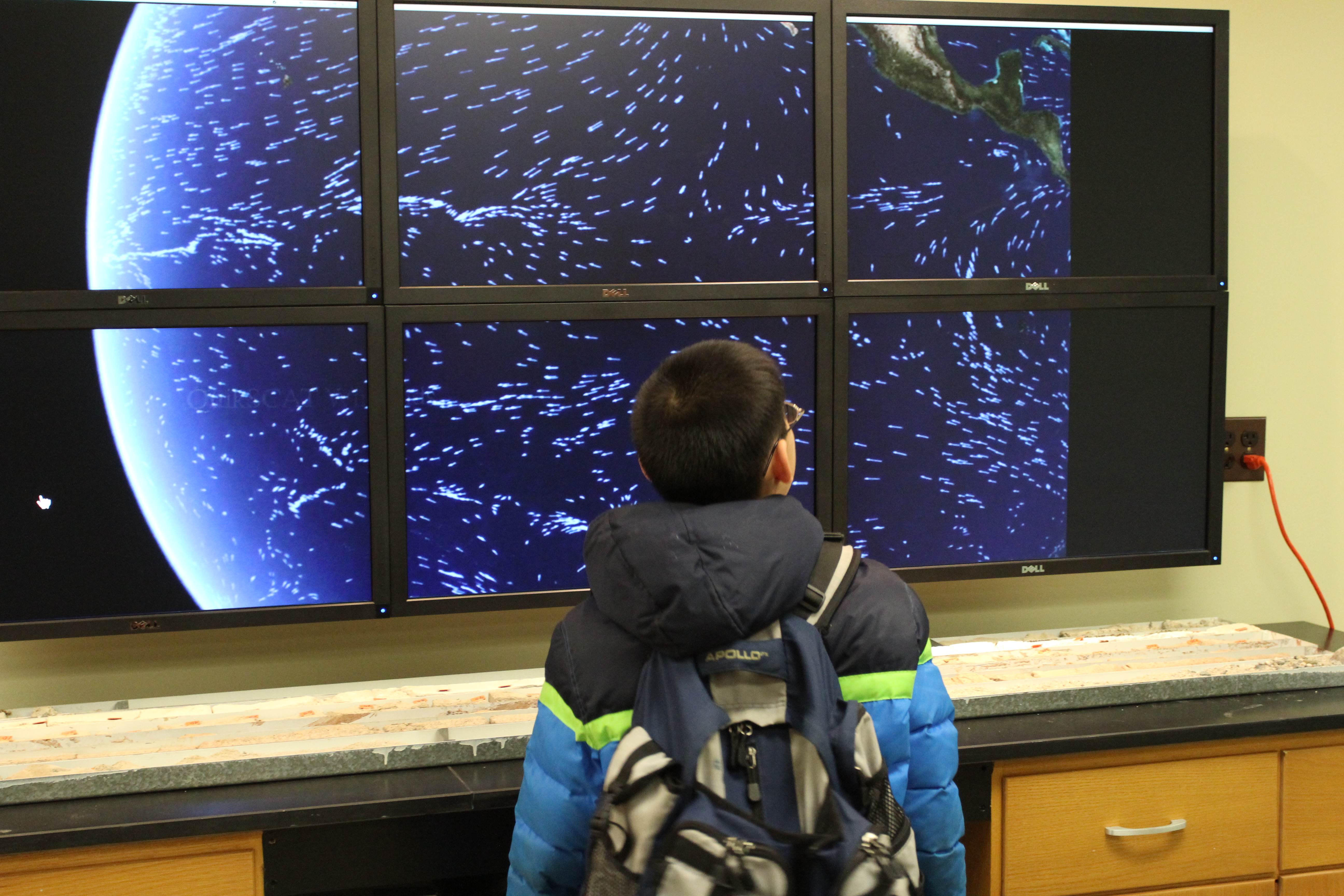 November 11, 2013
Dr. Dallas Abbott is interviewed for a documentary, "Sacred Sites of Ireland."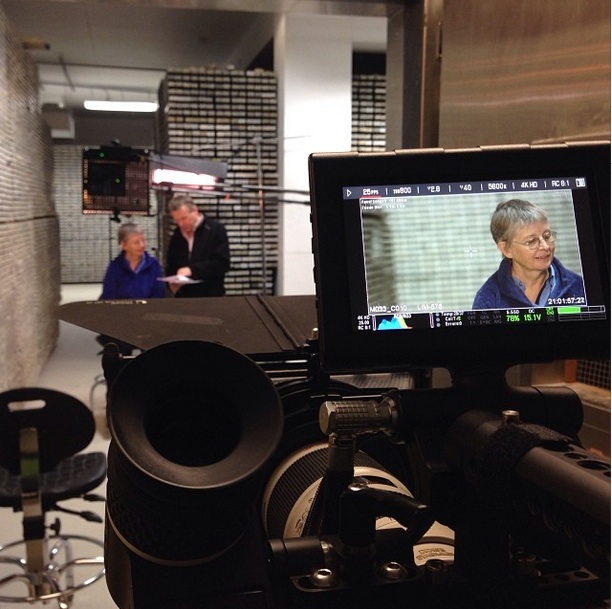 October 18, 2013
The Irvington, NY Cub Scouts Pack #120 visit the Core Repository.
Curator Nichole Anest answered questions ranging from phytoplankton to plate tectonics and gave a tour of the historic Vema and Conrad sediment core locker. The Scouts ended their visit by sieving sediment for foraminifera and examining them under a microscope.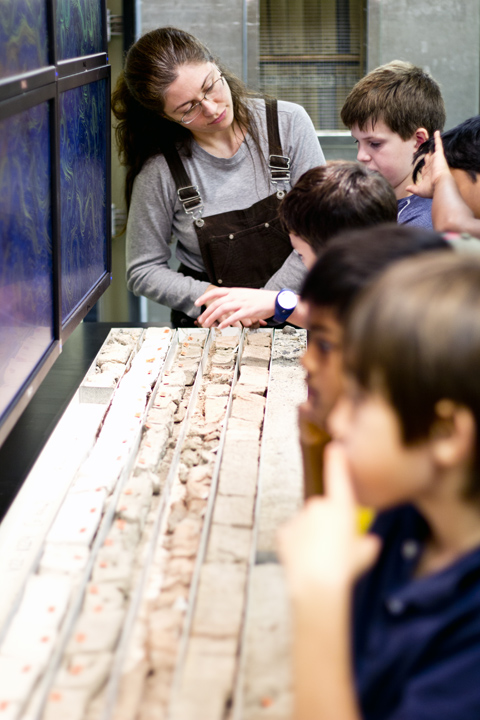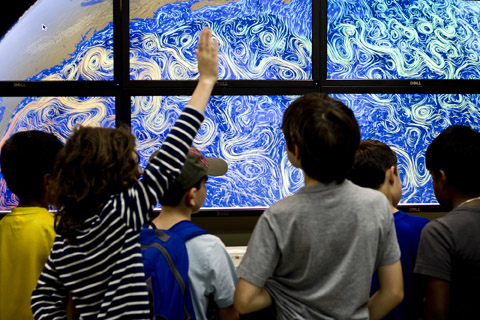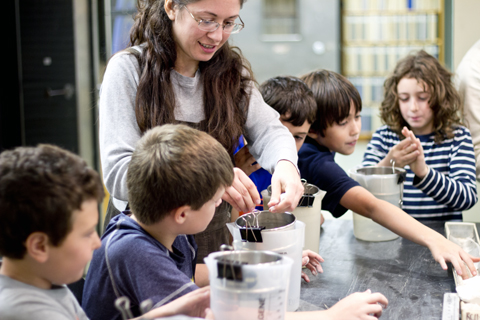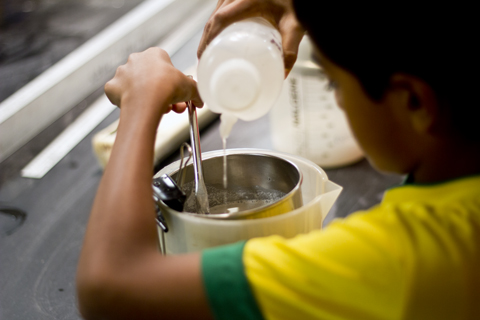 September 12, 2013
Core Repository Tech Angel Mojarro joins the science party of the R/V Revelle as the Multi-Sensor Core Logger technician.
Follow this cruise at pacwarmpool.blogspot.com
twitter - @angelshale tumblr - lamontpaleo.tumblr.com
R/V Robert Revelle anchored in the bay of Alotau, PNG
July 19, 2013
NASA Goddard Space Flight Center Directors including Astronaut Piers Sellers tour the repository with LDEO Director Sean Solomon during a recent visit to Lamont to discuss the ongoing and future collaborations between GISS and the Earth Institute.
Peter Hildebrand, Piers Sellers, Nicholas White, Sean Solomon and Core Repository Director Maureen Raymo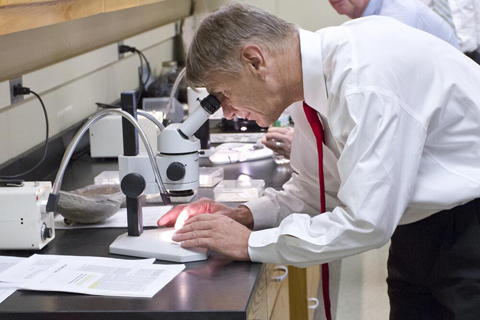 NASA Astronaut Piers Sellers - " I wonder how a diatom keeps its individuality... they must have interesting hobbies"
June 18, 2013
The Core Repository is proud to show off its brand new Visualization Hyperwall system for use with Corewall core description and data visualization software, scientific data processing, and educational scientific visualizations! And best of all, it is accessible by anyone using the corelab facilities!
The Hyperwall is a 3 x 2 array of six 30" Ultrasharp (2560x1600) Dell Monitors powered by a MacPro configured with 12 Intel Xeon cores at 3.06Ghz, 64GB of RAM, and dual high-performance ATI Radeon HD 5770 1GB graphic cards.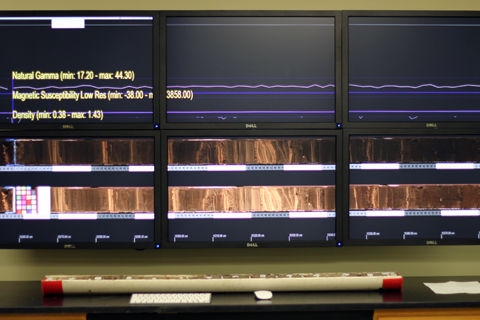 The Hyperwall running Corewall - sediment core images are superimposed with data such as density, natural gamma, and magnetic susceptibility.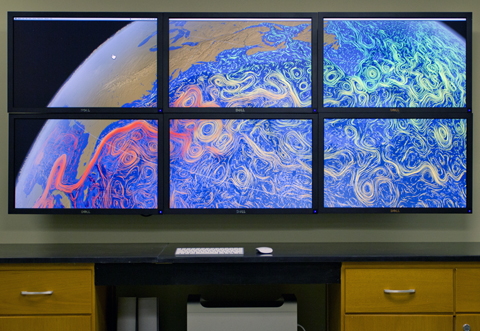 Video of the Gulf Stream sea surface currents and temperatures downloaded from the NASA Scientific Visualization Studio.
June 14, 2013
The Core Repository is social!
You can now follow us on twitter and instagram for the most current Core Repository news and view our photo archive of old cruises on flickr.
Visitors Update:
Two members from the Dhaka University Earth Observatory recently visited the Core Repository for training on how to build and curate a sediment core repository. After two long weeks of rock hard bootcamp we bid farewell to our Bangladeshi colleagues and wish them the best on their future core repository!
On April 5th, a group of journalists organized by the State Department toured the Core Repository with Director Maureen Raymo.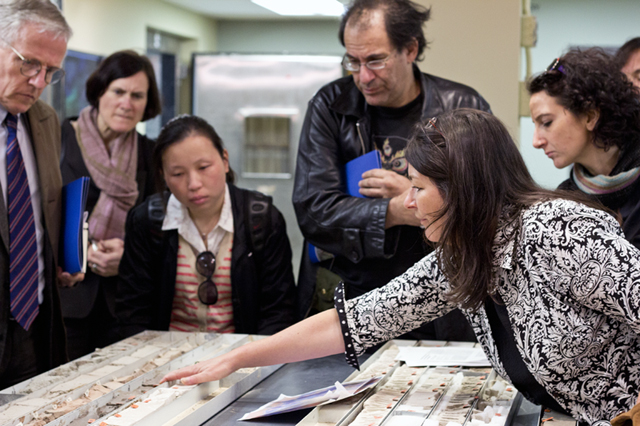 April 2, 2013
More Visitors!
First, high schoolers as part of the Young Women in Science series from the Center for Science Teaching and Learning at Columbia University get an introduction to the geosciences and sediment cores!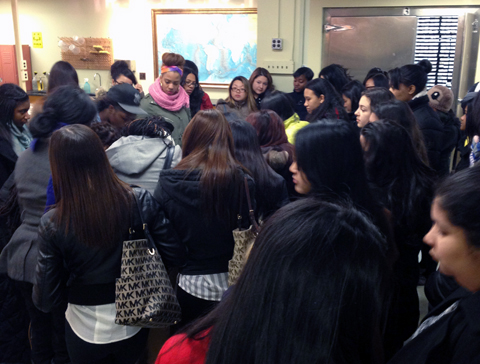 Then, students from the Columbia Journalism School stop by to learn all about sediment cores with Curator Nichole Anest and ongoing research in peatlands with Dr. Jon Nichols.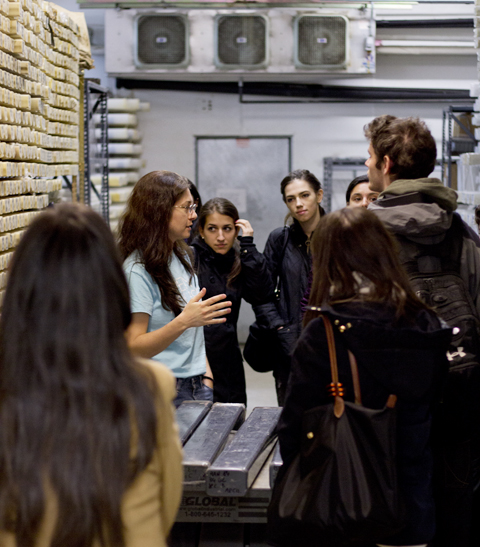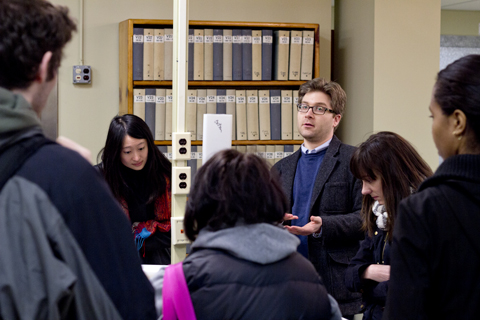 February 27, 2013
The UN Comission on the Limits of the Continental Shelf (CLCS) stop by the Core Repository during the recent visit to Lamont with Director Sean C. Solomon.
Dr. Maureen Raymo and Members of the CLCS tour the repository.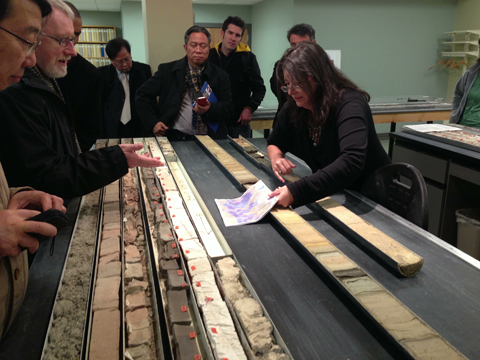 Dr. Maureen Raymo and a transect of cores from the continental shelf to the abyssal plains.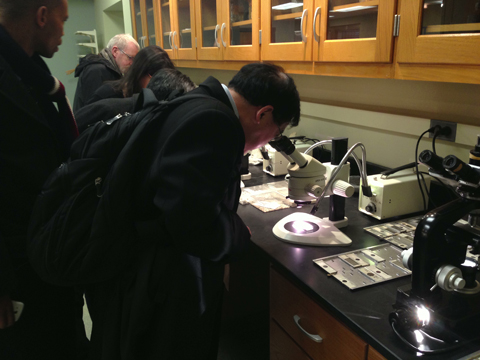 Members of the CLCS exploring diatom slides.
January 22, 2013
2013 UNOLS Chief Scientist Training Cruise Opportunity
The 2013 UNOLS Chief Scientist Training Cruise will instruct early career marine scientists, including PhD students, on how to effectively plan for, acquire, utilize and report on time at sea for multi-disciplinary research and education. The full program will take place from October 13-22, 2013, beginning and ending at the University of Rhode Island Marine Operation Facilities in Narragansett, Rhode Island, and will include a seven-day cruise on the R/V Endeavor to at sea locations in the Middle Atlantic Bight. Small stipends are provided for participant travel costs (from within the United States only), research supplies and shipping. The deadline to apply is March 15, 2013. For more information, click here.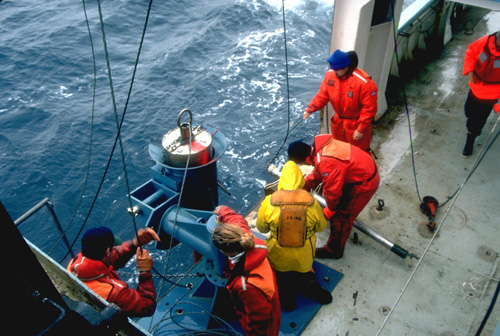 November 29, 2012
COMING SOON!
The Core Repository Hyperwall promises to offer a fully interactive educational experience spanning the geosciences and invaluable professional training opportunities - all on a stunning 7' x 3' high-resolution display!
This project is made possible by 'The Lamont-Doherty Core Repository in the 21st Century - A Hyperwall for Public Education and Professional Training' initiative and generous support from the from the Advisory Board of Innovation.
October 5, 2012
The Core Repository team lent their coring expertise to young aspiring geo-scientists this past Thursday the 4 th during the 10 th annual ' A Day in the Life of the Hudson River'. Read about it in the local coverage.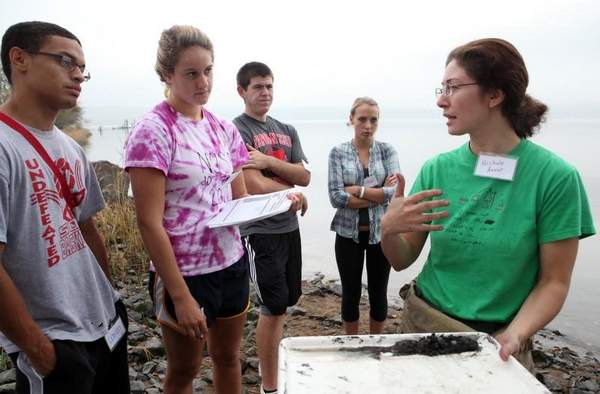 Curator Nichole Anest talks about stratigraphy and sedimentation.
(Photo:Tania Savayan/The Journal News)
September 18, 2012
Open House
is nearly upon us (October 6)! Come and find out the how's and why's of sediment cores: how we get them from the bottom of the oceans and why they are invaluable to climate research. They're more than just mud!
WELCOME ANGEL!
The Core Repository is happy to welcome Angel Mojarro as our new lab technician, core sampler and all around right-hand man! Angel graduated from Brown University '11 with a Bachelor of Science in Geology where he studied the evolution of the El Nino Southern Oscillation since the Last Glacial Maximum. In his first few weeks, Angel has had a steep learning curve and proven that he is more than up to the challenge. Welcome Angel!
June 1, 2012
VISITORS!
This has been a busy few months for the Core Repository in terms of visitors. A number of journalists (including two film crews), American Association of Geographers, National Association of Geoscience Teachers, high school and college classes, various individuals, the Bruce Museum Board of Trustees, and this year's group of summer interns!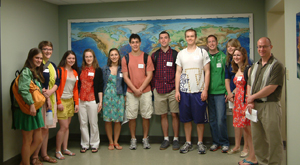 Some of the summer interns working at LDEO this year.
The National Association of Geoscience Teachers led by Mike Passow.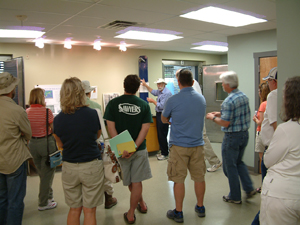 Learning how a piston core works.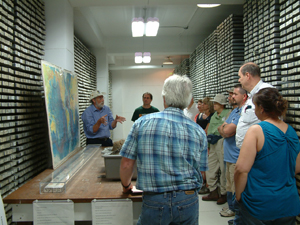 In an aisle of our core stacks, telling stories.
Students learning the art of handheld XRF scanning.
January 30, 2012
Climate scientist Braddock Linsley is back from American Samoa, where he and Stanford colleagues Robert Dunbar and David Mucciarone, collected possibly the oldest continuous Porites coral records. The three coral samples they recovered go back an estimated 550 years; the group collected the corals while scuba diving on a massive, exposed Porites reef off the island of Ta'u. Cores from this colony may help scientists track climate change in the Western Pacific Warm Pool and South Pacific Convergence Zone as far back as the early 1400s, at the start of the Little Ice Age. The corals may also provide context for current changes in climate and ocean currents, allowing scientists to test the hypothesis that rain belts along the equator are becoming more active.
Brad Linsley with Ta'u coral cores.
Ocean Floor Reveals Past Climate Changes
Voice of America, January 9, 2012
Maureen Raymo, director of Lamont-Doherty's Core Repository, speaks about the significance of sea floor sediments in studying the environmental impacts of climate change.
Nichole Anest has been promoted to curator of Lamont's extensive library of seafloor sediments, replacing Rusty Lotti who retired last year. With a geology degree from Rutgers, Anest came to the Core Repository in 1998 and wrote descriptions of the sediment cores and isolated plankton fossils that could be used to measure past fluctuations in the earth's climate. She was soon running the X-ray machine and other tools to analyze the cores. Over the next decade, she would process, analyze and catalog new cores while keeping all the lab machines running. The Core Repository is now undergoing a major renovation under its first director, paleoclimataologist Maureen Raymo. "The fact that every core potentially holds new insights into the Earth's past still amazes me," said Anest. "The past year has been overwhelming at times with the moving of most of our collection, but when the dust settles, we will have a fabulous new space to study cores as well as state of the art facilities to analyze their secrets."
October 20, 2011
Big changes are underway at the Lamont-Doherty Core Repository. This past summer was spent moving our entire dry core collection from the first floor space in the Core Laboratory building (where they have been for almost 50 years) to the old ODP East Coast Repository space in the basement of the Geoscience Building. The bright new space reunites the dry cores with the wet core collection currently housed in "Reefer 4". Within a few months, the core sampling operation will also relocate to this new location and currently a major renovation of the laboratory space, funded by LDEO, is underway. Future sampling of all of Lamont's cores (both wet and dry) will take place in this new and beautiful space.
Meanwhile, the renovation of the second floor of the New Core Lab building is in full swing -- it is getting a $9 million facelift funded by NSF. This will transform the second floor into the new Lamont Center for Biogeochemistry. This renovation will provide a dozen new, state-of-the-art labs for both organic and inorganic geochemistry and be home to most of the analytical space for our division. Under a separate NSF award, four new mass spectrometers were purchased this year for measuring stable isotope ratios on carbonates, water, and organic compounds, and Prof. Brad Linsley is the new director of this analytical facility. With all this activity we've been on a hiring spree over the last couple of years, and many new faces can be found around the Core Laboratory and Geoscience Buildings.
In August, Rusty Lotti, who served as the repository curator for 26 years, retired after 37 years of fabulous service to Lamont. Her dedication to the preservation of the core collection helped make our facility one of the best in the world for archiving and analyzing deep-sea sediments. Repository employee Nichole Anest is serving as Interim Curator and is working closely with the new repository Director, Prof. Maureen Raymo, in planning for the future.
Finally, if you are reading this you have visited our new web site. We are working to continually add content and improve our user and data interfaces. Please feel free to send suggestions to the
Curator
.