Samples from cores and dredges are provided to scientific investigators upon request. Most core descriptions and original images are in the Index to Marine and Lacustrine Geological Samples (IMLGS) database described below. Materials for educational purposes and museum displays may also be made available in limited quantities when requests are adequately justified. Various services and data analyses, including core archiving, carbonate analyses, grain size analyses, and RGB line scan imaging, GRAPE, P-wave velocity and magnetic susceptibility runs, can also be provided at cost. Policies and procedures governing requests, as well as the types of information and services available, are outlined below.
Search Collection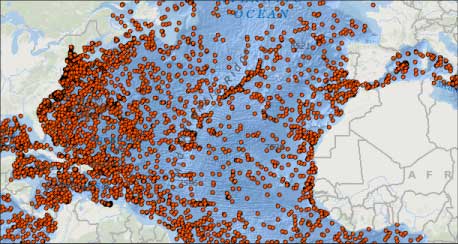 Search with an Interactive Map, Click Here
Search with Dropdown Menus and Key Words, Click Here
The Index to Marine and Lacustrine Geological Samples (IMLGS - linked above) allows you to search the sample holdings of participating institutions by institution, ship, sampling device, and all other available metadata. In addition, they recently extended their search criteria to include geologic province, geologic age, cruise Principle Investigator, type of storage, IGSN number, and a "Search String" field that is keyed to the megascopic descriptions (among other things). All of LDEO's samples can be found in the database as well as links to sample history, megascopic descriptions, core photos and other, miscellaneous data for various cores.
In addition, you can create a '.kml' file of our samples which can be opened with Google Earth .
GeoMapApp - GeoMapApp includes data/sample sets from many institutions as well as other search engines and the ability to customize the visualization of the mapped data results. You will need to download the app before using it.
Data & Metadata
Every core entering the collection is split, photographed, and described. Information on sediment is logged by interval for lithology; mass properties such as texture, and color; structure such as bedding and burrows; composition including carbonate content; paleontology and mineralogy; and nature of any contacts. Dredge descriptions are generally prepared by the principal investigator in charge of the acquisition. Records are kept for each core regarding its sampling history, including name of investigator, date, purpose, core or dredge, intervals, sample size, and publications resulting from use of the material. Databases of physical information, megascopic descriptions, and publications are maintained at the Repository and much of this information is now accessible online including grain size and carbonate analyses (those tests done after about 1997), multi-sensor track runs (GRAPE, P-wave velocity, magnetic susceptibility), and RGB line scan data and images. All of the megascopic descriptions and photographs are digitally archived at the National Centers for Environmental Information (NCEI, formerly NGDC) in Boulder.
Following NSF guidelines , all data generated by the LDCR is made available to the public. If, after searching our collection (instructions below), you have questions about or would like to request data not available on line, please contact the Curator .
Request Samples
LDEO has long had an open-policy toward sample requests from academic researchers world-wide. We request that material provided not be used for work other than the stated purpose (unless follow-up permission is granted), and that sub-samples of the material not be sent to other investigators (again, unless permission is granted). We also request that you send an electronic copy of all publications resulting from the use of the requested material. This helps us to document the importance of the repository to the scientific community and justify the funding we receive.
Lamont has developed techniques for high-resolution sampling of wet and dry sediment cores. Our sampling tools are capable of collecting narrow intervals of sediment, avoiding known burrows. The goal is two-fold - to provide you with high quality data while preserving sediment for future work.
You can download a sample request form here . Please read the sample request guidelines before submitting your request.
Archival Services
Curation and archiving procedures including megascopic descriptions, photographs and MST runs are performed routinely on all cores collected with NSF support that enter the repository. For cores collected without NSF funding, we can provide long-term storage and curation support under the provision that the material be made available to the research community upon completion of the original project. In addition, individual parts of the archival process (i.e., splitting, photography, etc.) can be provided for non-archived cores on a per-project cost basis. Please inquire regarding any procedures not listed as we are willing to work out a system to help you and your project if at all possible. Contact the Curator for specifics.
For 2019-2020, fees for core archiving are as follows:
| | |
| --- | --- |
| Full archiving (core splitting, photographing, meta-data/data entry, describing and materials) | $71.35/100cm |
| Core splitting (includes d-tubes) | $41.23/100cm |
| Core splitting and photographing (includes d-tubes) | $50.85/100cm |
Naming protocol used for cores: The name of each marine sample coming into the repository (core, dredge, grab, etc.) is given an at least a two letter abbreviation of the ship's name: the first two letters of a single word name or each of the first letters of a multiple name (i.e., EN for Endeavor or RC for Robert Conrad); followed by the cruise/leg number for the ship as specified by the ship's managing institution; followed by the two-digit numerical year, the sample number and the sample type (i.e., PC for piston core, GC for gravity core, TW for trigger weight, RD for rock dredge, GR for grab, etc.). In the case of terrestrial or lake samples where the vessel is unnamed or no vessel is used, the first two letters of the Principle Investigator's last name should be used in place of the ship and cruise/leg number. This should be followed by the year and the core/sample number in that year.
Examples: EN473-10-6GC: Endeavor, leg# 473, year 2010, 6 th sample, gravity core
HE92-24: Heusser, year 1992, core #24
Request Analyses
The repository can undertake analyses and measurements for any investigator on a fee basis. The repository's lab runs as a cost center and, as such, recharge fees are set to cover the cost of the actual measurement. If you would like to carry out the measurements yourself, or if you would like analyses not listed below, please contact the Curator .
For 2019-2020, fees for commonly requested analyses are as follows:
| | | |
| --- | --- | --- |
| | We Run | You Run |
| MST - GRAPE, P-Wave and Magnetic Susceptibility (whole or split core) | $30.61 /100cm | $12.02 /100cm |
| XRF - X-ray fluorescence, X-ray images or Digital line scan images [Contact the Curator] | | |
| Carbonate – requester provides prepared sample | $5.58 /sample | $4.62 /sample |
| Fine Fraction Grain Size (G.S. for coarse fraction is determined on an hourly basis) | $31.13 /sample | $23.95 /sample |
| Sediment Washing - automated | $7.75 /sample | $1.79 /sample |
Forms
Facility/Analysis request form
If a link above fails to open, right-click on it and 'Save As' to your computer.