Earth & Environmental Science Journalism:
Science Research Project
Fibropapillomatosis in Green Sea Turtles (Chelonia mydas): A Map of Global Distribution and a Study of Possible Regression in the Hawaiian Subpopulation.
Joseph Spring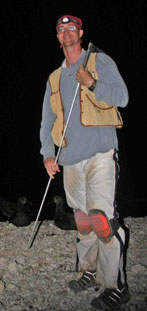 Joe documented his science master's research through a series of communications which became a
five part web series
for the Earth Institute News of Columbia University. These articles are a compelling chronicle of his study and his experiences on East Island.
Abstract
Fibropapillomatosis is a neoplastic disease with a worldwide distribution primarily affecting green sea turtles (Chelonia mydas). A global database and map of the disease was assembled from published reports to serve as a baseline measurement of the extent of FP. The etiologic agent of the disease has not been isolated, and more study is needed to understand the nature of the disease. Two field surveys were conducted in the Hawaiian Islands in order to collect tumor samples from two distinct age groups of green sea turtles. Tumor samples were collected from 11 adult turtles nesting on East Island and from 30 juvenile turtles foraging in Kaneohe Bay. In all, 17 tumor samples were collected from nesters and 52 tumor samples were collected from juveniles. Histologically, 15 of 17 adult tumors were characterized as regressing and 1 of 52 juvenile tumors was characterized as regressing. Statistical analysis revealed a significant difference between the rate of regression in the tumors of adult nesters (88%) and those of foraging juveniles (2%). This is the first comparative histological study of rates of regression in adult and juvenile sea turtles of the same species.
Thesis figure 14 A - 2005 Previously Tagged Tumored Turtles - 12 of the 32 tumored turtles identified on East Island in 2005 had been previously tagged and had their histories retrieved from the National Marine Fisheries Service database developed by Shawn Murakawa and George Balazs. Each turtle is listed with the size and number of tumors identified. A green or red circle above the year indicates the turtle was seen that year. It is possible turtles may nest and not be seen during the field season. Turtles are labeled based on the number assigned to them during the 2005 nesting season.
Photos from Joe's research on East Island. Two green sea turtles - one demonstrating grace in the water, and the second managing on land with a damaged flipper.
---
Go to Science Research Projects.
Go to Learning Objectives of Research Project.
Return to E&ESJ home page.
Last updated: 19 January 2006, MKT.