Please note: LDEO is presently closed to the public due to COVID-19 restrictions. The safety and well-being of our community remain our top priority, therefore, we will be unable to offer any field trips until further notice.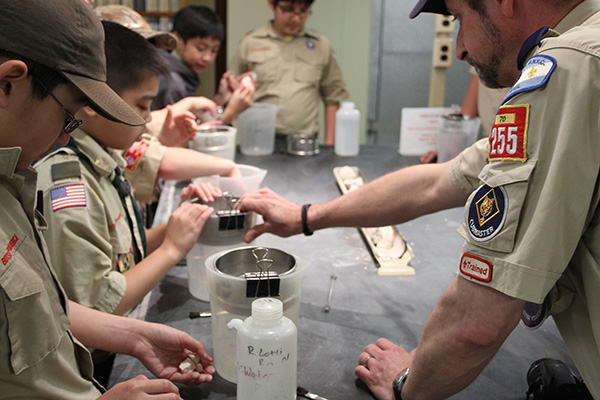 Plan a trip to the Lamont-Doherty Earth Observatory
Lamont-Doherty Earth Observatory invites learners of all ages to come experience interactive science outside of the classroom. We offer tailored lab visits and activities for your group to explore ocean cores, seismic sounds, ice sheet activities and so much more!
Here are just a few examples of what we offer:
Our field station is located offsite on the eastern end of the Piermont Pier, a mile-long pier that stretches into the Tappan Zee Bay in the Hudson River. The facility has interactive displays, murals depicting the geologic and environmental history of the Hudson River, microscopes, and field sampling equipment to support students in exploring the Hudson estuary. Student groups can collect fish, sample plankton, examine sediment samples, and check water quality as part of their visit to the Field Station. Note that trips to the Field Station are seasonally available April through the end of October.
The Lamont-Doherty Core Repository is home to nearly 20,000 sediment cores from around the world! These cores preserve records of Earth's climate throughout the past several million years and help us to better understand what is happening in the present. The Repository has welcomed students, cub scouts, journalists, and even an astronaut in the last year, to tour its facilities and historic sediment core collections. Tours introduce educators, students, and other guests to the important role that sediment collections play in understanding Earth processes such as climate change, ocean acidification, and tectonics. The Repository's knowledgeable curator will guide students through a variety of hands-on activities at interactive exhibits!
This tour involves a 45-minute walk through the Lamont forest. Themes in this experience include principles of studying trees and tree rings, changes in species diversity, invasive species, ecological succession, and patterns of land use during human history. Students will be introduced to the concept of dendrochronology, the science of obtaining information from tree rings. The forest surrounding the Lamont campus is located in a zone of transition between two biomes, or eco-regions, resulting in more species diversity than forests to the north and south. On this hike, the forest is used as the ecological centerpiece and serves as a classroom for students and teachers. The walk will provide students with hands-on experiences and engage them in active learning in a unique environment.
Tree Ring Lab scientists are dedicated to expanding the use and application of tree-ring research to improve our understanding of past climate and environment. Students will learn about the research that the lab does and what we can learn about the past by examining tree rings. Lab presentations can be tailored to a range of age groups from elementary to high school!
In this small-scale demonstration, students will explore seismology, the scientific study of earthquakes. Researcher Ben Holtzman will guide students through an interactive experience using the Sound Ring, a surround-sound installation that converts seismology data into audible sound. Students will explore what these seismic sounds mean and the information they contain for scientists.
The Polar Geophysics Lab introduces topics that explore evidence for climate change in the Polar Regions. This ranges from changing sea levels, to using radar to look through ice, the many types of polar ice and their roles, ocean and ice connections, and many others. Researcher/ Educator Margie Turrin begins with an introduction to the Arctic and the Antarctic including discussions on the roles of the ice sheets, ice shelves and sea ice. Hands-on activities include working with physical models to explore the properties of ice, analyzing real data to determine melting rates in the Antarctic, or understanding the impacts of sea level rise using Lamont's own iPad app. Also, see how our Polar Geophysics Team uses cutting edge techniques such as
Icepod
to image changing icecover in the polar regions.