For more than two decades, Lamont-Doherty Earth Observatory's field station, which sits at the end of the Piermont Pier, has been a place for research, education, and outreach programs on the Hudson River and in the adjacent Piermont Marsh. Originally built in the 1950s to service Lamont's research vessels when they docked at the pier, the field station was heavily damaged during superstorm Sandy with the facility largely destroyed.
Lamont is currently seeking funds for a full renovation of the building in order to continue and expand its work and to grow the impact and value of the field station to the surrounding communities. Lamont perceives an enormous opportunity to create a newly designed, updated field station to serve the multiple goals of research, outreach, and education.

The Research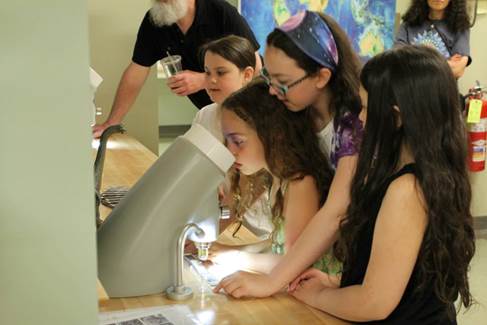 The interdisciplinary study of rivers and estuaries has historically been a high priority research area for Lamont, with much of this work centered on our Hudson River Field Station. Current and past Lamont research has explored and evaluated environmental health, human safety, and river processes.
Click here for a full list of study areas.

The Community Programming
Most people are surprised to learn just how many educational activities are already centered on the field station. These activities make science vital and meaningful to the students and educators who participate. In fact, Lamont has a rich history of educational programming on the Piermont Pier that has also, along with Sparkill Creek and the Palisades Slope, been designated as a "Critical Area" for exceptional and unique character by New York State. The Piermont Marsh is also designated as a "NYS Significant Coastal Fish & Wildlife Habitat".
Many of these programs are led by Lamont researcher and educator Margie Turrin who has received numerous awards for her contributions to community education and outreach. During the 16 years our education and outreach programs have operated, the Piermont Pier location has introduced several thousand local students to the Hudson River ecosystem. Additionally, the data collected annually at this location becomes part of a wider data set used by students throughout the Hudson River Valley in classroom lessons, student research projects, teacher professional development and other special programs.
Click here for a list of ongoing activities.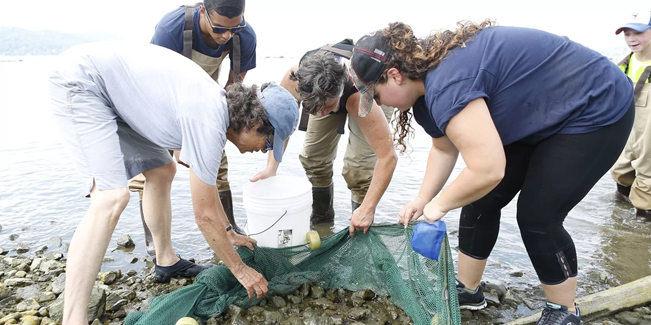 The Vision
Inside, the station will contain space dedicated to research and technology, which will be housed behind a glass wall. This will be a working lab. The remainder of the building will be designed as an active education center with equipment and resources for teaching and learning as well as an Exploratorium with vivid displays used as teaching opportunities and open to the public. Among the Exploratorium features proposed, a seismograph, constantly recording incoming data; a microscope exhibit where people can look at microfossils, fish larvae, pollen, etc. from the river; and a large projected video on screen showing Lamont's scientists in action at other field locations around the world, the history of the pier and Lamont's connection to that history through our research projects.

World-Class Science in Your Backyard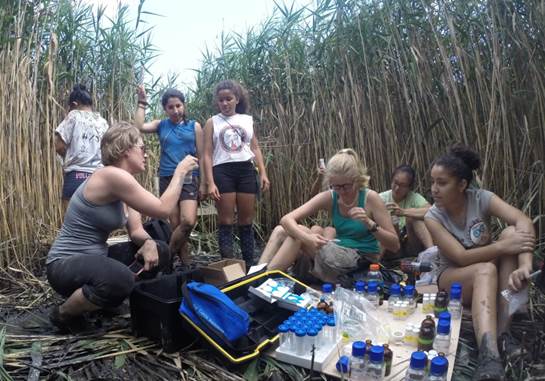 With the rejuvenation of the building we plan to forge even stronger links with our surrounding communities—providing a dynamic hub for local education and outreach activities. Past activities at the field station have educated thousands of school children about the natural and cultural history of their local environs, efforts we plan to expand with the addition of new displays, educational resources, and programming. By capitalizing on the expertise and enthusiasm of Lamont scientists and students as well as our historical connection to the community, we will utilize this unique site to educate students, educators, and neighbors on the scientific, human and natural history of the pier and surrounding areas.
When completed, the Lamont-Doherty Hudson River Field Station, will stand as a
valued link between Lamont and the surrounding communities—a resource that will help explain what Lamont is and does so our local neighbors can embrace the world-class global research happening every day in their community and introduce students to educational and career opportunities in the geosciences.

For more information, please contact Noelle Bannister nb2704@columbia.edu .
Please check back for updates as we continue raising support for this exciting, transformative project!