When Arnold Finck joined Lamont Geological Observatory as its first business administrator, he had a big job ahead and no template to follow. The Observatory had just opened its doors on the Lamont estate in the Palisades, and its scientists needed laboratories, equipment and ships. They also needed the administrative procedures that could work for both Lamont and its parent, Columbia University.
Finck spent more than 25 years helping build the Lamont campus and designing procedures that made it run. Former colleagues described Finck, who passed away March 13 at his home in Palisades at the age of 96, as a peacemaker and problem solver who calmly steered the Observatory's financial course.
In a series of audio interviews in the 1990s, Finck talked about his career at Lamont and how the Observatory changed over the years. He considered his greatest successes the creation of administrative processes that helped to organize the young campus – "all were something that had to be done from scratch," he said – and the construction of its first buildings, including Oceanography, Seismology, and a Geosciences Building.
Finck was a few years out of the Army and working for New York Life Insurance in 1950 when Lamont Director Maurice "Doc" Ewing and Associate Director Joe Worzel talked him into taking the job at Lamont.
The Observatory had been founded a year earlier, and almost all of the work was taking place inside Lamont Hall, the big house on the estate. The business office operated in the main hall, just inside the front door, he recalled. The core lab was in the dining room, and the kitchen had been taken over by the geochemistry group.The bedrooms had become offices.
Finck helped arrange the construction of the first separate core lab on campus – a second story built over the estate's large garage. "We were innovating a lot because we didn't have the money to put up brand new buildings at the beginning," he said in the interview.
One of his first challenges as business administrator was to set up a personnel system. His team devised a system of 8-by-5 cards for keeping records in a way that would allow them to document the scientists' time on various contracts and grants so government auditors could easily check the use of funds. Finck also implemented "sea pay" to compensate scientists who spent long periods of time at sea, and he set up a travel office to help get Lamont's scientists to ships and fieldwork sites around the world and home again, while also ensuring government regulations were followed and the paperwork flowed smoothly.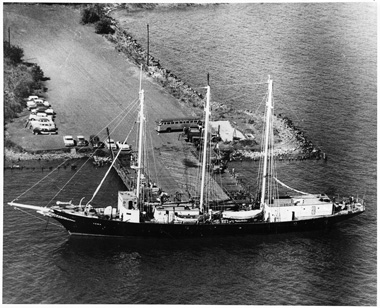 He also helped with the leasing, purchase, and operation of several ships, including the Vema and the Conrad, as well as the renovation of nearby Piermont Pier (in the photo with the Vema) as a home for the ships to dock. When it came to running the ships, there were no existing rules for setting day rates and reimbursement for the costs of the research vessels, so Finck worked with the Office Naval Research to develop them.
"Frankly, we don't know how we would get along without Arnold," Ewing and Worzel wrote in a letter to Columbia's Vice President for Business and Finance in 1966.
Finck found ways to keep the lights on and maintenance and administration running when the overhead built into government contracts was held by Columbia, and he found ways to avoid the backlog for purchase orders. Purchase orders had to go through the main Columbia campus, but Finck arranged to work with the scientists in advance to expedite the process and then followed up with Columbia. When Columbia's accounting fell behind, Finck started a second accounting process at Lamont to keep project leaders and the campus updated on their spending.
"I got an old NCR machine and we kept our own accounts and all the expenditures of all the salary costs, and everything went through these accounts with each contract and grant, and in that way we could tell where we were before Columbia ever got their figures together. And it was my job to tell these people, 'You know, here's where you stand, and you have to cut back.' Or 'You have plenty of money, go ahead and spend it,'" Finck recalled.
He also helped Ewing establish the non-profit Palisades Geophysical Institute, which allowed Lamont scientists to continue their work in Bermuda on classified submarine detection research after Columbia declined the project.
Lamont geochemist Wallace Broecker once said of Finck: "I sometimes wonder how Arnold, when faced with what must have been chaos surrounding Maurice Ewing's fund-raising and spending, was able to steer Lamont's financial course. Yet he always appeared to be calm, happy, and in control. Amazing."
Walter Arnold Finck was born on May 15, 1920, in Jersey City, N.J. He grew up in Grand View, N.Y., and spent his youth along the Hudson River, not far from the Lamont estate. He met his future wife, Elizabeth Ann Fox, at a meeting of the area's Christian Youth League, set up by local churches. After World War II, they settled in Palisades, just down the hill from campus, where they raised three children.
Finck retired from Lamont as Associate Director for Administration in 1976 but stayed on for several years as a consultant. He served on the Lamont Alumni Board until 2010 and regularly attended lectures on campus.
"He loved Lamont," said his daughter, Carolyn Finck. "He was so proud of all that he got done when he first came there until he left. He loved the people. He loved the grounds and seeing the buildings go up. It was just a big part of his life."
Finck is survived by his three children: Don Finck of Breckenridge, Colo.; Carolyn Finck of Palisades, N.Y.; and Robert Finck of Blauvelt, N.Y. His wife, Liz, passed away in 2005. A memorial service was planned for Saturday, March 19, at 11 a.m. at Palisades Presbyterian Church.