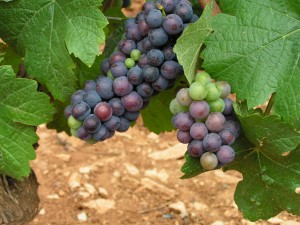 Pinot noir grapes in Volnay, Burgundy, in early August, when the grapes have begun to get their color. Photo: Olivier Vanpé
Vintners in the Burgundy region of France have been tracking their harvests since the 14th century, and they know as well as anyone the importance of picking their grapes at just the right moment to produce the best possible glass of Pinot noir.
Now, a team of scientists has found a way to look at sea surface temperatures in the North Atlantic and pinpoint that optimal harvest date six months in advance.
A warmer temperature during the growing season — April to the end of August — means earlier harvest. A preceding colder winter means a late bud-breaking and a delayed harvest.
The French scientists, led by Tourre, studied temperature records for Western Europe dating back to the 17th century, and records of grape harvest dates that stretch back to 1370, maintained by monks and others who carried on the venerable tradition of winemaking. They also looked at well-known climate fluctuations over the Atlantic Ocean, such as the Atlantic Multi-Decadal Oscillation, which modulates the weather patterns in Western Europe.
Their study found a remarkably tight relationship between sea surface temperature trends, European climate and the timing of the grape harvest. Basically, changes in climate affect the amount of solar energy, percentage of water content in growing grapes, and consequently the optimal grape harvest date.
"Pinot noir is an amazing grape," Tourre says. "The number of days between bud break and harvest is near 135 days." He said the impact of natural climate variability is aside from any worries people may have about global climate change.