12/04/01
Wally Broecker Celebrates 70th Birthday
On Tuesday, December 4th 2001, members of the Lamont community gathered to celebrate Wally Broecker's 70th birthday. Wally was regaled with cake, words, and song.
---
09/21/01
Lamont Scientists Reach the North Pole
The USGS Healy, carrying 6 Lamont scientists and students, reached the North Pole on September 6.
---
09/19/01
Lost Alumnus Weibin Wang
It now seems certain that Lamont lost one of its alumni last week in the World Trade Center disaster. Weibin Wang graduated in 1994 and will be sadly missed. In these extraordinary times, we take the extraordinary step of providing a short message from the many good friends of Weibin and his wonderful family: weibin-english.pdf.
---
09/06/01
Columbia Scientists Take First Geological Samples Ever From the Arctic Gakkel Ridge
Lamont Geologists part of 5 nation team sampling Gakkel Ridge in the Arctic this summer.
---
08/24/01

Columbia Scientists Gauge Hudson Spill
Scientists gauging effects of river spill. What would happen if hazardous chemicals
spilled into the Hudson River?
---
08/22/01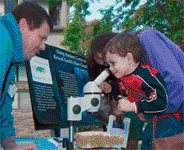 Columbia Earth Science Campus Opens Doors To Public
The Hudson River is the focus of the 2001 Open House at Lamont-Doherty Earth Observatory in Palisades, NY, October 6th.
---
2001 - 2002
Earth to Class Saturday Workshops for Teachers
Columbia earth scientists teach school teachers on Saturdays at Lamont.
---
08/15/01
Columbia Scientists Offer Intensive Media Training to Help Journalists Cover the Complexities of Climate Prediction
Lamont providing East African media with Climate Prediction workshop.
---
08/02/01
Columbia Scientists Join International Workshop on Earthquake Research
Columbia scientists join international workshop on earthquake research with RV Ewing at Port of Piraeus, Greece.
---
07/05/01
Lamont-Doherty Earth Observatory Bestows Heritage Award on Marie Tharp
Marie Tharp to be honored July 17 with first Lamont-Doherty Earth Observatory Heritage Award for her scientific pioneering in mid-ocean ridge system.
---
07/03/01

Lamont's Prof. Ou finds that water vapor cools the world; in Journal of Climate.
The Earth's climate depends less on the Sun than we might think.
---
06/06/01
New CEI Center Will Use Scientific Advances to Protect Societies Facing Disaster
Columbia announces new Center for Hazards and Risk Research.
---
06/04/01
LDEO'S Anderson Assesses National Energy Consumption Offers Mixed Review of Bush Energy Plan
The Bush Administration's energy plan contains "thought-provoking ideas - both good and bad," said Roger Anderson, director of the Energy Research Center at the Earth Institute's Lamont-Doherty Earth Observatory.
---
05/14/01
Final Two Sunday Lectures at Lamont-Doherty Earth Observatory in Palisades, NY, May 20 & June 3.
---
05/14/01

Lamont Public Lecture Series 2001
Sunday, June 3, "Planetary Stewardship," Wallace Broecker.
---
05/14/01

Lamont Public Lecture Series 2001
Sunday, May 20, "Coral Reefs," Richard Fairbanks.
---
05/14/01
Lamont Public Lecture Series 2001
Sunday, May 6, "From Oceans to Asteroids," Dee Breger.
---
05/14/01

Lamont Public Lecture Series 2001
Sunday, April 22, "Out of Power, Out of Time," Roger N. Anderson.
---
05/14/01

Lamont Public Lecture Series 2001
Sunday, April ,1 "New York City Under Water?" Klaus Jacob.
---
05/04/01
Dee Breger's "From Oceans to Asteroids: Revelations From the Electron Microscope."
---
05/01/01
Earthquake Data from the Former Soviet Union Can Now Reach LDEO in Near Real Time
The near real-time capability for signals at Borovoye Geophysical Observatory to be received at LDEO has the potential to speed up the process of interpretation of earthquake and explosion activity.
---
03/07/01
A Great Under-Ice Lake in Antarctica Los Angeles Times Features Lamont's Lake Vostok Research
Los Angeles Times features Lamont's Lake Vostok research.
---
03/02/01

N.J. is not Immune to Quakes By Bob Groves
Interview with Lamont's Art Lerner-Lam, a seismologist and senior research scientist at the Lamont-Doherty Earth Observatory of Columbia University in Palisades, N.Y.
---
03/01/01

Evidence of Recent Volcanic Activity Found Along the Slow-Spreading Gakkel Ridge
Researchers working under the ice canopy in the Arctic Basin have confirmed that volcanoes and other tectonic processes often accompany seafloor spreading along the global mid-ocean ridge (MOR) system.
---
02/28/01
Seismogram recorded by Palisades Station.
---
02/07/01

Columbia Researchers Discover New Evidence of Climate Warming in Mongolian Trees
Rings from ancient Mongolian trees show evidence of global warming.
---
02/01/01
Urban Planning, Urban Design and Earth Science Students Plan Disaster Relief Project in Venezuela
Lamont and Urban Design students help Venezuela plan after mudslide disaster.
---
01/17/01
The earthquake was located near to the 125th Street fault and it is possible that this fault was the source of the earthquake.
---
01/04/01
Mud Yields Ghosts of Hudson River's Past
New York Times features Dr. Bell's Hudson core studies.
---