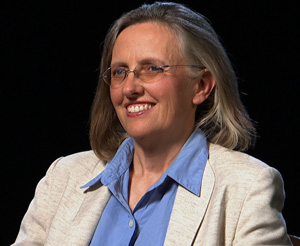 Robin Bell
Two scientists at Lamont-Doherty Earth Observatory are among 60 nationwide named this year as fellows of the American Geophysical Union, the world's largest earth-sciences society. Edward Cook, director of the observatory's Tree Ring Lab, and Robin Bell, a leader in polar studies, received the honors, announced in the April 19 edition of the AGU newspaper EOS. The union has chosen a select group to honor each year since 1962, limiting the number to no more than 0.1 percent of the group's membership.
"Once again, AGU has honored two of our game-changing scientists," said Lamont-Doherty's interim director, Arthur Lerner-Lam. "Robin and Ed are intellectual leaders at the observatory. Both are working on foundational problems underlying systemic changes on our planet. The results of their research will continue to have broad impact on our science, and on the public discussion of our most important environmental problems."
Bell, a Lamont research professor, is a veteran of dozens of research flights and several on-the-ground expeditions to the Arctic and Antarctic. A leader in the recent International Polar Year, involving dozens of countries, her work has included identifying widespread lakes of liquid water below the surface of the Antarctic ice sheet, and mapping hidden mountain ranges there.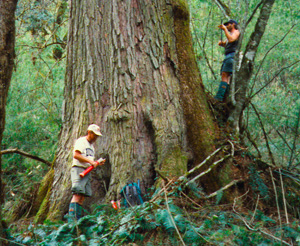 Ed Cook (left) in the field.
Cook, who cofounded the Tree Ring Lab, has worked across the world, from Asia to the American Southwest and the Hudson Valley. He has played a lead role in developing atlases of past droughts in North America and Asia, using measurements from tens of thousands of trees to reconstruct histories of drought going back in some areas two millennia. Cook is the Ewing Lamont research professor at Lamont-Doherty.