Surfers have a saying: Never turn your back on the ocean. The World Surf League (WSL) is giving that phrase new meaning – it is teaming up with marine scientists at Columbia University's Lamont-Doherty Earth Observatory to launch WSL PURE, an innovative new philanthropy dedicated to supporting ocean research at a critical time.
Coral reefs are facing severe bleaching, and changes in ocean temperature and chemistry are starting to have profound effects, both on sea life and sea level rise. At the same time, funding for ocean research has fallen.
The new funding model of WSL PURE (Progressive Understanding and Respect for the Environment) combines corporate philanthropy, an education program that reinvests tuition income into research, and the surfing community's desire to understand and protect its ocean environment. The new partnership will expand ocean education and give Lamont's marine scientists additional financing and greater flexibility to pursue groundbreaking research into ocean health and ecosystems beyond traditional federal support.
World Surf League CEO Paul Speaker, whose organization runs professional surfing events around the world, joined scientists at Lamont on April 5 to announce the creation of WSL PURE, with $1.5 million in the first year of funding for ocean science research at Lamont. The philanthropy's goals fit a new approach for bolstering science funding being developed through Lamont's Center for Climate and Life.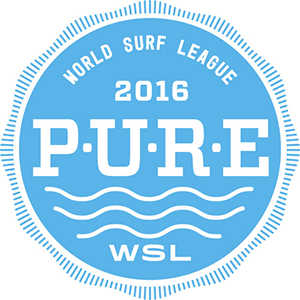 "With WSL PURE, we hope to inspire everyone connected with the sport to become engaged in making the oceans healthier for generations to come," Speaker said.
"Our oceans and climate are changing faster than our ability to keep pace," said Peter deMenocal, an oceanographer, professor, and director of the Center for Climate and Life at Lamont. "WSL PURE allows us to accelerate the urgent science we need to understand how these changes will impact things people care about most – our access to food, water, shelter, and energy. The advantage of this model is that we can target key issues, generate results quickly, and use this knowledge to shape a stronger and more resilient future."
Critical Ocean Science
Today, the oceans are in crisis as temperatures and carbon dioxide levels rise and nutrient pollution from cities and farms pours in. The rising temperatures and CO2 levels – both breaking records over the past year – are affecting marine ecology, sea-level rise, and the ocean's ability to store carbon. WSL PURE's first-year funding focuses on five areas of research: ocean health and ecosystems, sea level rise, oceans and climate, ocean acidification, and coral bleaching.
"The oceans are rapidly changing, and we need to enhance our understanding of ocean ecosystems to build a sustainable future," said Lamont marine biologist Sonya Dyhrman. "The funding provided by WSL PURE provides a unique flexibility and freedom that will allow me to push my work into new directions and pursue the most pressing research in a bold and innovative way."
The new funding model will help Dyhrman's team study changes in the ocean environment that affect phytoplankton – microscopic marine organisms that form the base of the food chain and play a vital role in producing the oxygen we breathe and taking up carbon dioxide that can contribute to global warming. Changes in temperatures, rising CO2 levels, and pollution can affect how phytoplankton communities grow and how well they can capture CO2 and sink it to the ocean floor.
Warming sea-surface temperatures can have other profound effects that scientists are only beginning to understand. Lamont scientists, with WSL support, are exploring its influence on weather and drought patterns, and on sea-level rise as warming causes the oceans to expand.
For ocean health and ecosystems, WSL PURE funding will also boost Lamont's research into how the ocean's chemical balance is changing. The ocean's acidity has increased about 30 percent in recent decades, and the damage is starting to show in phytoplankton and in animals that build shells, such as the tiny pteropod, an important food source for whales, sea birds, and young salmon. Even familiar delicacies such as oysters now struggle to create their shells.
We're also seeing the impact of warming water today on the Great Barrier Reef, where a recent aerial survey found 95 percent of reefs in the northern part are severely bleached. This spring, the World Surf League teamed up with Lamont scientists to launch Bleach Patrol, a citizen science effort and mobile app that calls on surfers, snorkelers, and other ocean enthusiasts to help monitor the world's coral reefs. What the citizen scientists see is sent directly to Lamont, where scientists use the details to pinpoint areas for greater study by follow-on visits and satellites.
Education
As part of the WSL PURE partnership, Columbia's School of Professional Studies is establishing an educational model designed to offer classes in ocean sciences for students at all levels, with the majority of the funding from tuition to be reinvested in ocean research.
"The WSL PURE and Columbia partnership is a unique way to marry research, education, and advocacy in a way that can bring powerful studies to the global community," said Greg Muth, Director of WSL PURE and a member of the graduate school faculty at Columbia University's School of Professional Studies.
WSL PURE will be making announcements in the coming months regarding the next phases of the program, including opportunities for individuals around the world to become a part of a global movement designed to empower people locally, regionally, and internationally.
"Surfing is unique in that its playing field is a living ecosystem," said Jessi Miley-Dyer, a former pro surfer and women's commissioner of the World Surf League. "As surfers, it is incumbent upon us to do what we can to protect the oceans. Partnering with Lamont-Doherty and Columbia University is a great way to support thorough research into ocean health and I'm excited to see where it leads."
"By creating a generation of 'surfer scientists,' we aspire to create a voice for the oceans and to empower our global fan base and partners to become better informed about the issues plaguing the oceans, while providing educational opportunities so that we can develop real-world solutions," Speaker said.