Matrip
MATRIP began in 1995 when Rosanne D'Arrigo and Gordon Jacoby visited Mongolia and arranged with the Mongolian Academy of Sciences to jointly engage in dendroclimatic research in Mongolia

.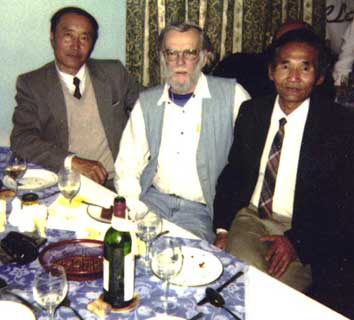 Dinner Meeting - Drs. Ch. Dugarjav, Gordon C. Jacoby, R. Mijiddorg.
The agreement for cooperative research was followed by three weeks of collecting tree-core samples in central and northern Mongolia. This effort was followed by obtaining NSF support for a four-year research program.
Collaboration in a Mongolian Ger.
The program included providing sampling equipment, software for data processing and setting up a modern tree-ring measuring system in Ulaanbatar, the capital city. This cooperative is continuing with about eight scientists involved, equally balanced by Mongolian and American representation.
Participating institutions include:
Institue of Biotechnology, Mongolian Academy of Sciences
Department of Forestry, National University of Mongolia, Ulaanbaatar, Mongolia
Hydrometeorlogical Research Institue of Mongolia
Even Homer J. Simpson is involved!! [doh!!]