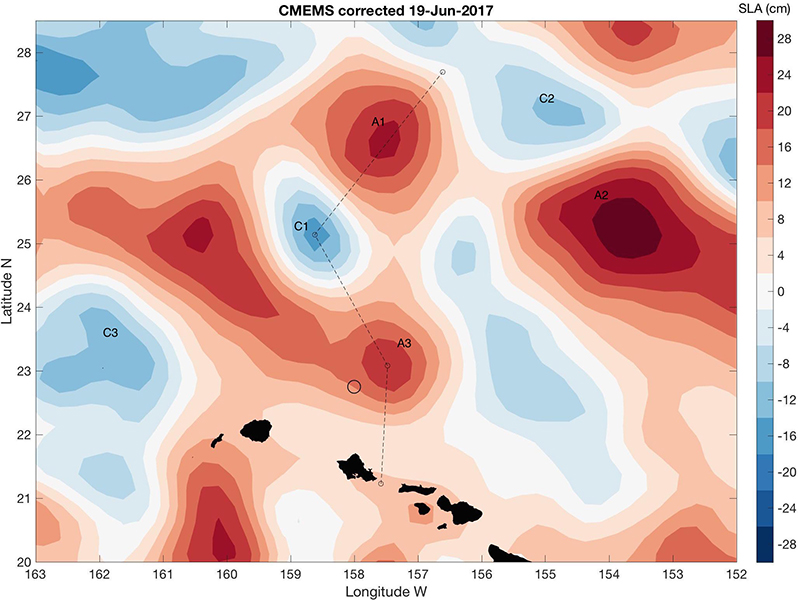 Location: North Pacific
Dates: June 25 – July 15, 2017
-----------------------------------------
Biological Oceanographer, Sonya Dyhrman's team is embarking on a research cruise off Hawaii as part of the Simons Collaboration on Ocean Processes and Ecology (SCOPE) on the R/V Kilo Moana June 25-July 15. Gwenn Hennon, and Matthew Harke will be at sea for nearly three weeks with logistical support from Sheean Haley back on shore. The cruise will be in the North Pacific, near the Hawaiian Islands where ocean currents create swirling features with diameters five times the length of Manhattan, called mesoscale eddies. The aim is to identify how mesoscale eddies shape the microbial ecosystem of the North Pacific Subtropical Gyre. Microbes perform the most important functions in the ocean from phytoplankton that fix carbon to bacteria that recycle scarce resources necessary for all life. Eddies alter these dynamics by bringing nutrient rich deep water up or pushing it down away from the sunlit surface. The Dyhrman team will be focused on experiments to understand how the upwelling of deep water, competition, and cooperation between microbes controls the growth of phytoplankton.