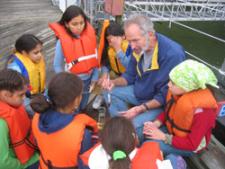 In this annual fall event school groups all along the Hudson River estuary go down to the river's edge to collect scientific information and share it to create a picture of "A Day in the Life of the Hudson River." Using hands-on field techniques teachers and their students describe their sites, monitor the physical system, seine for fish, collect water and invertebrate samples, and examine water chemistry parameters. Groups then use this data to understand how their piece of the river fits into the large, and complex, Hudson estuary ecosystem. Students benefit from being part of an estuary-wide event, where data is collected from South of the New York Harbor in the Hudson River bight, up to the Troy Dam and beyond.
Beyond just a field trip, participating groups engage in real science research in partnership with scientists at Lamont and other institutions. Data is entered to a rich data set from previous "Days in the Life", and made available for classroom activities.
The event is sponsored by the DEC's Hudson River Estuary Program in partnership with the Lamont-Doherty Earth Observatory of Columbia University, and includes teacher and educator workshops, curriculum development, and distance learning opportunities.
Faculty, Scientists, and Staff: