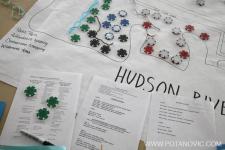 Students often wonder how local planning issues can be of concern to them. They don't own property, they don't pay property taxes, most don't yet vote...isn't this someone elses issue? The truth is this issue is very much connected to young people. The P.L.U.S. program is designed to show students why, and how to take advantage of this connection to offer their input. Students work in teams with students from other schools in their community to address concepts of sustainable planning examining important environmental, social and economic land planning questions.
The Planning Land Use with Students (PLUS) program is designed to provide this real world experience by engaging high school and middle school students in pressing local land-use decisions. Each particular case study serves as a lens for looking at the broader implications – both environmental and social – of local land policies, where often short-term answers have long-term effects. During the project class visits lay the groundwork for a one-day symposium, where students debate and discuss the real consequences and possible mitigations to their own communities, and thus gain skills that will allow them to make informed decisions as adults. The goal of PLUS is to engage students on the topic of sustainable community planning, while teaching them to consider the economic, social and environmental well-being of existing and future residents. Asked to think critically about a variety of data and source materials, the students are also encouraged to approach problem-solving collaboratively and with creativity. As a result, students who take part in the PLUS program learn at an early age to become conscientious stewards of the communities in which they live. In addition, the program exposes students to a variety of careers that might have been previously unknown to them.
The project is a collaborative event provided in cooperation with multiple County partners.
Faculty, Scientists, and Staff: