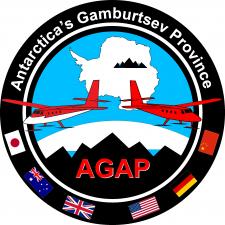 Scientists from several nations are working together to launch a flagship program to explore a major mountain range buried by a large continental ice sheet and bounded by numerous subglacial lakes. Exploring the history of the East Antarctic ice sheet and lithospheric structure of the Gamburtsev Subglacial Mountains are primary goals of the International Polar Year (IPY).
The combined projects under the AGAP partnership are multi-national and multi-disciplinary and include aerogeophysics, traverse programs, passive seismic experiments and ice core and bedrock drilling. The surveys are targeted at understanding the tectonic origin of these enigmatic mountains to provide crucial new inputs into ice sheet and climate models and provide key site survey support for the ice and bedrock drilling efforts.
Our international team will address four fundamental questions: 1) What role does topography play in the nucleation of continental ice sheets? 2) How are major elevated continental massifs formed within intraplate settings but without a straightforward plate tectonic mechanism? 3) How do tectonic processes control the formation, distribution, and stability of subglacial lakes? 4) Where is the oldest climate record in the Antarctic ice sheet?
Our education and outreach plans are closely linked to larger IPY education and outreach initiatives leveraging the excitement of "uncovering" a phantom mountain range, larger than the Alps but virtually unexplored since they were discovered during the International Geophysical Year in 1958.
Faculty, Scientists, and Staff: