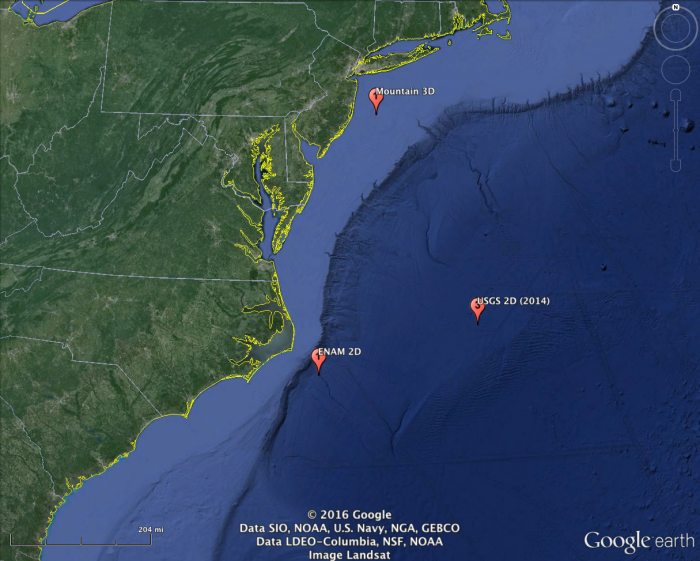 ---
Hybrid 3D Seismic Reflection Survey in the Atlantic Ocean offshore New Jersey (2014 Attempt) is a 2D Multi-Channel Seismic / Geometrics Parallel Cable (24x50m P-cables) survey to collect and analyze data on the arrangement of sediments deposited during times of changing global sea level from roughly 60 million years ago to present. Despite their existence being clearly indicated in sediment cores recovered during IODP Expedition 313, features such as river valleys cut into coastal plain sediments, now buried under a km of younger sediment and flooded by today's ocean, cannot be resolved in existing 2-D seismic data to the degree required to map shifting shallow-water depositional settings in the vicinity of clinoform rollovers. The mission ran for 10 days with several technical problems before being cancelled and rescheduled for 2015. More Information.
Extended Continental Shelf (ECS 2014) 2D Seismic Reflection Survey is the first of two surveys by USGS conducting 2D multichannel seismic reflection (MCS) surveys in the Atlantic Ocean off the continental margin of North America between latitudes 31oN to 40o N. The research aims to collect seismic data for two primary purposes: (a) to measure sediment thickness that will contribute to delineating the outer limits of the Extended Continental Shelf (ECS) beyond 200 nautical miles (nm); and (b) to image two entire landslide systems from near the continental slope to the runout on the lower continental rise and abyssal plain.​ More Information.
Eastern North-American Margins (ENAM) 2D Seismic Reflection Survey proposes a deep seismic imaging study offshore the southeastern U.S., from the Baltimore Canyon Trough in the north to the Carolina Trough and Blake Plateau in the south. Our primary objective is to gain a much better understanding of the crustal structure and evolution of the Mesozoic Atlantic margin of the southeastern U.S. Academic scientists are already funded by the U.S. National Science Foundation (NSF) to acquire 3600 km of seismic profiles north and south of Cape Hatteras. More Information.