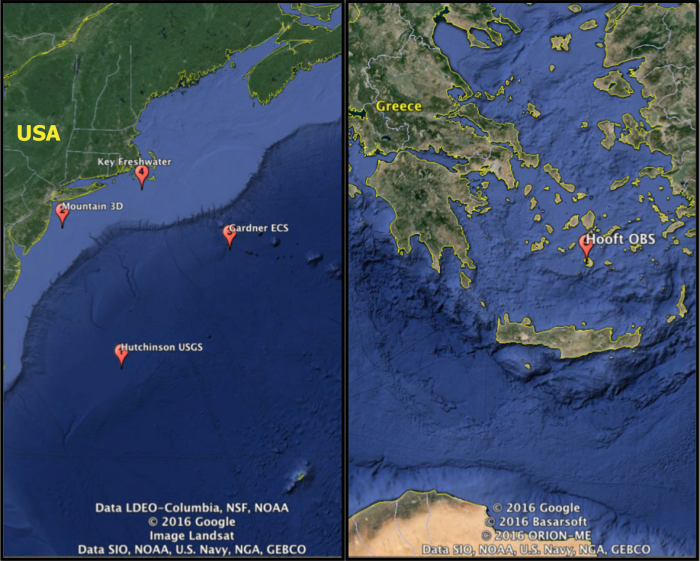 ---
Extended Continental Shelf (ECS 2015) 2D Seismic Reflection Survey is the second USGS 2D multichannel seismic reflection survey in the Atlantic Ocean off the continental margin of North America between latitudes 31oN to 40o N. It follows MGL1407 (August-September, 2014). The research aims to collect seismic data for two primary purposes: (a) to measure sediment thickness that will contribute to delineating the outer limits of the Extended Continental Shelf (ECS) beyond 200 nautical miles (nm); and (b) to image two entire landslide systems from near the continental slope to the runout on the lower continental rise and abyssal plain.​ More Information.
Hybrid 3D Seismic Reflection Survey in the Atlantic Ocean offshore New Jersey is the second attempt for the previous years MGL14-05 mission to collect and analyze data on the arrangement of sediments deposited during times of changing global sea level from roughly 60 million years ago to present. Despite their existence being clearly indicated in sediment cores recovered during IODP Expedition 313, features such as river valleys cut into coastal plain sediments, now buried under a km of younger sediment and flooded by today's ocean, cannot be resolved in existing 2-D seismic data to the degree required to map shifting shallow-water depositional settings in the vicinity of clinoform rollovers. More Information.
Extended Continental Shelf (ECS) 3D Multibeam Sonar Mission - Atlantic Ocean off of North America is a 3D Multibeam sonar survey in the Atlantic Ocean off the continental shelf of North America transect running between latitudes 34.5o N to 40o N. The research aims to collect high-resolution multibeam bathymetric surveys of the U.S. continental margin along the Atlantic. Multibeam bathymetric field surveys are a key component in developing a U.S. ECS claim, pursuant to Article 76 of the United Nations Convention on the Law of the Sea (UNCLOS). These surveys will require multibeam mapping to take place in depths of 1000-5000m. More Information.
Collaborative Research: An Electromagnetic Survey of Freshwater Resources Beneath the US Atlantic Continental Shelf is an equipment testing mission using a combination of Controlled Source Electro-Magnetics (CSEM) and Magnetotelluric soundings spanning the Continental shelf in two study areas: one offshore New Jersey and another offshore Martha's Vineyard. At each survey location, the fieldwork involves deploying 10 seafloor electromagnetic receivers along a 150 km long profile and then surface towing a EM transmitter over the profile. More Information.
Crustal magma plumbing of the Santorini volcanic system - OBS Mission is a large active source experiment to seismically image the magma plumbing system of an arc volcano throughout the crust and into the upper mantle. The Ocean Bottom Seismometers (OBS) will record the RV Langseth sound source array on 93 individual Shot Point OBS and 26 land stations with an aperture of up to 100 km for 3D tomographic imaging and with sufficiently high density for full waveform inversion. More Information.