Safety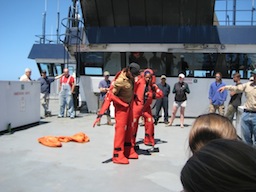 Safety is of the utmost importance! The science party will comply with all the vessel safety rules and regulations. In accordance, most personal protective equipment (PPE) will be provided onboard. However, the science party is asked to pack safety toe shoes (composite toes if not steel toes) to work on the back deck. Coveralls or sturdy clothing is recommended for back deck work. Closed toed shoes are necessary in the galley. The PIs may have more safety requirements based on the science objectives (i.e. safety glasses in the rock cutting lab).
PFDs and survival suits, if necessary, are on the vessel.
Participation
Full participation onboard the Langseth is encouraged. The ship runs 24-hours a day.
Drugs and Alcohol
The Office of Marine Operations at Lamont-Doherty Earth Observatory supports a ZERO Tolerance policy for the use, possession, distribution, or any other activity involving illegal drugs or controlled substances aboard the R/V
Langseth
.
In accord with the
UNOLS policy
, it is forbidden for any person to bring any alcoholic beverages on board; to drink to the point of intoxication; or to come on watch under the influence of any alcohol at sea or in port. Prior authorization is required to purchase souvenir alcohol in port and it will be placed in locked storage under control of the Captain.
Medical Requirements:
There is no medical officer on the Langseth. The ship maintains a small supply of medicines which are under the control of the ship's captain. At least one of the ship's officers has had first aid training. Medical examinations generally are not required for scientific personnel. If you have medical considerations, please reach out to the Marine Office before sailing. If you take medications, remember to pack adequate amounts for the duration of the trip.
Sexual Harassment
Social conditions at sea are very different from those on land. Privacy is greatly reduced and as a result certain interactions are frequent and may be for prolonged periods. Under these conditions personal and professional boundaries may become unclear. In general, everyone must be sensitive to the altered social conditions in which they are living and working. The University policy applies to both on and off duty behavior aboard the R/V Langseth. Any person who believes they are being sexually harassed should seek resolution through discussions with the individual directly concerned. If this does not immediately resolve the matter, or if there is reluctance to deal directly with the person involved, the problem should then be brought to the attention of the Chief Scientist and the Captain at the earliest stage possible. The Captain or Chief Scientist will investigate and take appropriate steps to resolve and remedy the situation.
Consensual, romantic relationships between individuals who work together are generally not considered sexual harassment and are not prohibited by University policies; however, individuals should be aware that these relationships are susceptible to being characterized as non-consensual, and even coercive, if there is an inherent power differential between the parties, and this can lead to complaints of sexual harassment. For further information, employees and students should consult the
Romantic Relationship Advisory Statement
More information on
Columbia University Operating Policies
Stewards Department
Bedding and towels are provided by the Stewards Department. As well as, cleaning materials of all kinds. There are two washing machines and dryers with detergent onboard for the use of the participants. Personal laundry, including sheets and towels, are the participant's responsibility.
We will try to accommodate your dietary or food allergy needs as much as is possible. Please put this information on your personnel form and let the Technical Manager (email Jeff) know. Please contact the Steward about your needs as soon as you board the vessel.
Packing list
In general, the science party should bring all their own equipment, computers, hard drives, etc. LDEO has some general use computers for Internet, basic tasks, but are not outfitted for most scientific analysis. Please coordinate with onshore OMO if special arrangements (space onboard, special wiring, etc.) for equipment are necessary.
Bedding and towels are provided. Pack all toiletries, including shampoo and soap.
It is recommended to bring your own coffee mug (preferrably sealable) and water bottle.
Space is limited – so pack efficiently!
Entertainment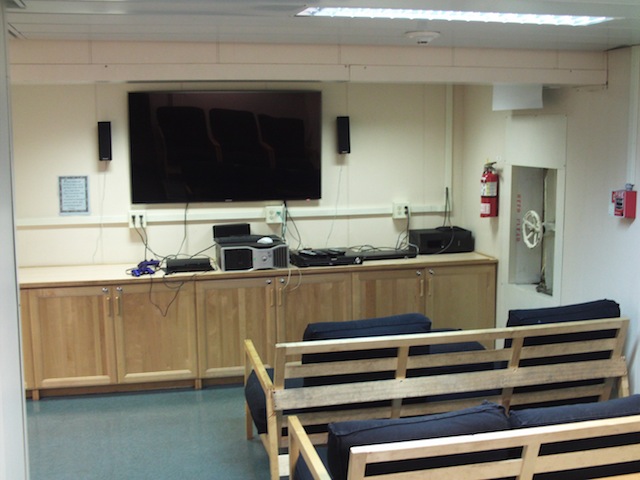 There is a movie room onboard complete with a large LCD TV, surround sound, movies, music, DVD player, and Playstation. There is an exercise room with a treadmill, elliptical machine, rowing machine, and some free weights. There is a library with a variety of books and magazines.
Last Day on Ship
Scientists are expected to vacate their quarters and the labs the day following arrival into port, unless otherwise stated. Before leaving the ship, return all books to the library and deposit linen in the space identified by the Steward. Clean all occupied spaces, including cabins, heads and laboratory areas. Cleaning supplies are available from the Steward.
Travel
Scientific personnel joining the vessel or departing the vessel in a foreign port are responsible for providing their own passports and obtaining required visas for the countries through which they will be traveling. They are also responsible for obtaining inoculations and the associated records required for entry into foreign countries and return to the United States.
Forms
Next-of-Kin (NOK) forms will be sent to the PIs for distribution to the participants. Completed forms need to be returned to the OMO Manager, Technical Services no later than one week before sailing. Failure to note and detail any participant could delay that participant's access to the vessel.