Lamont's Research Vessels: A Look Back – and Forward (1953 - 2006)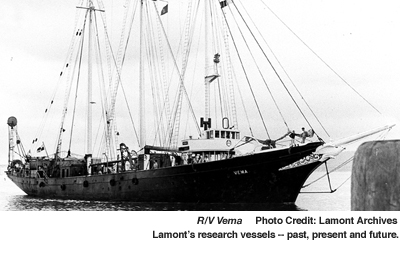 Since 1953 Lamont-Doherty Earth Observtory has operated distinguished research vessels that collectively have enabled LDEO to conduct pioneering explorations of our planet's oceans and seafloor. LDEO currently operates the R/V Marcus G. Langseth that serves as the national seismic research facility for the United States academic research community. Looking back, LDEO has operatied four distinguished research vessels – the Vema , the Conrad , the Eltanin , and of course the Maurice Ewing – which, collectively, have enabled the Observatory to conduct explorations of our planet's oceans and seafloor for over half a century.
Today's methods of marine geophysical research are evolving faster every year. Indeed, it was in the process of planning for the Ewing's midlife refit that the scientific community came to the conclusion that, even with such a refit, she would not be able to provide the advanced tools that are required to conduct such research in this new century. Thus the decision was made to acquire a new seismic vessel that would be better suited to these new scientific requirements. And, in Western Legend , a commercial seismic exploration vessel owned by Western Geco, Inc., the ideal candidate was found.
The National Science Foundation provided funding of more than $20 million to support the purchase and refit of the Western Legend , which, after a year-long outfitting with modern laboratories and scientific equipment, will become the most capable academic research vessel utilizing acoustic and seismic technologies in the world. Newly created laboratory spaces and deck space configurations are able to be optimized for ocean-bottom seismometer operations or general oceanography.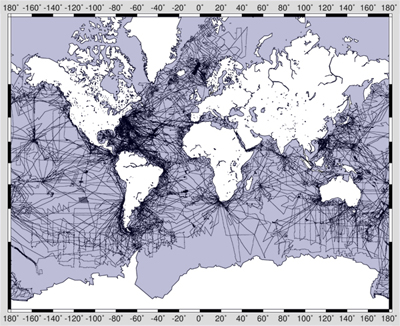 The new vessel, renamed the Marcus G. Langseth , in honor of the late Lamont scientist, can tow four 6-kilometer-long streamers. It is equipped to carry out two- and three-dimensional imaging of the ocean floor and the Earth's deep interior. These seismic cross-sections, like medicine's CAT scans and sonograms, enable us to peer directly into the Earth. Even better, because the receiving systems used by the new vessel to record the sounds that probe the Earth's interior are substantially more sophisticated than those found onboard the Ewing , the Langseth 's greatly improved imaging capabilities will not come at a cost of increased sound levels transmitted into the ocean, thus minimizing possible impacts upon marine life.
What this exciting new research vessel will allow us to learn about seafloor spreading, earthquakes, magma flow, gas hydrate deposits, continental drift, and more, will expand scientific knowledge about the Earth and contribute to our ability as humans to withstand its extreme forces.
G. Michael Purdy, Past Director of Lamont-Doherty Earth Observatory, summed it up best when he said, simply, "The purchase of this new ship is the beginning of a new era in Lamont ship operations."