Maurice Ewing (1988–2005)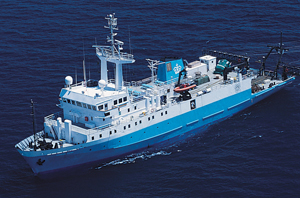 The Ewing began her existence as M/V Bernier, a 230-ft, 1,976-gross-ton multichannel seismic survey ship built in 1983 for Petro Canada. The downturn in the oil industry during the late 1980s led her owners to put the Bernier up for sale. Late in 1988, Columbia University purchased her for about $6 million. Another $5 to $6 million was required to refit the ship as a general-purpose research vessel. The refit was completed in June 1990, with funding from the National Science Foundation, to whom title was passed in 1995.
In her nearly fifteen years of service to scientific exploration, the Maurice Ewing accumulated well over half a million miles of track, including over 20,000 nautical miles of multichannel seismic (or MCS) profiles. With her cruising speed of 11 knots and an endurance of up to 60 days, the Ewing was able to ply the seas from Atlantic to Pacific, and from the Arctic to Antarctica, calling in ports as dispersed as Broom, Australia; Anglamassck, Greenland; Capetown, South Africa; and Dutch Harbor, Alaska. These long, richly rewarding scientific trips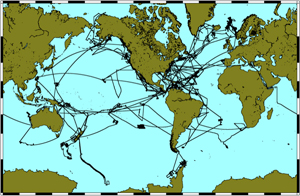 were not uneventful in other ways, either: in August 2001, while cruising off the northern coast of Somalia, the Ewing was attacked by armed pirates who pursued her firing AK-47 rounds and even a rocket-propelled grenade (fortunately, the latter glanced off the ship without detonating). The ship managed to outrun the pirates with no significant physical damage done.
Truly a multipurpose ship, the Ewing was unique in the U.S. academic fleet in her capability to collect high-quality MCS data. Her set of equipment included a 20-element seismic source array, a 6-kilometer-long hydrophone streamer cable featuring 480 channels, and a portable high-resolution system with 2 GI (generator injector) sound sources. "Doc" Ewing would have been proud indeed: the ship that carried his name was, in its time, the most capable seismic research vessel in the world.