Vema (1953–1981)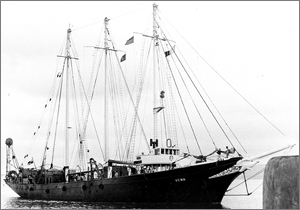 Built in 1923 for E. F. Hutton and christened Hussar—a 202-foot, three-masted, luxuriously appointed schooner with teak decks, Louis XV bedroom, marble-rimmed fireplace, Oriental rugs, stained-glass windows and gold-fauceted bathrooms—the iron-hull racing yacht was sold 11 years later to Georg Ungar Vetlesen, who renamed her Vema, for his wife, Maude (née Monell).
Like all oceangoing yachts in the United States, the Vema passed to government ownership during World War II, and was first put to use patrolling coastal waters for the Coast Guard. Later she underwent a drastic conversion to a floating barracks and training ship for the U.S. merchant marine, losing her gold faucets and other amenities. After the war, she lay abandoned and aground off Staten Island for several years, until being salvaged by a Nova Scotian captain for use as a charter vessel.
It was in this guise that she was leased (and soon purchased, for $100,000) by Lamont in 1953. Almost immediately Vema started circling the globe, 320 days a year, embarking on nearly boundless missions to explore every ocean—and eventually becoming the first ship to sail a million nautical miles making scientific observations.
The Vema collected much of the bathymetry and paleomagnetic data that was pivotal
to the early proof of seafloor spreading, and was also the first ship to perform continuous reflection seismic profiling with a Lamont-designed system. Along with her companion, the Conrad, she had standing orders to stop once or twice every day to collect a wide range of samples from wherever she happened to be. To do that, crews learned how to lower two instrument-laden wires simultaneously from rolling ships to the seafloor. The instruments sampled seawater, detected currents, photographed the bottom, measured seafloor heat flow and, of course, collected sediment cores. Lamont's founder (and the driving force behind the acquisition of the Vema) Maurice "Doc" Ewing famously laid down the dictum "a core a day." In 1948, only about 100 deep-sea cores existed. By 1956, thanks to the Vema, Lamont had collected 1,195. (Today our core lab holds nearly 19,000—a library of the seafloor available to the entire scientific community.)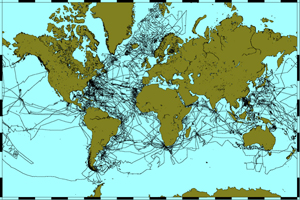 The work wasn't without danger. In 1954, while trying to secure fuel drums that had broken free on deck in a massive storm off Cape Hatteras, North Carolina, Ewing, his brother John, First Mate Charles Wilkie, and Second Mate Mike Brown were swept overboard by a huge wave. Somehow, despite the heavy seas, the captain was able to turn the ship around and rescue the two Ewings and Brown. Tragically, Charles Wilkie was not found. Ewing, who had taken a paralyzing blow to the neck in the accident, would walk with a limp from that point on.
The Vema sported a huge, determined-looking eagle figurehead, well representing Lamont's indomitable spirit. (Today it hangs in the front hall of Lamont's Geoscience Building.) By the time she was retired, in March 1981, this now-legendary research vessel had collected vital data along 1,225,000 nautical miles of track—a world record.
Renamed Mandalay and refitted as a luxury cruise ship, she was at last report placidly cruising the Caribbean.