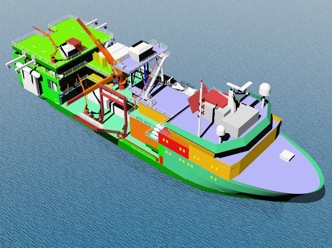 The R/V Marcus G. Langseth is a 235 ft, 3834 gross ton research vessel which is owned by the National Science Foundation and operated by Lamont-Doherty Earth Observatory of Columbia University. The R/V Langseth replaces the R/V Maurice Ewing , which ended a distinguished career in early 2005.
The R/V Marcus G. Langseth is classed by the American Bureau of Shipping as A-1 Baltic Ice Class IA and Coast Guard inspected; certificated to carry a total of 55 personnel of which approximately 20 are the ship's crew.
Originally constructed as a seismic vessel the Langseth was acquired in 2004, modified, and outfitted to perform the tasks required of a general purpose research vessel. This includes hull mounted 3.5 kHz Sub-Bottom Profiler, 12 kHz transducers, and a Simrad 1x1 degree deep ocean multibeam swath bottom mapping system. Later, in 2006, the Langseth added on the Kongsberg EM122 Multibeam array transducers for 3D multibeam surveying.
Particularly unique to the academic research vessel are the extensive geophysical capabilites which include a Sercel SealXI (408) seismic recording system with four 6.75 km of Sentinel Solid Acquisition Section (SSAS) 3 kHz solid-state hydrophone streamer cable and a 2000 psi, 40 pneumatic sound source array towed in four "strings" that can be configured either as a single, 2D source or dual, alternating 3D source arrays.
The R/V Marcus G. Langseth started conducting science operations offshore as of February 2008.
Specifications
Built:
1991
Speed Cruising:
11kts
Yard Built:
Ulstein (Norway)
Speed Full:
13kts
Length (LOA)
71.5m / 235 ft
Speed working:
0-11 kts
Beam(moulded):
17.0m / 56 ft
Endurance
Job dependent
Draft(max):
5.9m/ 19.5ft
Range
13,500 nm
Gross Tonnage:
3834
Fuel capacity
1340m3 (353760 gal)
Lightship Displacement:
2578.4
Fuel Type;
Marine Gas Oil
Crew
20
Bollard Pull
86.2 mt
Scientific Personnel:
35
Laboratory, existing:
Call Sign
WDC6698
Seismic Lab
218 m2/ 2345 ft2
IMO Number;
9010137
Other labs
Registration:
NY3360FG
Main Dk Stbd Dry Lab
53 m2/570 ft2
Main Dk Stbd Wet Lab
57 m2/613 ft2
Main Deck Pt Dry Lab
54 m2/ 581 ft2
A-Deck Fwd Dry Lab
22 m2/ 237 ft2
A-Deck Aft Dry Lab
21 m2/ 226 ft2
Propulsion
Geared Diesel
Propeller
2 x Ducted Variable Pitch
Main Engines
2 x Bergen BRG-6
Ulstein 4 blades
2650kw /3550 hp (each)
Rudder
2 x High Efficiency
Main Generators
2 x Shaft Generators
Becker Articulated
1665 KVA each
Seismic Air Source
2 x Ariel JGK4
Harbor Generator
1 x Diesel Generator 720 kw
Seismic Air Capacity
2750 CFM @ 1950 psi each
Bowthruster
1 x Tunnel 590 kw/ 800 hp
Ownership
The National Science Foundation
Operator
Lamont-Doherty Earth Observatory of Columbia University
Classification:
ABS- A-1, Ice Class 1C, AMS