The R/V Marcus G. Langseth is equipped with numerous survey instruments to enhance scientific studies of the seafloor and beyond. The science equipment is summarized below, additional science equipment may be utilized during a specific cruise to complete the mission objectives. For cruise participants, please notify the technical staff before bringing additional equipment aboard.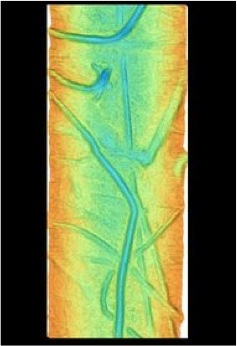 Processed multibeam bathymetry data from MGL1112 showing iceberg gouges, Coakley, NY Times blog, 2011.
The EM122 multibeam echosounder (MBES) is normally run with standard options enabled and automatic parameter adjustments enabled where possible. This configuration should provide good coverage (swath width), but may not provide optimal coverage under all conditions. These settings will not provide the best data quality. Specifically, reducing swath width is often required to attain the best data quality and density. Consult with the technical staff or other authorities if there are specific requirements for your cruise.
Bathymetry data will be acquired (recorded) using a Kongsberg EM-122. The EM122 sound velocity profile (SVP) will be processed from the Expendable Bathythermograph (XBT) data and uploaded to the EM122 system by the technical staff. The updates will occur at the discretion of the technical staff or at PI request, up to once per day, coincident with XBT deployment.
Should more frequent updates than once per day be required, the science party must supply the necessary probes. They must also supply approx. 30 minutes of personnel time to perform the processing, per profile. Training in processing and uploading the profile to the multibeam will be provided by technical staff.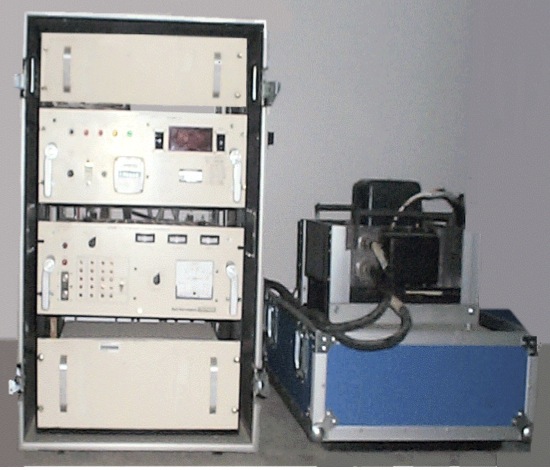 The Langseth is equipped with a Bell Aerospace BGM-3 gravimeter. Gravity data will be handled by the R2R data archive group at LDEO.  Photo to the left of the gravimeter. 
XBT Launch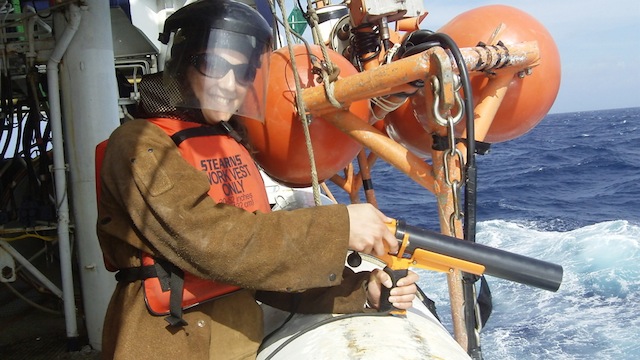 (Image CTD deployment)
The navigation equipment on the vessel is as follows:
These systems are provided to support seismic operations and the multibeam system. There are no user-configurable options. These systems are operated by the crew and technical staff, and are turned on or secured as necessary. They are normally operated, unless equipment or permit requirements dictate otherwise. All of these instruments output serial data and are logged using the Lamont Data System.
The navigation processing will be performed by the technical staff using the Concept Sprint Navigation Processing System.
Data format: UKOOA P294 (final P190)
Data medium: Electronic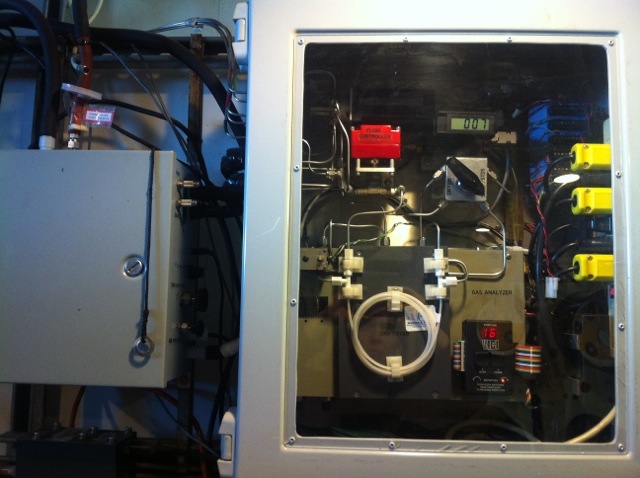 LDEO PCO2 (Image on right)
SBE-45 TSG
Applied Microsystems MicroSV
Sea-bird Electronics SBE38 Temperature Sensor
Set-up and operation of client-provided instrumentation is the responsibility of the Chief Scientist. The technical staff can assist with serial data feeds and network access. Please inform the OMO office and technical staff before bringing new instrumentation to the vessel.