The R/V Marcus G. Langseth has an excellent multi-channel seismic (MCS) acquisition system.
The Langseth can tow up to four seismic hydrophone cables. The cable itself is Solid Streamer [not oil-filled] manufactured by Thales [now supported by Sercel] in 150-meter sections. Each section has 12 hydrophone groups, which are, therefore, 12.5 meters long. Enough cable is being purchased to allow up to four 6-km streamers to be deployed at the same time. If a smaller number of cables are to be deployed, greater lengths are possible. The manufacturer recommends a 10-km maximum length, due to strength limitations, and this refers to new cables. Lamont policy is to restrict maximum length to 8 km.
Separation between cables towed by the Langseth can vary between 50 and 200 meters. With dual sound sources [deployed between 25 and 100 meters apart, respectively] this results in CDP line spacing between 12.5 and 50 meters. CDP line spacing should be chosed according to the desired frequency content and maximum cross-dips to be imaged.
The Langseth seismic source array comprises four identical 10-airgun strings. Four 2D or other single-source work, between one and four strings can be deployed, depending on the needs of the survey. During twin-source multi-streamer 3D surveys, the sources are split, each "side" with one or two strings.
Source and receiver navigation are determined and logged using the 3D version of the Concept Systems "Spectra" software. Positioning inputs include:
Ship's position and heading
Streamer compasses
Streamer Tail buoy GPS
Acoustic network - ship, source arrays, streamers.
Concept's "Sprint" software and personnel are available for post processing of the real time acquisition positioning data, and a new package, "Reflex," which does 3D CDP binning analysis, has been purchased.
Data is recorded to disk in real time.
Langseth is equipped to tow four linear subarrays of airguns, each up to 16 meters long. Each string looks like this: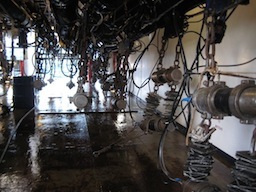 For 2D surveys, between one and four strings can be towed as a single array, depending on penetration requirements. The single streamer array design is shown here in schematic plan view: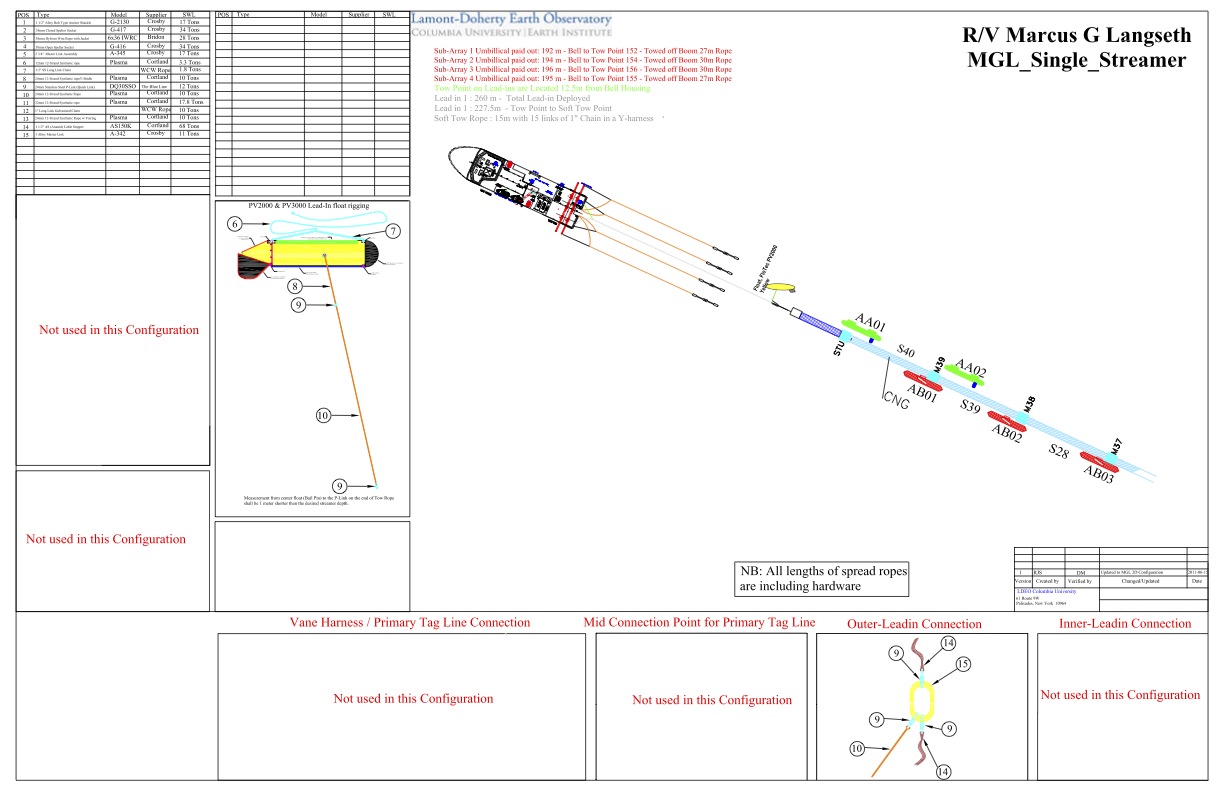 The 2-string 2D array design is shown here in schematic plan view:
For 3D surveys, two arrays are formed, each with either one or two strings. The 4-string 3D array design is shown here in schematic plan view: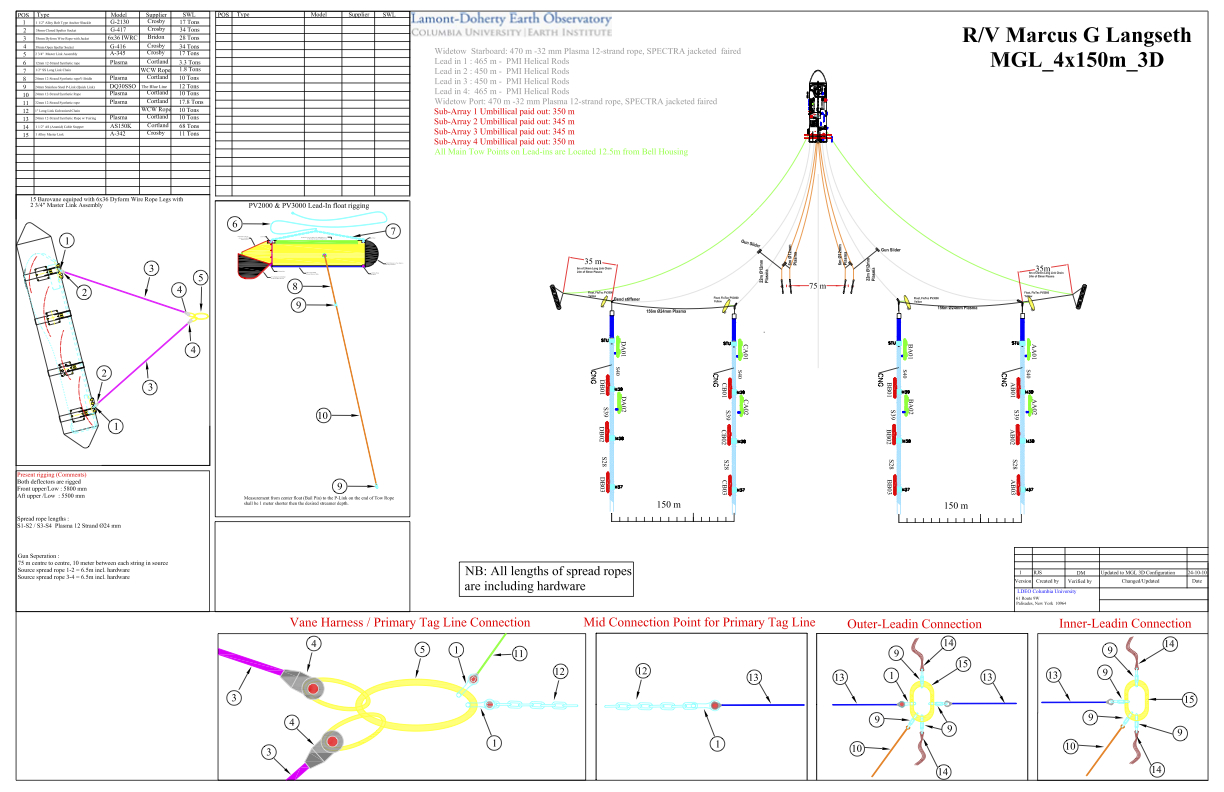 The four identical source strings can be subdivided for dual source 3D acquisition. Either one or two strings can be used for each "side," depending on source level requirements. In addition, one or two strings can be used as alternative, lower-power 2D sources, if desired.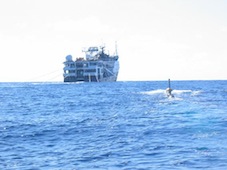 A shooting plan will be developed and approved by the PIs and the Chief Science Officer during the cruise mobilization. The shooting plan should not be deviated from without written authorization from both. The plan must take into consideration known issues such as shallows, obstructions, fishing or other activity, protected marine areas, prevailing strong currents, and weather. In some cases the Captain and/or Marine Operation Manager may also have to provide approval if safe operation or safe navigation of the vessel is in question. A copy of each approved version of the shooting plan is kept with the documentation for the science cruise. Any changes to the shooting plan must be discussed with the Chief Science Officer first, then agreed upon changes are brought to the Captain.
Be aware the following:
Use shot point 1001 for the start of each pre-plot, run-out shot-point is NOT included in pre-plots.
A 4250 m run-out (85 shot-point) should be added to all lines.
Run-in should be min. 8 km to ensure that the streamer is straight before start of line (SOL).


For this mission, some of the lines will be starting from near-shore and run out. In these cases, run-ins will be done "as best possible" given the operational circumstances and as agreed upon between the PIs, CSO and Captain.
Deployment of four streamers naturally takes longer than it does for one. When working in a new area where reballasting is required, at least two days should be allowed for deployment. When this is not required, the process may be completed in a 24-hour period.
| | |
| --- | --- |
| | Sercel Syntrak 960-24 recording system |
| | |
| | 15.00 seconds w/ no Deep Sea Delay |
| | 2.0 Hz Digital Filter / 12 dB/OCT |
| | 206 Hz Digital Filter / 276 dB/OCT w/ linear Phase |
| | SEG-D 8058 Rev 1 (demultiplexed) with External Header. |
| | Seisnet recording system, data recorded directly to disk |
150 m (180m Center of source to center near group)

Every 300m + extra redundancy at head and tail of streamers
| | |
| --- | --- |
| | |
| | |
| | |
| | 9 m (MCS), per IHA permit application |
| | 3300 in3 |
| | |
| | |
| | |
A Tailbuoy will be deployed at the tail of each streamer for positioning. Each Tailbuoy is to be fitted with a GPS unit, a radar reflector, a strobe light, and a DigiCourse Acoustic transponder for ranging to the transponders on the tail of each streamer.
Each Sub-Array float will have a Posnet rGPS Pod installed along with each sub-array having a DigiCourse acoustic pod.
Streamers are positioned using a combination of DigiCourse 5010/11 compass birds and DigiCourse acoustic transponders.
The compasses and birds will be mounted at 300 m intervals on the streamer. The depth controllers / compasses will be DigiCourse model 5010 / 5011.Extra compass birds will be mounted in the front and tail of the streamer for redundancy.
Digicourse Digirange Acoustic Pods will be mounted on the streamer cable. The units mounted at the head of the Streamer will range to the Acoustic Transponder Pods co-located with the rGPS units on the Sub-Array Floats. Other units will be located in the middle of the streamer and will cross range to the units on the other streamers (if applicable). Units are mounted at the tail of the streamer which will range to the tailbuoy transponder co-located with the rGPS unit and/ or the other streamers (if applicable).
The seismic data flow is illustrated below:
The strength of the air gun pulses can be measured in a variety of ways, but National Marine Fisheries Service (NMFS) commonly uses "root mean square" (in dB re 1µPa [rms]), which is the level of the received air gun pulses averaged over the duration of the pulse. The rms value for a given air gun pulse is typically 10 dB lower than the peak level, and 16 dB lower than the peak-to-peak level (McCauley et al., 1998, 2000a,b).
Seismic processing is done by the science party. Seismic workstations can be provided on the vessel.
Software is available on the vessel: Syntrak, SeisNet, Focus, and ProMaxx.
Surveyed lines will be labeled in a logical and unique manner. Lines names will include the cruise number, then the line number, and lastly the line type. Line numbers will start at one and increment sequentially during the survey. Lines will be identified at the end of the line name as Prime (P), Reshot (R), or Infill (I). The line names can have a maximum of 12 characters.
Example: MGL12201001P
Cruise Number: MGL1208
Line Number: ------------1001
Line Type: ------------------P/R/I
P = Prime, R= Reshot, I= Infill
"Infill" lines used only in 3D mode.
CMP Line Numbers will start with 1001 for the first line and increase chronologically. The Pre-Plot (Track Lines) will increment by one (1) because of the number of CMP lines acquired during each pass.
The format for line names of both of the RECORDS and HEADERS of all other data including the SEG-D and SEG-Y format should follow the full UKOOA 16 character standard to match the navigation data, as above.