Since the establishment of a complete tree-ring lab in Bhutan officials in the Ministry of Agriculture have expressed interest in expanding the use of their new lab and expertise to other areas of national interest. Hydrology, forestry, seismology, and archaeology are a few of the many disciplines within which dendrochronology has valuable application. Dendrochronology also requires little material overhead. In a developing country, 70% forested, the widespread potential use of tree-ring data is tremendous and economical. In combination with our primary goal, reconstructing the climate over Bhutan, we are also supporting the reconstruction of "Ancient Bhutan", its climate and culture from tree-ring evidence.
Much of the historical information from Bhutan was lost in a series of large earthquakes and fires that ravaged the country since 1897. Ancient documents, archived in the many temples and monasteries across the country, that once provided a link between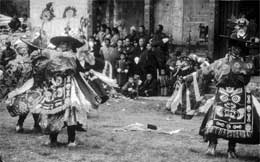 the current culture and its' past, were lost within the last century. In those archives that remain, large gaps and vague dates punctuate the historical accounts of from where and when the present culture came.
We have initiated a dendro-archaeological project in Bhutan that would emphasize the dating of Monasteries, Dzongs (fortresses) and Temples across the country to reconstruct the cultural development of Bhutan. This project would involve Bhutanese students and scientists from a number of disciplines. All work on this subject would be conducted completely in Bhutan. To our advantage this project will provide valuable tree-ring data that would otherwise be inaccessible to foreign researchers.
Presently the Royal Government is planning to build its' first National Museum of Natural History. The first question on the minds of many is "what will the new museum exhibit?" Most of the ancient treasures left in Bhutan comprise a small subset of all that were lost in earthquakes and fires or are the possession of other museums. A large incentive for this project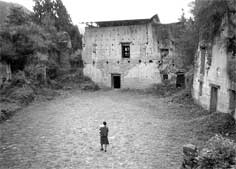 is to provide the new National Museum with material and expertise to develop exhibits that can delve deep into the relationship between Bhutan's cultural history and its' natural history. Samples collected from the construction timbers of monasteries and Dzongs, like those pictured throughout this document, not only provide datesfor when buildings were built, but also an ancient record of the climatic conditions under whichconstruction did or din not take place. The ancient record of climate history over the Himalaya is what we are most keen to obtain from a project such as this. A historical record of cultural is what the Bhutanese are hoping to recover. The Bhutan dendro-archaeological project is a wonderful marriage of the two that could open many new possibilities for future scientists wishing to work in Bhutan.