Bhutan remains the last undisturbed, pristine, Himalayan country. It is nearly 70% forested, has a proportionally small population, and stands to remain a haven for natural conservation for many years to come. Nevertheless, developmental pressures do exist and resource demands are ever growing.
.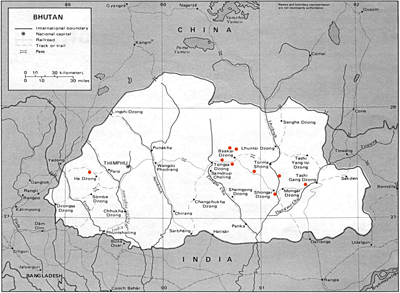 Map of Bhutan with approximate locations of current (2005) TRL site collections.
The primary TRL research goal is to reconstruct climate variability over the eastern Himalaya and integrate that regions climate history into the broader climate history of southeast Asia (see Asian Monsoon Research). The second goal of the TRL Bhutan project is to combine what we will learn about the climate history over Bhutan with extant research being conducted by our principle collaborator Dr. Georg Gratzer and the Austrian Conifer Research and Training Partnership ( CORET ) at BOKU University, Austria.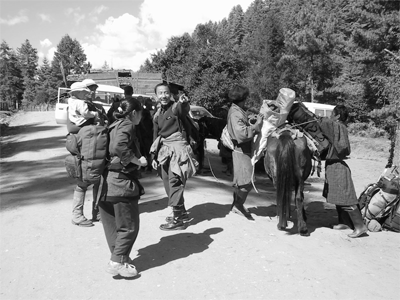 Loading the horses at the roadhead.
The CORET partnership has been studying the mid-high elevation conifer forests for many years in Bhutan and is 100% responsible for our invitation to work in Bhutan. We intend to contribute our findings of climate variability to CORET scientists in order to assist their studies of forest health and growth, particularly in the context resource management and environmental quality. The former is of great concern to the Bhutanese people and the latter to the government of Bhutan.
The third goal of this project is to firmly establish tree-ring analysis techniques as a viable, economical, and accessible tool for forest research in Bhutan. Dendrochronology is perfectly suited for a country like Bhutan that is so covered with forests and where wood is the country's most valuable, renewable, asset. The first steps towards completing this third objective have already been taken. A complete tree-ring was set-up in 2003 at the RNR-RC Jakar campus and one Bhutanese student has already visited the TRL-LDEO to received specialized training in dendrochronology and in 2004 TRL staff conducted a 3-day training workshop in Bhutan.