Since 2002 TRL since have begun a number of valuable collaborations with tree-ring labs in China in the pursuit of reconstructing the South East Monsoon. China is a very large and diverse country, both ecologically and culturally. Consequently, travelling across the country is an amazing experience and really gives one an appreciation of just how large China is. Because of China's extreme topography, it's scale, and its location in Asia, China is one of the most important countries in the TRL Asian Monsoon Project . .
In China, we have developed a long-term collaborative relationship with Prof. Xiaohua Gou, a dendrochronologist at Lanzhou University, Lanzhou, China. Mr. Jinbao Li, one of Prof. Gou's former students and currently a PhD candidate at Lamont-Doherty Earth Observatory, is working on developing a comprehensive set of gridded drought reconstructions for most of China and surrounding areas for his PhD project. This research will fit in nicely with the work being done elsewhere in the Asian monsoon region. Jinbao Li recently produced a short paper that examined the feasibility of reconstructing past drought from spruce ( Picea schrenkiana ) growing at a lower forest border site in the Central Tien Shan Mountains in northwest China. The drought metric used was the Palmer Drought Severity Index (PDSI), which is available in gridded form for global land areas (Dai et al., 2004). The results shown below were highly encouraging, with statistically significant calibration and verification, and clearly demonstrate the feasibility of Jinbao Li's PhD project.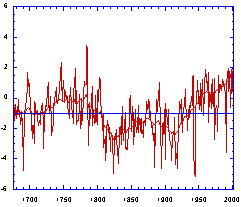 Figure 2. The map showing the location of Jinbao Li's project in northwestern China (left figure) and the resulting summer drought reconstruction back to 1675 (right figure). The reconstructed drought metric is the Palmer Drought Severity Index (PDSI).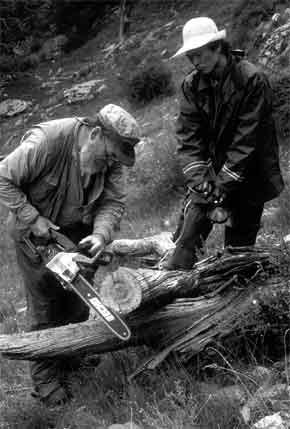 Sampling Jinperus przewalski using our emergency oxygen, piped directly into the engines carburetor, to run the saw at nearly 4000 m.
An additional experiment in reconstructing drought from tree-ring chronologies located at sites in Qinghai Province on the eastern Tibetan Plateau further support the feasibility of Jinbao Li's PhD project. This experiment was performed by Prof. Gou and Dr. Cook as part of her PhD dissertation research. In this case, a completely different tree species was used ( Juniperus przewalski ) and the site was over 1,500 km to the southeast of the Tien Shan Mountains. The resulting summer drought reconstruction is shown below. Once again, highly significant calibration and verification statistics were obtained. Differences between the two reconstructions probably reflect differences in regional drought climatologies and, perhaps, some differences in the way spruce and juniper respond to climate. However, some similarities are also apparent (e.g. the deterioration towards drier conditions in the early 1800's), which suggests some large-scale controlling influences on drought over China.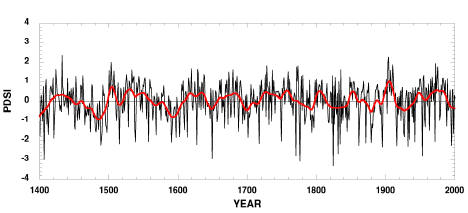 A tree-ring reconstruction of summer drought (PDSI) for the eastern Tibetan Plateau in Qinghai Province, China.