Climate Change & Range Limits
How Will the Trees Migrate?
Climate modellers have predicted, with a 90% probability, that global climate over the next 100 yrs will warm 1.7-4.9 degrees Celsius. A primary question is, "How will trees and forests respond to such a rapid climate change?"
Surprisingly, there is little information on what climatic factors are most important for tree growth at low elevation, mid-latitude forests. Tree-Ring Lab researchers are trying to fill in these data gaps for the Hudson Valley.
Range edge red spruce in New Jersey, U.S.A.: bog versus upland population structure and climate responses. Webb, S.L., Glenn, M.G., Cook, E.R., Wagner, W.S. and Thetford, R.D. 1993. Journal of Biogeography 20: 63-78.
This study was conducted in the early 1990s on red spruce growing near a southern range limit in northern New Jersey.
Climate response analysis showed that most of the upland sites sampled grew better with increased precipitation during March and June. The bog red spruce showed no such response.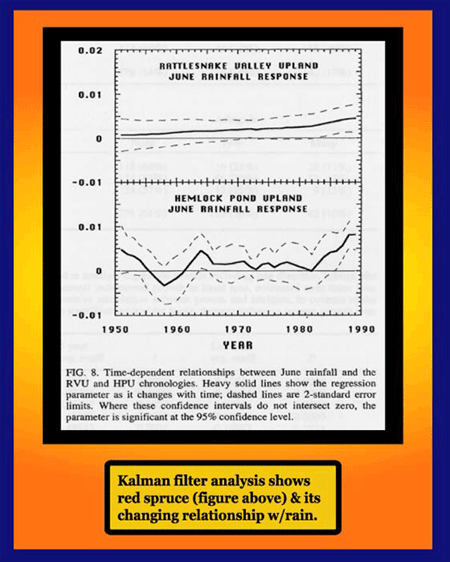 The upland populations also became more drought stressed over the last 50 years. It was concluded that local pollution may be the cause for the change in the climate/growth relationship.
Plant ecophysiologists believe that trees growing near their southern range limit avoid heat stressed by growing on wet sites or in regions with greater precipitation. Thus, it could also be that warming in the NE US over the last 50 yrs has outstripped the water requirements of red spruce, increasing their heat stress and sensitivity to drought.
Climate Change & Range Limits How Will the Trees Migrate?
Climate/Growth Relationships of Range Margin Southern Temperate & Boreal Tree Species in the Hudson Valley Temperate & Boreal Tree Species in the Hudson Valley. Neil Pederson (grad student) under the guidance of Gordon Jacoby,
Ed Cook, Dorothy Peteet & Kevin Griffin
A recent vegetation modeling study predicted significant changes in eastern US forests including tree species migration of 100 to 250 km under greenhouse gas warming scenarios over in only 100 years.
However, the type of tree growth factors used & lack of long-term climate-tree growth information limits the realistic modelling for future climate change scenarios.
Tree-ring analysis has long been used to directly determine a tree species' monthly or seasonal climate response. It can also reveal how a species' relationship to climate changes as the result of a changing climate.
By using the biodiversity of the Hudson Valley, tree-ring analysis can determine a robust, long-term estimate of climate/growth relationship for many important eastern US tree species.
A fuller description (with site descriptions, pubs, presentation & [ eventually data] can be found here .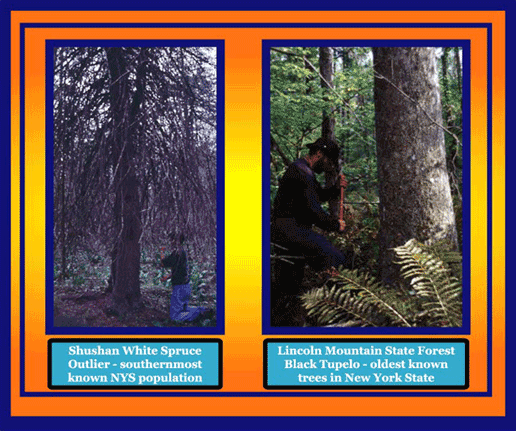 The first step in this new study was to compare the climate response of two contrasting tree species, white spruce and black tupelo.
White spruce is the dominant tree species at the North American hemispheric northern treeline in Canada while black tupelo is more common throughout the SE US.