Faulting mechanism of anomalous earthquakes near Bardarbunga Volcano, Iceland
Reference
Nettles, M. and G. Ekström, Faulting mechanism of anomalous earthquakes near Bardarbunga Volcano, Iceland, J. Geophys. Res., in press, 1998.
Abstract
The source characteristics of 10 shallow earthquakes of moderate size (M > 5) beneath Bardarbunga Volcano in Iceland are investigated using long-period and broadband teleseismic data. The highly non-double-couple nature of the focal mechanisms for several of the events previously reported in the Harvard centroid moment tensor (CMT) catalog is confirmed by analysis of an expanded long-period body wave data set, as well as by an independent inversion of intermediate period surface wave data. Modeling of broadband P waveforms constrains the depths of the events to lie between 3 km and 8 km beneath the volcano. Significant complexity in the P waves observed for some events is best explained by a sequence of subevents of varying geometry, rather than by wave propagation effects caused by shallow structure near the earthquake. Inversion of P wave data for two of the earthquakes using a parameterization with subsources results in sequences of events with primarily thrust motion on planes of varying strike. The seismological results are interpreted as faulting on an outward dipping cone-shaped ring fault beneath the Bardarbunga caldera. The association in time and space between the September 29, 1996, earthquake and the September 30 eruption near Bardarbunga and Grimsvötn Volcanos suggests that inflation of a shallow magma chamber, and the associated stress loading of the deeper ring fault, may be the tectonic process which generates the earthquakes.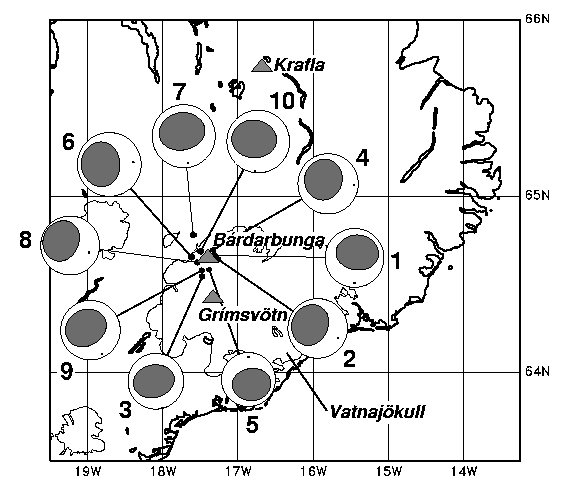 The map above shows CMT solutions for the 10 earthquakes in the Harvard catalog which are located near Bardarbunga Volcano. The earthquakes are highly non-double-couple, and have vertical T axes, indicative of horizontal compression, despite their location in an extensional tectonic setting.
---

The seismological data suggest rupture propagation on a cone-shaped fault, in which a subsource with reverse-faulting geometry (solid arrows) occurs on each fault segment in succession (gray arrow), around a portion of the cone. Ring or cone faults are well documented beneath caldera structures, and observations at several active volcanos are consistent with seismic activity on outward dipping subcaldera faults.
---

Example of depth determination, for the earthquake of September 29, 1996 (event 10); broadband teleseismic P waveforms (solid) and the calculated synthetic seismograms (dashed), focal mechanism corresponding to full moment tensor solution, and source time function determined by the inversion. Maximum amplitudes (in microns) are shown at right of seismograms; arrows show picked first arrivals, and thin vertical bars show time window included in the inversion. No time window is shown for those traces not included in the inversion due to high background noise level. All of the Bardarbunga earthquakes are found to have occurred at depths of 3-8 km beneath the volcano.
---

The non-double-couple nature of the CMT solutions cannot be explained in terms of complex structure beneath Bardarbunga. Shown here are P waveforms recorded at east lying and west lying stations for two events with similar focal mechanisms. The waveforms recorded at the two azimuths are substantially different for a given event, and waveforms recorded in the west (TUC) for the May 5, 1994, earthquake (event 9) are very similar to those recorded in the east (ARU) for the June 22, 1993, earthquake (event 8). Picked arrivals are shown by short arrows; circles on focal mechanisms denote locations of stations on the focal sphere.
---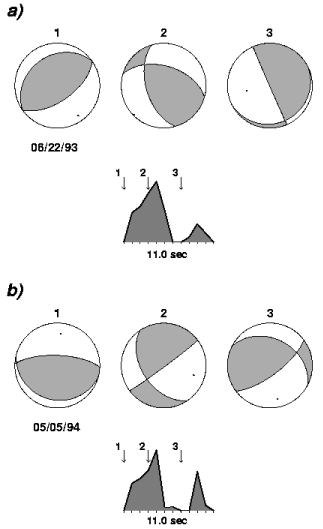 We invert the P waveforms for the two earthquakes which show the strongest indication of distinct subevents using a parameterization which allows for several subsources. Shown above are the multiple source focal mechanism solutions and composite source time functions retrieved by very broadband analysis for the earthquakes of (a) June 22, 1993 (event 8), and (b) May 5, 1994 (event 9).
---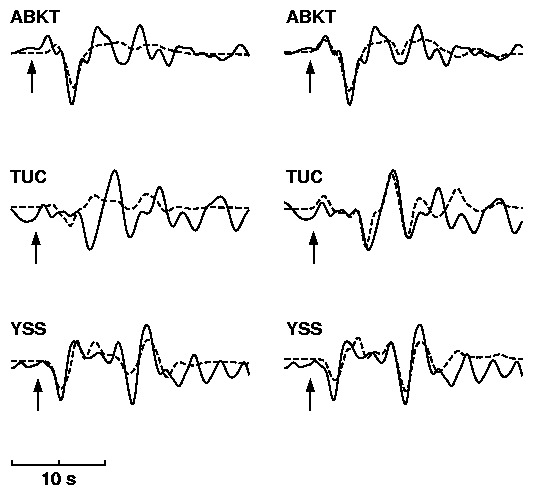 Comparison between observed seismograms (solid lines) for event 9 and synthetic seismograms (dashed lines) resulting from a best fitting single subsource focal mechanism; (right) comparison between observed seismograms (solid lines) and synthetic seismograms (dashed lines) resulting from our preferred focal mechanism, which consists of three double-couple subsources.
---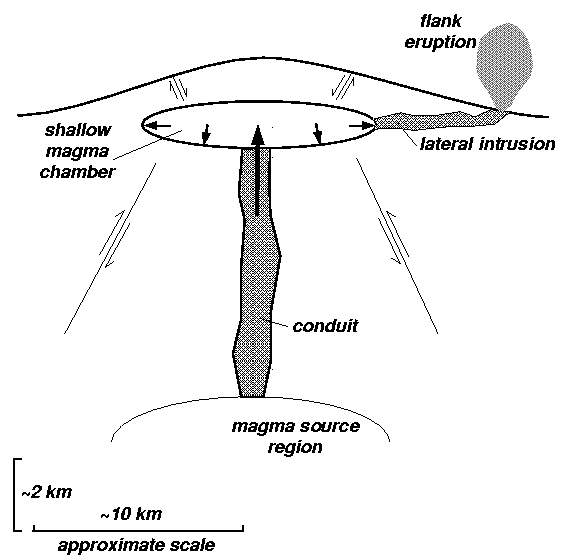 This schematic diagram shows a possible mechanism for production of earthquakes on cone fault structures underlying the volcanic caldera. Inflation of a shallow magma chamber fed from a deeper source leads to an increase in pressure in the magma chamber, increasing stresses on rocks below the chamber. Such stress increases may lead to rupture on cone faults beneath the caldera. We note that the location of the magma source region is not well known, and may be subcrustal.
---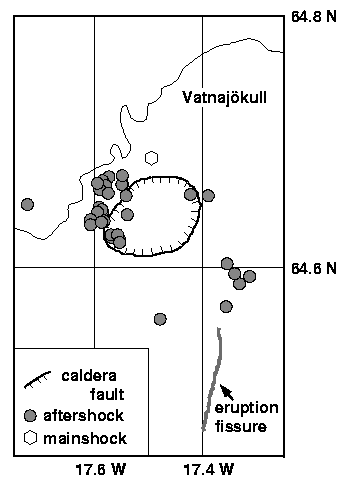 Seismicity pattern preceding the October 1996 eruption of Bardarbunga Volcano. Open hexagon shows location of Mw = 5.6 earthquake, and solid circles show subsequent earthquakes on the same day. Thick grey line shows the site of the eruption; thin black line shows northern boundary of the glacier. The diameter of the caldera is ~10 km. Caldera fault and eruption fissure have been digitized from maps of the Icelandic Meteorological Office. Earthquake locations are those determined by the Icelandic Meteorological Office using data from the Southern Iceland Lowlands seismic network; only those earthquakes located using at least 10 P wave arrivals are shown.
---