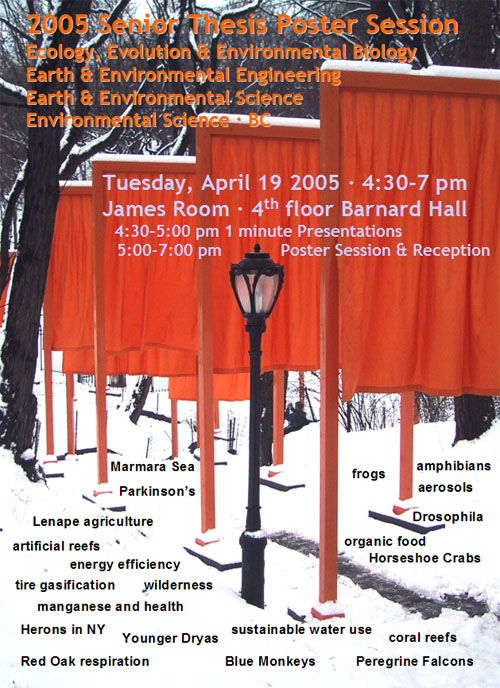 Barnard and Columbia Seniors will present research projects in Environmental Science, Policy, Biology, and Engineering.
The poster session takes place in the James Room the 4
th
floor of Barnard Hall (See #7 on the
Barnard Campus map
). Enter the Barnard Campus from Broadway & 117th St and Barnard Hall is in front of you.
If you have any questions, please contact Catherine at ccook@barnard.edu
(212 854 5618).
Presenters & Poster titles:
Boretsky, Kyle:

Artificial Reef Community Composition
Carr, Vanessa: Health Assessment of Black-crowned Night Herons

in the New York Harbor Estuary
Consuegra, Jamie: What is behind the enigmatic declines of amphibians in the Americas?
DiLorenzo, Michael: Effect of increased Nitrogen and Phosphorous concentrations on algae growth on coral reefs in Glover's Reef, Belize
Freedman, Michael: North Anatolian Fault Holocene Slip Rate: Ganos Region in the Marmara Sea
Hannon, Peggy: Aerosol Concentrations in New York Metropolitan Area and Dimming of Sunlight
Henning, Dawn: Designing a Sustainable Water System for Manhattanville
Kamrath, Jackie: Systemic Exposure of Environmental Toxins Implies a Pathogenic Model for Parkinson's Disease and an Environmental Correlate
Knappmiller, Dan:

The role of the Grand Banks in the Younger Dryas: Neodymium as a tracer for Sediment-Laden Sea-ice along the Arctic Front

Konecky, Bronwen:

Distribution of High-Altitude Amphibian Populations in the Cordillera Vilcanota, Peru
Lee, Jean: Water flow in Glover's Reef
Lewis, Kwana: Respiratory Activity, Carbon Fluxes, and Sequestration of Quercus Rubra, L. in Black Forest, NY
Moffitt, Lena: Fish Communities on Artificial Reefs in the Dominican Republic
Montacute, Tamara. K.:

The Effect of Manganese Exposure on Children's Intellectual Function in Araihazar, Bangladesh
O'Keeffe, Greg: Building Renovations for Improved Energy Conservation
Sarna, Daniel: Lenape Horticulture
Schieferstein, Erica: Peregrine Falcons and their Status along the Hudson River and in New York State
Simpson, Scott: Kinship Bias in the Social Behavior of Adult Female Blue Monkeys (Cercopithecus mitis stuhlmanni) in the Kakamega Forest, Kenya
Sorice, Briane: The Effect of Chesapeake Bay Regulations on the Horseshoe Crab Population of Peconic Bay, New York
Staver, Carla: Fruit fly (Drosophila, Drosophilidae, Diptera) and tropical rainforest associations, SE Peru
Weiss, Brian: Novel Integrated Process for Beneficial Use of Waste Tires
Zimmern-Kahan, Tiferet: The Meaning of Organic Certification in Direct Marketing