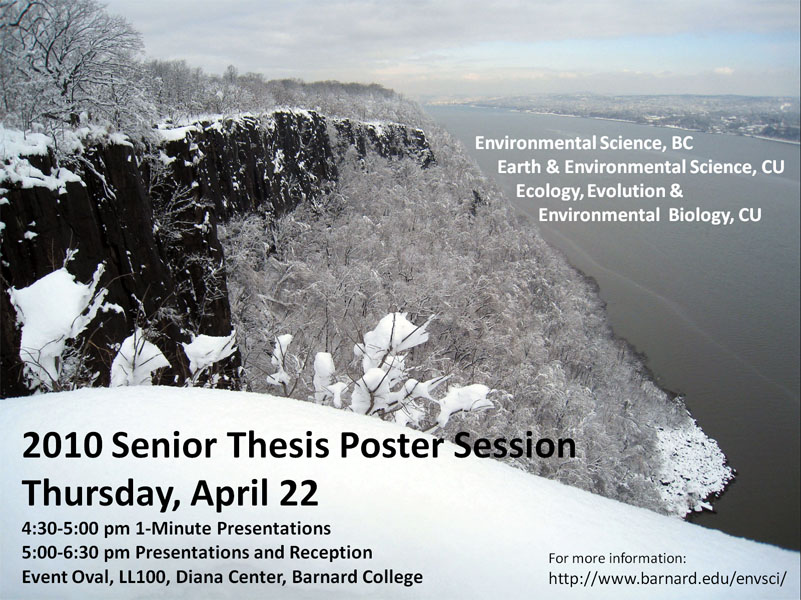 You are cordially invited to attend the

2010 Senior Thesis Poster Session

Thursday, April 22, 4:30 – 6:30 pm

in the lower level Event Oval (LL100), Diana Center, Barnard College

Walk through the gate at Broadway & 117

th

St and walk toward the new orange building on your right. After entering the building, take the stairs one flight down

(see

Barnard Campus map

).




One minute presentations from 4:30-5:10 pm will be followed by poster presentations and a reception until 6:30 pm.



If you have any questions, please contact Catherine at ccook@barnard.edu (212 854 5618).
Presenters & Poster titles

Sara del Fierro

: The influence of drag transect arrangements for

Ixodes scapularis

ticks on infection prevalence estimates of Lyme disease

Yoanna Pumpalova

: Drug-resistance in

P. falciparum

: From proteins to policy

Kara Fields

: Possible gender discrepancy in radiation cataract susceptibility

Tara McAlexander

: Influence of urban street noise on neighborhood crime: a pilot study

Emily Blanchard

: Asthma in East Harlem: A study of environmental control practices

Anna Law

: Rising concerns over impact of fine particulate matter pollution on mortality in Nairobi, Kenya

Tomás Díaz

: Source-tracking fecal contamination of pond and shallow well water in Matlab, Bangladesh using F+RNA coliphages

Talia Arbit

: Testing for Bacteriophages in surface and ground water in Bara Haldia, Bangadesh

Kimberly Wu

: Developing a filtering method for radioactive carbon analysis of microbial DNA and PLFA in Bangladesh groundwater

Misheal Artani

: Development of a field kit to measure urinary arsenic and potential socio-cultural factors affecting use of the kit in Bangladesh

Kamini Doobay

: The use of oxalic acid to mobilize arsenic from contaminated aquifer solids from Vineland, New Jersey

Sara Goshorn

: The Gulf of Carpentaria impact: A possible cause for the 536 AD climate downturn

Holly Menten-Weil

: 137Cs dating of Tien Shan ice cores, Central Asia

Elena Steponaitis

: Refining deglacial chronology in the Great Basin: 14C dating and stable isotope analyses of ostracodes from the Wilson Creek formation, Mono Lake, California

Cleo Chou

: Macrofossil evidence for middle to late Holocene vegetation shifts at Iona Island Marsh, Hudson Valley, NY

Irena Ossola

: Modeling the effects of precipitation on microbial activity in the active layer of permafrost

Darren McKee

: Climate forcing of interannual variability in Weddell Sea bottom water

Susan Clark

: Hydrographic evidence for enhanced mixing in fracture zone canyons

Drew Abeyta

: Analysis of climatological and hydrological variables in the assessment of historical and future drought in Rockland County, New York

Sarah Schuldenfrei:

Age and chemical composition of the cretaceous wells of the Negev Region, and management options for Sinai and the Negev

Alexandra Murata

: Sulfur hexafluoride and sodium fluorescein as tracers to characterize flow and transport through a basaltic aquifer in Iceland targeted for CO2 sequestration

Megan McNally

: Evaluating the heating efficiency and cost effectiveness of installing an open hydronic heating system with concrete radiators

David Roche

: Mitigating the urban heat island in a metropolitan area through public infrastructure reform

Acadia Roher

: Survey, mapping, and recommendations for site management of the Williams Woods Nature Preserve in the Arkansas Ozarks

Maxine Paul

: Quantifying biome specific relationships of vegetation indices and monsoon event responses

Jennifer Blaha

: Influences of environmental enrichment on behavior of captive African Wild Dogs (

Lycaon pictus

) at the Bronx Zoo

Laura Diefenbach

: The influence of natural events and hunting on a small White-tail Deer population

Skyler Shatkin

: Assessing the relationship among food availability, personality, and metabolic rate in the Kluane Red Squirrel (

Tamiasciurus hudsonicus

)

Eiren Jacobson

: Irregular song sharing between humpback whales of Madagascar and Gabon: Variable demographic exchange between populations in the southern hemisphere


Courtney Douds

: Using American Kestrel behavior and nest box orientation and support structure to predict nest box success

Kaitlyn Gaynor

: Anti-predator and social monitoring functions of vigilance behavior in Blue Monkeys (

Cercopithecus mitis

)

Amanda Schweitzer

: The effect of temperature on the development of a critically endangered neotropical frog,

Hyloxalus vertebralis

George Baison

: The role of ecological characteristics in soil-transmitted helminth (STH) prevalence

Noé Kinet

: Analyzing ways of species classification for the coral symbionts Symbiodinium using denaturing gradient gel electrophoresis (DGGE) and molecular phylogeny from partial chloroplast large subunit (23S)-rDNA sequences

Aimee Kemp

: The effects of the invasive shrub

Berberis thunbergii

on salamander populations and leaf litter communities in northeastern deciduous forests

Laura Seidman

: Monitoring biomass in the Tanzanian Miombo Woodlands using satellite imagery

Samantha Roberts

: Root trait variation among species in basal angiosperm and seed plant clades

Jessica S. Guo

: Functional acclimation of the herbaceous understory community to canopy gaps: patterns of co-gradient variation

Tiffany Sanchez

: Toenail samples as an Indicator of drinking water manganese exposure in Bangladeshi children

Samuel Thomas

: Diurnal changes in light-use characteristics reveal adequate photoprotection of sun leaves of red mangrove

Heather Greaves

: The role of leaf carbon exchange in Arctic shrub expansion
1

The poster session is being hosted by:


Environmental Science, Barnard College,
Earth and Environmental Science (DEES), Columbia University,
Ecology, Evolution, and Environmental Biology (E3B), Columbia University,
The Earth Institute at Columbia University,
and the Office of the Provost, Barnard College.