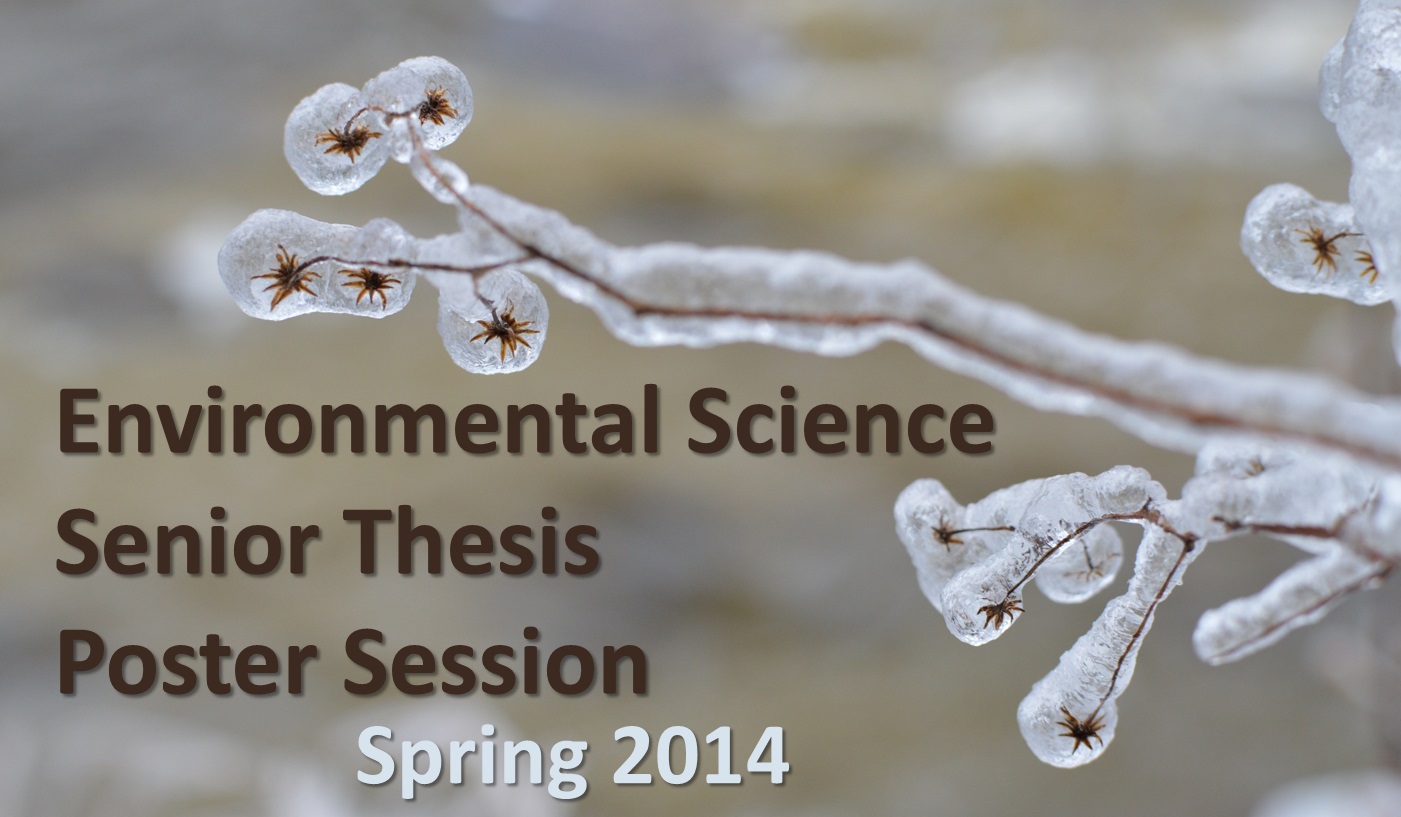 You are cordially invited to attend the

2014 Senior Thesis Poster Session

Thursday, April 24, 4:30 – 6:30 pm

in the lower level Event Oval (LL100), Diana Center, Barnard College

Enter Barnard through the gate at Broadway & 117

th

St and walk toward the new orange building on your right. After entering the building, take the stairs one flight down

(see

Barnard Campus map

).




One minute presentations from 4:30-5:00 pm will be followed by poster presentations and a reception until 6:30 pm.



If you have any questions, please contact Catherine at ccook@barnard.edu (212 854 5618).
Presenters & Poster titles

1

:

Ajayi, Moyo: CO2 Exchange in Alaskan Arctic Shrubs
Arkebauer, Rachel: Respiratory Response to Temperature of Broadleaf Trees in a Northeastern Forest
Quallo, Crystal Elaine: Is Tree Migration Influenced by the Respiratory Quotient: A Study in Black Rock Forest, NY
Yu, Jamie: Respiratory Response to Changing Temperature Across Trees From Three Latitudinal Ranges in Black Rock Forest
Wayne, Jesse: Effects of Deer Exclosure Establishment and Subsequent Removal on Vegetation Diversity, Tree Regeneration, and Vegetation Biomass at Black Rock Forest
Gersony, Jessica: Increasing Shrub Dominance Results in Increasing Canopy Nitrogen Content in the Arctic Tundra
Gibson, Rebecca: Analyzing Vegetation Indices as Rapid Indicators of Leaf Pigment Content in the Arctic Tundra
Adkins, Elizabeth: Quantifying Methanogens and Denitrifiers in Malaysian Soils Subject to Land Use Changes
Lavenhar, Sara: The Effect of Varied Fertilizer Treatments on the Abundance of Total and Nitrogen-cycling Bacteria in Urban Rooftop Farming Systems
Kahle, Emma: Reconstructing Plio-Pleistocene Paleovegetation in the Turkana Basin From Stable Isotopes in Biomarkers
Pavia, Frank: The Utility of Leaf Wax n-Alkanes for Reconstructing Past Changes in Dustiness
Seltzer, Alan: Mean Surface Temperature of New Zealand During the Last Glacial Period: a Groundwater Noble Gas Paleotemperature Study
Baek, Seung Hun: Megadroughts as Past Analogues for the Current Drought in the Western US
Sienko, Jacob: Influence of the Biological Pump on the Atmospheric CO2 Concentration during the Last Glacial Maximum
Bower, Erica: Linking Environmental Hazards, Climate Variability, and Human Mobility in Nepal: A Spatial Model
Bozuwa, Johanna: An Economic Valuation of Arctic Resources in a Warming Climate
Aitcheson, Gabriella: The Role of Methylation in the Expression of Transforming Growth Factor ß-Induced Gene in Asbestos-Induced Mesothelioma
Hicks, Gwen: Beyond Yes or No: Quantifying Second-Hand Smoke Exposure Among Inner-City Children
Bordner, Autumn: Using CO Measurements to Predict Personal PM2.5 Exposure of Maternal-Infant Pairs in Rural Ghana
Buck, Suzanna: Patterns of Genetic Variation at an Immune-Relevant Locus in Urban and Rural Populations of Peromyscus Leucopus in New York State
Polokova, Vanda: Long Term Trends in Obesity and Physical Activity Rates in New York City
Priester, Molly: Evaluating Nymphalid Butterflies as Indicators of Biodiversity in Southwestern Amazonia Biodiversity in Southwestern Amazonia
Weinman, Lucia: A Comparison of SNP and Microsatellite Markers for Analysis of Parentage in a Cooperatively Breeding Bird
Crank, Aislinn: Effects of Competition and Nutrient Limitation on Diatom Communities in the Costa Rica Upwelling Dome
Smyk, Alexander: Implications of a Carbon Capture and Storage System Retrofit on the Dispatch Profile of a Coal-Fired Power Plant
Keller, Heidi: Cultivating Algae in Wastewater Pollutants for Biodiesel Production
Girma, Daniel: Contamination of the Bad River Watershed: The Risk of Open-Pit Iron Mining
Kier, Nolan: At Your Feet: Stormwater Capture in New York City Tree Pits
Koling, Adam: From Parks to Park Avenue The Microbial Composition of New York City's Green Infrastructure
Kim, Carol: A Method for Isolating High Purity RNA from Aqueous Samples for Radiocarbon Analysis
Mulvihill, Colleen: Sources of Organic Carbon in a Recently Deposited Floodplain Aquifer, Rifle, Colorado
Silvern, Rachel: Deep Aquifer Microbial DNA in Bangladesh: Does Organic Carbon Travel Faster Than Groundwater?
Wagner, Ashley: Contamination Predictions Based on Monsoon-Driven Changes in Groundwater Velocity and Their Effect on Microosphere Transport
Fan, Ariel: Investigating Correlations between Tenant Operations and Commercial Building Efficiency Evaluation
Jenkins, Reid: Assessing Urban Microclimates to Improve Smart Building Performance in Manhattan Skyscrapers
Padelford, Dale: Relationships Between Criteria Air Pollutants and Temperatures in New York City Microclimates
Giapoutzis, Valerie: Public Opinion, Events and Hydrofracking Policy in New York State
Molina, Monica: A Federalist Study of Environmental Justice at the State Policy Level
Korman, Sabrina: Integrating Remote Sensing and the Sustainable Livelihoods Approach in Assam, India
Golden, Abigail: Harnessing the Traditional Ecological Knowledge of Subsistence and Artisanal Fishers for Conservation Solutions in a Fijian Fishing Village
Bailey, Lauren: A systematic review of traditional marine resource management in Melanesia
Dutton, Katelyn: Assessing the Educational Potential of Serious Alternate Reality Games: A Case Study of Content Analysis Methodology
Hostyk, Liora: Modeling Disease: Malaria Risk Classification in Madagascar and Attribution Study of the Epidemic of 2012
Dorsch, Morgan: Tree Seed and Seedling Dynamics in Recently Established Urban Reforestation Sites
Seppo, My: Disentangling the Impact of Resource Dependence & Economic Concentration on Institutions and the Economy
Cohen, Mikhael: Growth and Inequality: The Role of Entrepreneurship in Driving Economic Development in Rwanda
Thaler, Madeline: Morphological Phylogeny of Damselfish Endemic to The South Pacific
Massman, Audrey: Biodiversity, Symbiosis, and Nutrient Cycling: Soil Nutrient Gradient Influence on the Ectomycorrhizal Fungal Community in a Bornean Primary Rainforest
Ben Yair, Mason : Deep Sea High Pressure Desalination
Bullock, Kendra: Assessing bacterial abundances in the water column near oil-impacted and non-oil-impacted areas in the Northern Gulf of Mexico
The poster session is being hosted by:


Environmental Science, Barnard College,
Earth and Environmental Sciences (DEES), Columbia University,
Ecology, Evolution, and Environmental Biology (E3B), Columbia University,
Columbia Program in Sustainable Development,
The Earth Institute at Columbia University