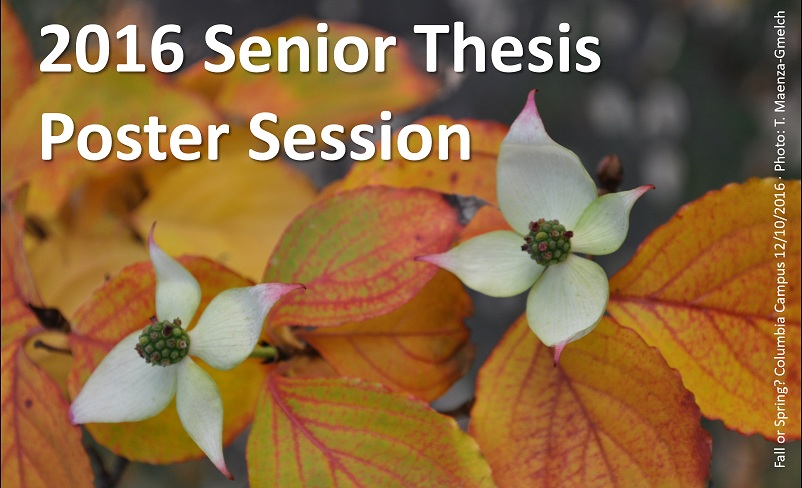 You are cordially invited to attend the
2016 Senior Thesis Poster Session
Thursday, April 21, 4:30 - 6:30 pm
lower level Event Oval (LL100), Diana Center, Barnard College
30 seconds summaries from 4:30-5:00 pm will be followed by poster presentations and a reception until 6:30 pm.
Enter Barnard through the gate at Broadway & 117
th
St and walk toward the new orange building on your right. After entering the building, take the stairs one flight down (see
Barnard Campus map
).
The poster session is being hosted by:



The Earth Institute, Columbia University
Environmental Science, Barnard College
Earth and Environmental Sciences (DEES), Columbia University
Ecology, Evolution, and Environmental Biology (E3B), Columbia University
Columbia Program in Sustainable Development


Presenters & Poster titles

Bartnick, Emma: Biomass of Black Birch Trees in Black Rock Forest, Cornwall, New York
Sonaike, Adefunke: Differences in Leaf Pigments, Nutrients, and Physiology Among Five Species of Deciduous Trees throughout the Growing Season
Wasmuth, Marissa: Effects of Different Road Types on Breeding Bird Populations in a Northeastern Deciduous Forest
Minich, Taylor: Recognition of Paternal Kin Selection in Blue Monkeys (Cercopithecus mitis)
West, Leigh: Baboon Response to Leopard Predation Threat
Bao, Karen: Traditional Ecological Knowledge, Shifting Baselines, and Conservation of Fijian Mollusks
Zahn, Marie: "Everything we do, it's cedar": First Nation and Ecosystem-Based Foresters' Relationships and Practices with Western Redcedar (Thuja plicata) in Coastal British Columbia
Burns, Jordan: The Environmental Forms of the Religious Life | The Religious Forms of the Environmental Life
Huseby, Alexis: Sustainable Investment: Analyzing Corporate Actions Versus Words
Barr, Kathryn: Exploring how New York City Elementary School Students Think About School Lunch
Strokopytova, Valentina: The Role of Gender on Nepal's Natural Disaster Recovery and Preparedness
Corley, Alison: Characterizing the Lacustrine Sediments in the Lower Wilson Creek Formation of Mono Basin, CA
Vasquez, Neida: Comparison of Mono Lake Sediments Recording the Hilina Pali Excursion
Goldschmitz, Chason: Reutilization of Microsediment Samples for Multiple Spectrometer Analyses
Case, Parker: Water Vapor in Large Volcanic Eruptions
Wiles, Zachary: Magma Characteristics of the 1964 and 1991 Eruptions of Westdahl Volcano, Alaska
Cohen, Hannah Jane: Mapping the Surface Morphology of Iceland's Holuhraun Lava Flow Using Structure From Motion Software and PLY/DEM/Orthomosaic Models
Corry-Saavedra, Kate: Quantifying Dispersed Tephra in Marine Sediments: A Pilot Study from IODP Expedition 350
Park, Jiwoon: Dust Flux in the Subantarctic South Pacific during the Last Ice Age
Swann, Jason: Has atmospheric CO2 decreased over the last eleven million years?
Farrell, Kayla: Uptake of Inorganic Particulate Iron by Pennate Diatoms
Salazar E., Andrés: Spatial Distributions of Trichodesmium Clades in the South Pacific Ocean
de Wolff, Daisy: Analysis of Nitrate Concentrations in Water Using Field Kits and Smartphone Camera Technology
Gonzalez, Ana Camila: The Role of Organic Phosphorus in Microbial Phosphorus Cycling
Lee, JeeMin: Effects of Canine Urine on Urban Soil Microbial Communities
Tao, Rachel: Ecosystem Services From New York Green Roofs: Differences in Water-use Between Plant Species
Nagy, Claudia: Assessing the Efficacy of New York City's Water Protection Program: An Analysis of Perceptions and Practice
Boxer, Joelle: Suboptimal Access to Low Arsenic, Deep Tube Wells in Araihazar, Bangladesh
Saber, Fadwa: Arsenic Concentration in Cooked and Uncooked Rice in Araihazar, Bangladesh
Barsa Barsa : Relationship Between Climate Variability and Rice Yields in Aerosol affected Central-Eastern India
Ayoub, Hadil: The Impact of Hydraulic Fracturing on Groundwater Quality in Pennsylvania and an Evaluation of Methods
Harrus, Rachel: CO2 Emission Reduction via Carbon Nanofiber Replacement of Aluminum, Steel, and Cement
Flusser, Read: Carbon-Neutral Bamboo Biofuel
Hooks, Allison: Sea-Level Rise Impacts on Hudson River Marshes
Jaycox, Adrian: Temperature and Precipitation's Impact on California Water Resources and Drought
Todorovic, Miljan Nikola : El Niño, Groundwater and Agriculture in California 1950 – 2015
LoPresti, Anna: Spatial Variations in Evapotranspiration Sensitivity Across the African Continent
Kim, Grace: Socioeconomic Status as a Determinant of Child Asthma Health Outcomes in New York City
Abdel-Qader, Faisal: Assessing the Role of Camel Trade in the Ecological Transmission of the Middle East Respiratory Syndrome Coronavirus (MERS-CoV)
Reddy, Avinash: Co-evolution of Genes Involved in Erythropoiesis
Seto, Melissa: Mortality due to High Ozone, PM2.5, and Temperature Levels During the Summer 2012 Heat Wave Across the Eastern U.S.
Cai, Fayme: Areas and Seasons of High Lead Density and Toxicity in Neighborhoods Across New York City: the Feral Pigeon as a Bioindicator
Claman, Maia: The Effect of Wildfires in Determining Species Persistence in Mixed-Conifer Forests of the Pacific Northwest
Harrington, Dev: Leaf Litterfall Effects on Soil Nutrient Heterogeneity in a Puerto Rican Dry Forest
Kahn, Daniella: Estimating Tick Survivorship in Two Contrasting Environments
Kim, Joohee: Reconstruction of the North Atlantic end-member of the thermohaline circulation across the mid-Pleistocene Transition
McKeon, Mallory: The Implications of Shark Ecotourism on Fish Abundance and Diversity in Marine Protected Areas in Fiji
Shen, Christa: The Potential for Photosynthetic Optimization in Varying Light Environments in the Arctic Tundra
Sihn, Hein: The Effects of Nest Density and Behavioral Interactions on the Nesting Success of the Piping Plovers and American Oystercatchers
Snyder, Julia: Faulting Along the Blanco Fracture Zone: Evidence for Spatially Distributed Slow Slip?
1