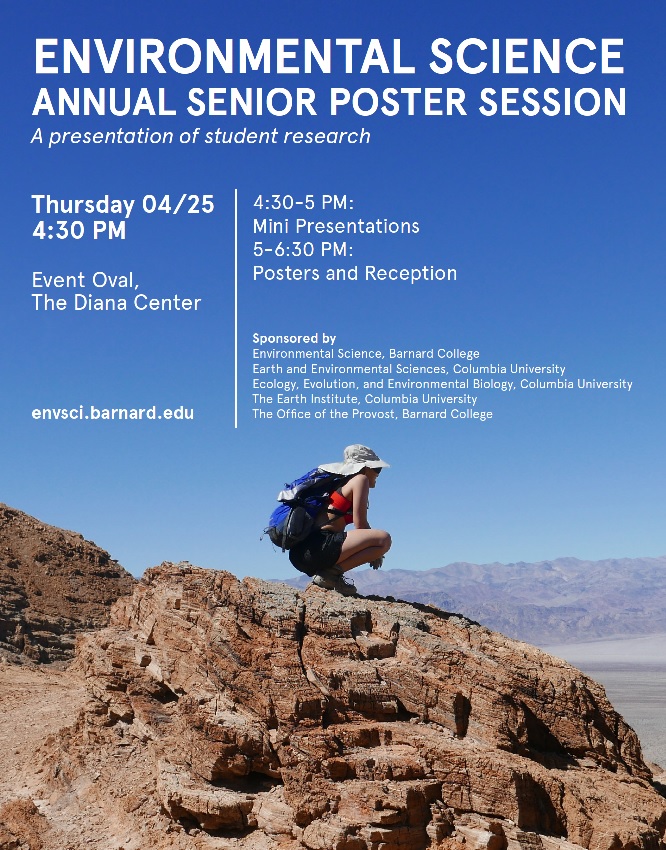 Enter Barnard through the gate at Broadway & 117
th
St and walk toward the new orange building on your right. After entering the building, take the stairs one flight down (see
Barnard Campus map
).
Presenters & Poster titles

1. Morsink, Kai: Paleoecological Investigation of Sea Level during MIS 5a at Cave Hill, Barbados
2. Valdivia-McCarthy, Ailín: Species Specific Fossil Leaf Based CO2 Reconstruction from the Oligocene-Miocene Boundary
3. Castro, Nina: Early Miocene Oncolite and Stromatolites from the Lake Manuherikia Region, New Zealand
4. Inman, Rya: Investigating Lava Dome Formation & Stability Through Laboratory Experiments
5. Wan, Simon: Mystery Quartzite on Anjouan: Origin Study
6. Alvarez, Blanca: Importance of Intact Herbivore Guilds in Cropping Turf Algae
7. Hagani, Jason: Home Ranges and Movement Patterns of Wood Turtles (Glyptemys insculpta) in Connecticut and the Use of Rarefaction for Improving Tracking Study Design
8. Knee, Joseph: Individual Identification of Male Black Howler Monkeys (Alouatta pigra) Using Vocal Analysis
9. Mateescu, Irina: Comparing Abiotic Variations and the Arctic-Boreal Soundscape: a Machine Learning Approach
10. Freinberg, Caroline: Have the Cows Hit the Wall? Validation of Contact Mats to Monitor Dairy Cow Contact with Stall Partitions
11. Merriam, Marya: Effects of Pasture Management on Mycorrhizal Abundance and Forage Quality on Maine Dairy Farms
12. Pressman, Eleanor: Mitigation of enteric methane emissions from dairy cattle in East Africa through urea treatment of crop residue feeds
13. Vaughan, Ellery: Dietary Analysis of the Coyote (Canis latrans) Population at Black Rock Forest
14. Moore, Connor: Monitoring the Adirondack Alpine: Soil Depth and Species Abundance in NY's Highest Ecosystem
15. Johnston, Meredith: Intergenerational Genetic Tagging in Steelhead Trout
16. Fratz, Adriana: Host-Viral Range Congruence: Predicting Rabies Presence Within Bat Species in Canada
17. Warren, Jack: Biogeography and Niche Modeling of the King Bird of Paradise
18. Andrews, Abigail: Developing High-Resolution Air Pollution Maps via Mobile Monitoring Platforms
19. Zhang, Lewei: Predicting Localized Air Pollution Level with Biking Study Data and Open Source Land Use Data
20. Block, Annie: Maintenance and Performance Assessments of Bioswales in Brooklyn, NY
21. Figueredo Botello, Natalia: The Impact of Particle Association on Temperature-Dependent Growth and Light-Induced Mortality of Vibrio sp. in the Hudson River Estuary
22. Lim, Shelly: Distribution of Microplastics around New York City Waterways and Ingestion of Microplastics by Noctiluca scintillans
23. Guillermo, Jessica: Monitoring Air Movement in Buildings Using Perfluorocarbon Tracer Compounds and Sulfur Hexafluoride
24. Kayle, Avery: Using Perfluorocarbons and SF6 as Tracers for Groundwater Contaminants Related to Hydraulic Fracturing
25. Smith, Gabriella: The Degradation of Tracer Gases SF5CF3 and SF6 under Geothermal Conditions
26. Pallone, Celeste: Sources of Carbon and Grain Size of Surface Sediments in the Eastern Long Island Sound
27. Khalid, Sufyan: Mapping Heavy Metal Contamination in Eastern Long Island Sound and Analyzing Transport Mechanisms
28. Steiger, Ella: Low Nitrogen to Phosphorus Ratios in Gulf of Mexico Surface Water
29. Killough, Madeleine: Radiocarbon Analysis of Microbial RNA to Determine Carbon Sources in Arsenic Contaminated Pleistocene Aquifers in Bangladesh
30. Mgaloblishvili, George: Mapping America's Lead Pipes With Machine Learning
31. Sahwell, Gemma: Resettlement in the Face of Gamma Radiation and a Rising Sea: A Survey of the Northern Atolls of the Republic of the Marshall Islands
32. Suljic, Emelia: Hypersensitive B Cell Response to Low-Dose Gamma Radiation
33. Shin, Alexandra: An Analysis of Large vs. Small Anaerobic Digester Utility in Kumasi, Ghana Using Compositional Excreta Flow Diagrams
34. Singh-Smith, Kiran: Post-Clean Air Act pH, Alkalinity, and Ecosystem Recovery of 26 Bodies of Water in the Hudson Highlands
35. Bannister, Mary: Mapping Food Justice in Paterson, New Jersey
36. Estrada, Mireya: Understanding the effects of climate change on smallholder farmers in Loma Bonita, Panamá
37. Munyana, Diana: Are Input Subsidies enough for Smallholder Farmers? A case study in Eastern Rwanda
38. Benesch, Ambria: Urban Toxicity, Community Organizing, and the Lack of Environmentally-Motivated Political Action in Marginalized Neighborhoods
39. Bouhassira, Elza: Photographs as Influencers: Searching for a Connection Between Visuals and Support for Legal Rights of Nature
40. Estrella, Kristal: The Social, Environmental, and Health Consequences of Cold Stress in Renter-Occupied Homes
41. Gibson, Marion: Harvey's Injustice: Flood Exposure and Access to Recovery Resources for Immigrant Communities
42. Gjed, Lovens: A Remittance-funded ROSCA Model Versus Formal Microcredit Institutions in Gonaives, Haiti
43. Israel, Maggie: Urban Agriculture, Crime, and Community Perceptions of Safety in New York City Public Housing
44. Jean-Michel, Chelsea: Feasibility of Introducing Synthetic Methane to the Natural Gas Grid through Power-to-Gas Plants in New York State
45. Friedman, Hannah: Implementing Carbon Pricing at Columbia University
46. Juang, William: Biopiracy and Ethics of the International Transfer of Digital Biological Information in Ecology and Evolution Research
47. Meza, Brenda: The Effects of Surging Waters and Inequality in Puerto Rico
48. Gout, Elise: Weathering Sandy: The Flood Risk Perceptions of the Coastal Elderly
49. Silberstein, Jacob: The Impact of LEED Certified Buildings on Barnard Students' Productivity and Wellbeing
50. Tai, Melody: Sustainability and Marketing to Generation Y and Z in the Luxury Fashion Sector
51. Loznak, Alexander: Climate Change Policy and the 2018 Midterm Elections: Are Candidates Who Take Stronger Positions on Climate Change More Likely to Win?
1