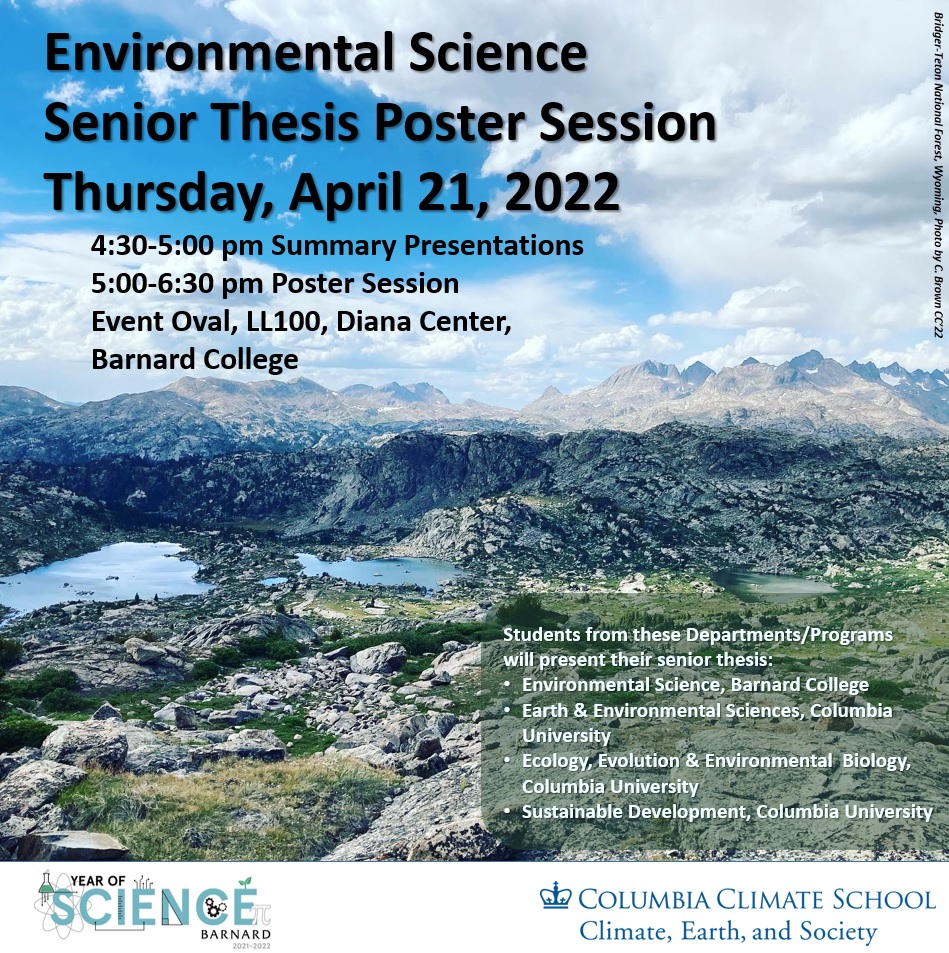 ---
If you like to attend the session, please RSVP!
Poster authors, departments and titles (in alphabetical order):


Apollaro, Lauren (CC SusDev): De Abajo Arriba: Engaging Local Farmer Knowledge to Inform Index Insurance Design in Guatemala
Aguinaga,Edinson (DEES EarthSci): Using Laser Diffraction Granulometry to Determine Process Controls on Grain Size Distributions in Modern Rivers and Submarine Channels
Brown, Claire (E3B EnvBio): Habitat Overlap as Primary Drive for Competition in an East African Savanna
Burger, Charlotte (BC EnvSci): Evaluating Eelgrass Restoration Success at St. Thomas Point Using GIS and Traditional Methods
Cassese, Caroline (BC EnvBio): Analysis of Ba/Ca in a Coral Skeleton as a Proxy for Hydroclimate in the Gulf of Chiriquí, Panamá
Cherry, Tehila (BC EnvSus): Does Size Matter? Comparing Small Pocket Parks with Larger Urban Parks
Christensen, Ian (CC SusDev): Investigating the Effect of Socioeconomic Indicators on the Frequency of Invasive Grasses in the Sonoran Desert (AZ)
Dahan, Ben (CC SusDev): Adapt Through Protest: Community Mobilization, Adaptive Capacity and Water Scarcity in Draa-Tafilalet, Morocco

Davol, Eleanor (BC EnvSus): Automated Soundscape Analysis in the Arctic Reveals Strong Influence of Time Since Wildfire on Boreal Breeding Birds
Friedland, Lily (CC SusDev): Walkability and Environmental Impact Analysis & Recommendations for The Brunswick Landing: Maine's Center for Innovation
Gee, Nathalie (BC EnvSci): Sedimentary Signatures of Late Pleistocene and Early Holocene Fluctuations of Mono Lake, CA
Henderson, Alex (BC EnvSus): Understanding the Associations Between Arsenic Species and exposure and Incident Diabetes Through Metabolic Processes

Kime, Nick (CC SusDev): Agricultural Adjustment: The Origins of Farm Subsidies in the United States
Kuzina, Maria (E3B EnvBio): Protecting the North Atlantic Right Whales Using Acoustic Detection
Lampert, Alissa (BC EnvSci): An Integrated Assessment of U.S. Elasmobranch Fisheries: the Magnuson Stevens Act
Lev, Avigayil (BC EnvSci): The Effects of 400+ Generations of Artificial Selection on Body Size on Male Mate Choice in Drosophila melanogaster
Lubash, Roy (DEES EarthSci): Utilization of Sediment Grain Size Analysis to Evaluate the Origin of Ediacaran Paleocanyons in South Australia and Eastern California
Mahmud, Sharothy (BC EnvBio): Diffusion Chronometry Analysis of Fe-Mg Zonation in Olivine Crystals from the 2016 Cleveland (AK) Volcanic Eruption
Malilay, Alexandria (E3B EnvBio): Ground-Truthing Remote Sensing Data to Assess Coral Reef Coverage
Marius, Ellen (BC EnvSus): Carbon Sequestration in Coarse Woody Debris at Black Rock Forest
McPaul, Katelyn (DEES EnvSci): Improved Nitrogen, Argon, Oxygen, and Triple Oxygen Isotope Measurements in ExtractedGas Samples from the Atlantic Ocean
Michaca, Andrea (BC EnvBio): The Green Roofs of NYC: The Distribution of GR Benefits in NYC as a Result of Design
Morris, Chandler (DEES EnvSci): A Foraminifera-Derived Reconstruction of the Eastern Equatorial Pacific Thermocline Between 70,000 and 150,000 years ago
Mumma, Harry (CC EnvChem): Assessing Ocean Alkalinity Additions
Muszkat, Isadora (CC SusDev): Religious Environmentalisms: Perspectives of Muslims in the United States
Paul, Ariana (BC EnvSus): Climatic and Oceanographic Conditions in the Mid-Atlantic through the Peak Interglacial Period
Robertson, LJ (E3B EnvBio): Post-fire Vegetation Recovery in Southern California Chaparral
Rodman, Alex (DEES EnvSci): Coupling Boron Isotope and Trace Element Analyses of Planktic Foraminifera to Reconstruct Oceanic pH and Temperature
Rodriguez, W. Danny (DEES EarthSci): Criteria Pollution Data Analysis on NYC's Clean Heat Program
Saad, Batoul (BC EnvSci): Applying the Area Density Surface Ocean Carbonate Ion Proxy to Reconstruct CO2 Outgassing in the Southern Indian Ocean
Spittle, Emily (DEES EnvSci): Assessing the Suitability of Sodium Compounds for Direct Air Carbon Capture
Stein, Red (DEES EarthSci): Reconstructing Precipitation Patterns in the Eastern Pacific using Terrestrial Sediment Cores from Easter Island
Tate, Cyarra (BC EnvSus): Measuring the Influence of Historical Climate on Stomatal Patterning in a Globally Distributed Range of Eggplant Varieties
Tessler, Maya (BC EnvSci): An East Antarctic Ice Sheet IRD Record, 1.25 Ma to 0.95 Ma
Thomsen, Sakura (BC EnvSci): Weeds for Cows: Introducing Musk thistle (Carduus nutans) into the Diets of Angus and Hereford Cattle in Tennessee
Tochterman, Juliet (DEES EnvSci): Implications for Cenozoic Environmental Trends and Variability from Leaf Wax n-Alkane Distributions in Western Africa
Vo, Janet (BC EnvBio): Effect of poly-ions and nitrate presence on arsenic and uranium mobility in the Arikaree aquifer in Pine Ridge Reservation, South Dakota

Wang, Emmy (E3B EnvBio): Effects of Deer Herbivory and Soil Moisture on Understory Vegetation in a Forested Wetland
Ward, Savannah (CC SusDev): Impacts of NOₓ and PM2.5 in Nairobi, Kenya, as Measured by Low Cost and Reference Air Monitors
Warner, Kayla (BC EnvBio): Comparing Climate Drivers of Tree Growth in Urban and Rural Areas Along the Northeast Corridor
Weinstein, Shulamit (DEES EnvSci): The Association Between PAH Exposure During Pregnancy and Mother's Body Fat Years Later
Willner, Hayley (BC EnvSus): Mapping Neighborhood Asthma Susceptibility Based on Exposure to Flooding and Mold
Yang, Jiashi (CC SusDev): Sino-Kazakh Energy Relationship: How Sustainable is it?

1