Helheim 2006

An investigation of glacial earthquakes
---
Photos from the deployment trip
This page contains a small selection of photos from our trip to deploy a network of GPS systems at Helheim Glacier, East Greenland. Our base for this trip was the town of Tasiilaq.

Note: Click on any photo to see the full-sized version. (Warning: Some of the files are quite large.)

All photographs are copyright 2006 by the photographer.

---
Testing GPS systems from UNAVCO prior to deployment. (Photo: M. Nettles)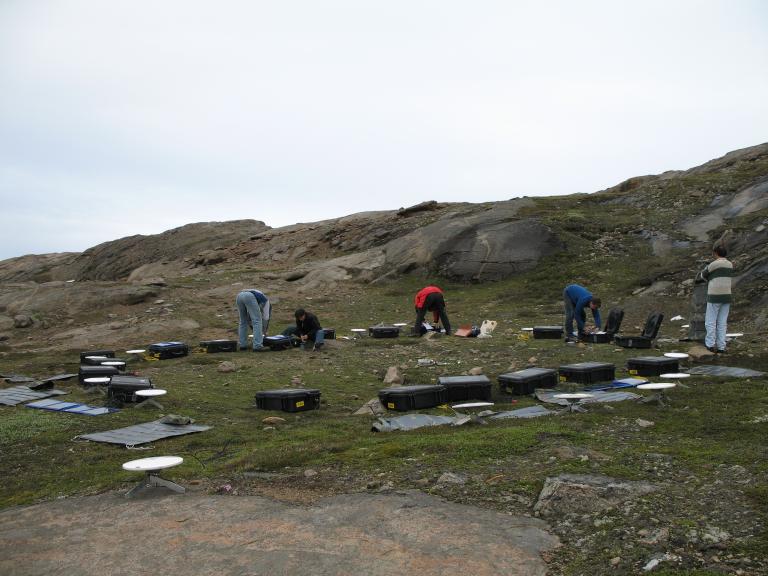 GPS boxes loaded in the helicopter for transfer to reference site, where permanent station HEL1 was installed. (Photo: M. Nettles)

The permanent reference station HEL1 after installation. (Photo: M. Nettles)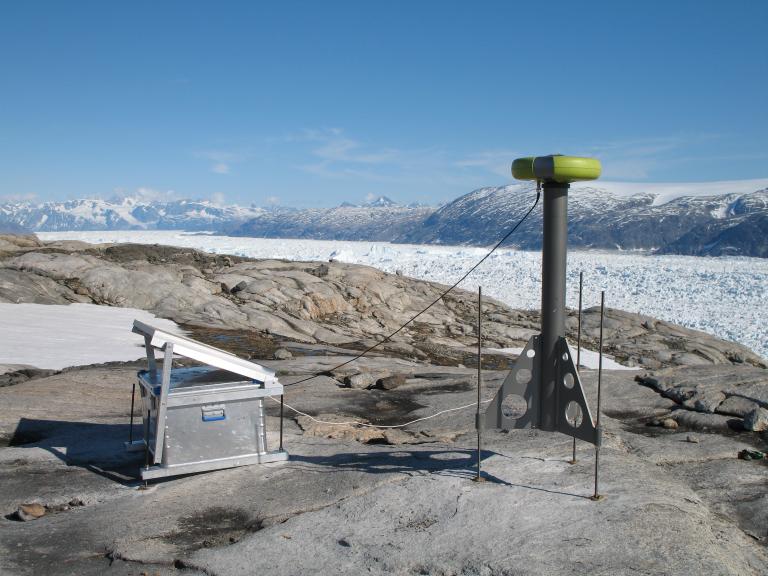 View from near HEL1 over Helheim Glacier. The glacier flows to the left (ESE) in the photo. (Photo: M. Nettles)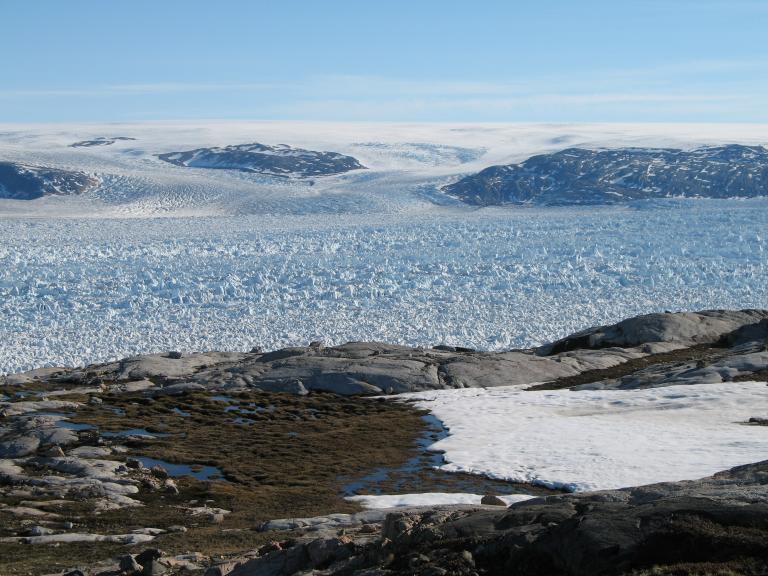 The calving front of Helheim Glacier on June 29, 2006. (Photo: M. Nettles)

Pilot's view of the glacier while waiting for station installation. (He landed on the part of the ice that did not look like this!) (Photo: J. Vilendal Petersen)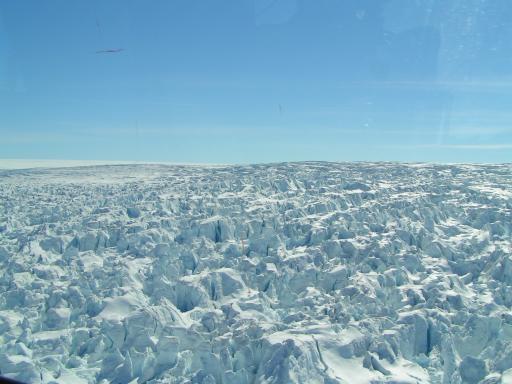 Helicopter landing at site IS05, adjacent to a large and persistent melt pond on the glacier. A stripped-down automatic weather station was installed together with the GPS system at this site, and a pressure sensor was installed in the pond to measure changes in water level. (Photo: L. Stearns)

Approaching the melt-pond site to pick up the installation team. On the ice are Andreas Ahlstrøm, Leigh Stearns, and Gordon Hamilton. Pilot Janus Vilendal Petersen and the melt pond are visible in the mirror. (Photo: S. Abbas Khan)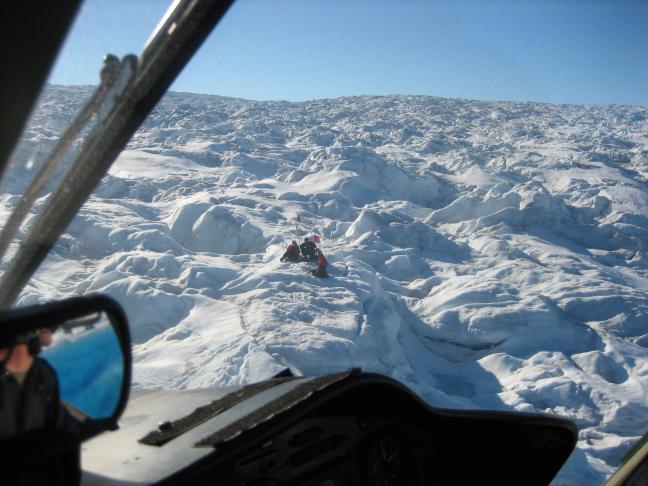 Helicopter pilots Janus Vilendal Petersen (left) and Per Nygaard (right). (Photos: M. Nettles)

Tasiilaq at midnight. (Photo: M. Nettles)

---
photos added 2006/07/10
The solar panels had to be tied to the receiver boxes to keep them from blowing away in the wind. (Photo: M. Nettles)

A close-up view of the antenna mounts, designed by Danmarks Rumcenter. (Photo: M. Nettles)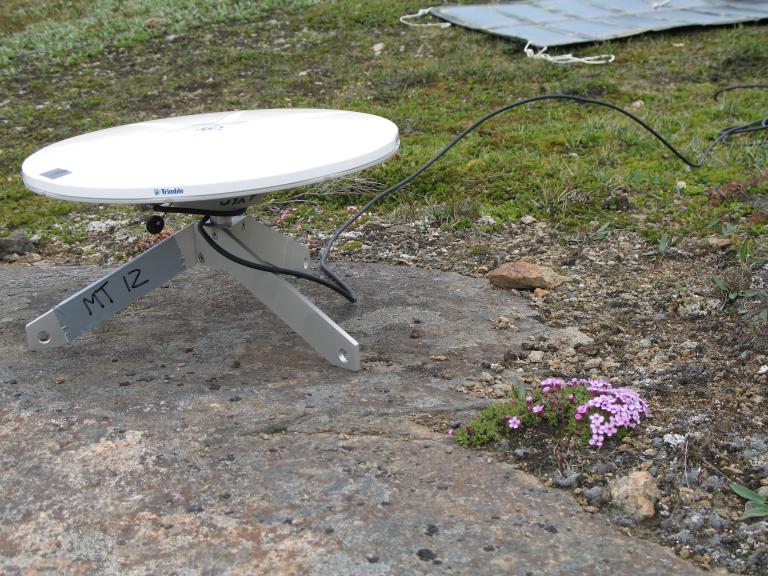 Gordon Hamilton looking for a good site to land on the glacier. Several UNAVCO boxes are strapped down just behind him. (Photo: M. Nettles)

View through the helicopter window while looking for landing site. (Photo: M. Nettles)

Installing one of the northernmost sites (left to right: Morten Langer, Gordon Hamilton, Meredith Nettles). (Photo: J. Vilendal Petersen)

Picking up the installation team from IS05 (adjacent to the melt pond). Left to right: Andreas Ahlstrøm, Leigh Stearns, Gordon Hamilton. The UNAVCO receiver is the black box next to the red flag. (Photo: S. Abbas Khan)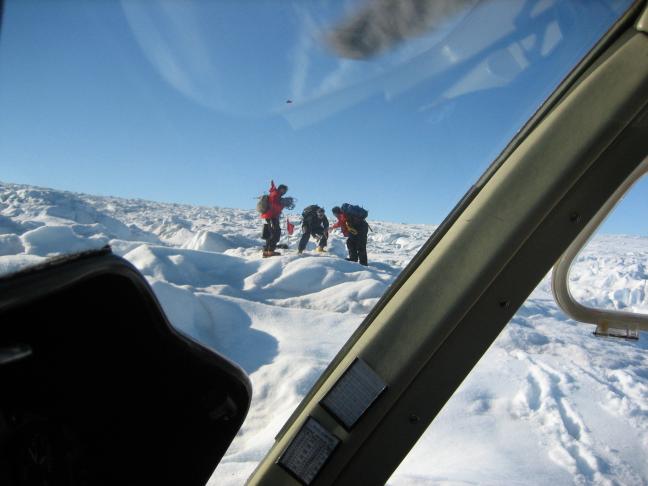 ---
Meredith Nettles, Lamont-Doherty Earth Observatory of Columbia University, copyright ©2006, all rights reserved. Last modified: July 10, 2006 (MN)