[Return to Article]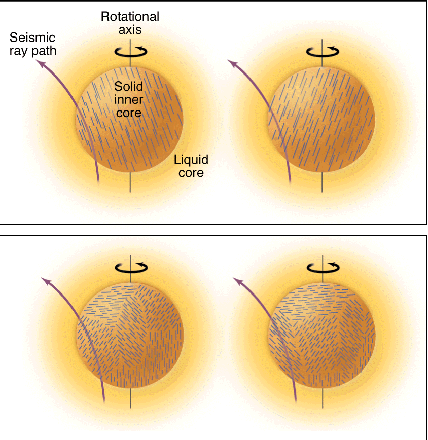 Inside story. Two approaches to detect the differential rotation of the inner core. (Top) The inner core anisotropy has a cylindrical symmetry, and its axis is tilted. When the inner core rotates (here half a turn), the orientation of the anisotropy with respect to an invariant seismic path varies, resulting in small variations in the propagation time (1, 2). (Bottom) The inner core exhibits anisotropy variations or heterogeneities. The rotation is detected from the transit of these heterogeneities beneath the seismic path, and the rotation rate may be estimated if a local anisotropy or heterogeneity pattern is available (3).
Volume 281, Number 5373 Issue of 3 Jul 1998, p 55
©2000 by The American Association for the Advancement of Science.
---