2005 Chlorophyll Sampling Results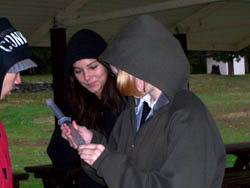 \
October 12, 2005
Hurricane Tammy with ~ 4 inches of rain hit the estuary during the day's events. Overall the chlorophyll readings for the Day in the Life Event in more elevated than when the test samples were collected in August. This could be the result of recent rains bringing an increased nutrient load into the river system which had suffered a month long dry spell.
Trends in the data suggest extremely low phytoplankton biomass in the Gowanus Canal samples, where growth could be light limited as a result of high turbidity in that area (secchi readings of 4.5 inches and 6 inches visibility).
Readings in the harbor area are relatively high which could be due to the increased light availability and high nutrient loads in this area where the river water mixes with the ocean. Chlorophyll levels made a noticeable drop at the Harlem River sampling site and remained somewhat level until a small increase at the Piermont Pier. This small reduction in the chlorophyll levels in the area between RM 6 and RM 25 could be the result of the increased turbidity caused by the mixing from the saltwater intrusion. The area in the Hudson between RM 18 and RM 23 is often referred to as the area of turbidity maximum because of this active mixing.
In the upper estuary there were small spikes in several locations, with a large spike at Cohotate. Productivity was so high in this area that samplers at Cohotate had to filter a reduced amount of water because of plugging the filter. Both the samples from RM 2 in the harbor and RM 118 at Cohotate were green with chlorophyll. It will be interesting to continue collections at this site to see if this high level of biomass continues.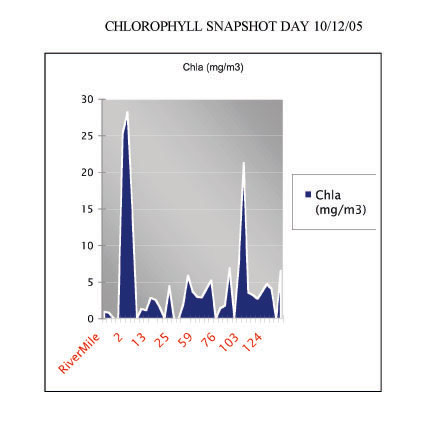 Visual Evaluations:
As part of the Chlorophyll collection the samplers visually evaluated the color of the filter after collecting the solids. A color scale with numeric equivalents was provided to the samplers to match against. The numeric measures are provided here with the Chlorophyll readings. It should be noted that the score from the color card match is representative of total suspended solids in the river which in a turbid system like the Hudson River can be more silt and sediments being collected in the filtration than chlorophyll. Samples in the 5.0 range are almost a light chocolate color on the chart.
| | | | |
| --- | --- | --- | --- |
| River Mile | Location | Chla (mg/m3) | Color Coding |
| 0 | Gowanus Canal | 0.957 | 5.0 |
| 0 | Gowanus Canal | 0.831 | 2.0 |
| 2 | Pier 26 | 25.36 | 5.0 |
| 2 | Pier 26 | 28.25 | 1.0 |
| 4 | Christopher St. Pier | 15.50 | n/a |
| 13 | Swindler's Cove | 1.34 | n/a |
| 13 | Swindler's Cove | 1.13 | n/a |
| 18 | Beczak, Yonkers | 2.84 | n/a |
| 18 | Beczak, Yonkers | 2.60 | n/a |
| 19 | Alpine Boat Basin, NJ | 1.46 | 1.0 |
| 25 | Piermont Pier | 4.47 | > 2.0 |
| 41 | Verplanck | 1.91 | .7 |
| 59 | Kowawese | 5.87 | .5 |
| 59 | Kowawese | 3.72 | .5 |
| 60 Newb | Newburgh | 2.99 | .5 |
| 60 Newb | Newburgh | 2.92 | .5 |
| 61 LD | Beacon Long Dock | 4.07 | n/a |
| 61 LD | Beacon Long Dock | 5.23 | n/a |
| 85 | Norrie Point | 1.46 | .3 |
| 85 | Norrie Point | 1.80 | .3 |
| 87 | Esopus Meadows | 6.93 | .7 |
| 103 | Saugerties | 7.69 | n/a |
| 115 | Cohotate | 21.27 | 1.0 |
| 123 | Coxsackie | 3.58 | 1.0 |
| 123 | Coxsackie | 3.22 | 0.1 |
| 124 | Nutten Hook | 2.72 | 1.0 |
| 124 | Nutten Hook | 3.74 | 1.0 |
| 127 | Stuyvesant | 4.74 | 1.0 |
| 127 | Stuyvesant | 4.06 | > 2.0 |
| 151 | Green Island | 6.58 | 5.0 |